[+] Enlarge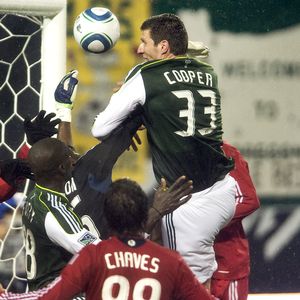 Steve Dykes/Getty Images
Kenny Cooper's disallowed header in Portland's match against Chicago was just another example of poor officiating in MLS.
Refereeing is now officially a problem for MLS.
True, the men with the whistles and the flags, sent down by the U.S. Soccer Federation, had never exactly been a strong asset to a league still finding its feet. But on Thursday night, it went from weakness to blight.
It was a beautiful evening of soccer in Portland, Ore., in one of the few towns truly clamoring for Major League Soccer. The Timbers faced the Chicago Fire in the first game in revamped Jeld-Wen Field. In the streaming rain, the Timbers Army gave a deeply moving rendition of "The Star-Spangled Banner," as the Timbers had wisely foregone leaving it up to a D-list teenybopper, the way other clubs often do.
On the quickly saturated plastic sod, two teams trudged on, trying to move a ball through puddles and into the other's goal. It wasn't pretty. But then again, it was soccer at its most beautiful and romantic.
In the 11th minute, Portland won a corner. Striker Kenny Cooper went entirely unmarked and christened the stadium with its first goal by nodding the ball home far too easily. Nobody had been near him, least of all Fire goalkeeper Sean Johnson, who was unfashionably late to the party. For a few seconds, all that was bad and difficult for the expansion club went away -- the rain, the winless start to the season, the struggle to compete. In their place: a delirious sort of mayhem.
And then …
Ricardo Salazar blew the whistle. Inexplicably, he called off a clean goal. What was he thinking? It seemed at first a foul had been called on Cooper. Then there was word that the goal was disallowed because the corner had gone behind the back line on its way to the goal mouth. There was no foul on Cooper, and there was no clear evidence that the ball went out of play.
After weeks of penalties and goals wrongfully awarded and denied, red and yellow cards rained down like confetti and control lost of both games and credibility, the corps of refs regulating MLS suffered perhaps its most unsightly error yet. A beautiful moment was wrongfully stricken from the record.
That the Timbers won 4-2 anyway, cemented by a final goal helped by an uncalled hand ball by Cooper, was karmically just.
But a transcendent moment for a sport desperate for ascent was lost to an overzealous man and his whistle.
What a shame.