Top 10 overpaid and underpaid in MLS
May, 18, 2011
05/18/11
12:10
PM ET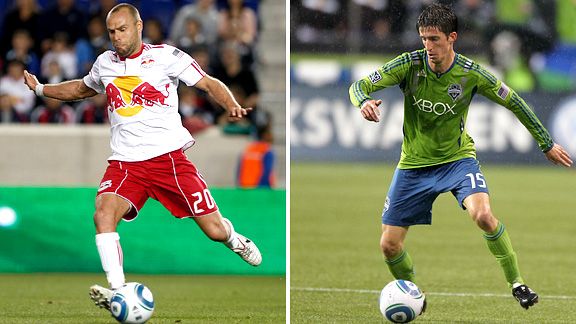 Getty ImagesJoel Lindpere and Alvaro Fernandez landed on our lists for the most underpaid and most overpaid players, respectively, in MLS.
As it does every year, the Major League Soccer Players' Union has released the salaries of every player on the books in MLS. And, as usual, there were plenty of surprises.
So here are ESPN.com's 2011 10 most underpaid and overpaid players, in no particular order:
(Salaries are base salaries plus guaranteed compensation for 2011 season.)
UNDERPAID
Omar Bravo, F, KC, $170,000
Bravo makes a fairly hefty salary for MLS standards, but considering what other international-caliber players make in this league, he is a bargain. And he scored twice in his debut before getting injured in his second game.
Diego Chaves, F, CHI, $45,000
After a solid career in Uruguay and Mexico, the Fire snapped Chaves up for a shade over minimum wage. He rewarded them with a goal in each of his first three starts and another in his sixth.
Omar Cummings, F, COL, $89,188
The Jamaican striker was the best forward in the league last season, leading the Rapids to the title. He has yet to get going this year, but his salary is still only a fraction of his worth.
Fabian Espindola, F, RSL, $75,000
The lively forward has proven himself as a quality MLS player.
George John, D, DAL, $42,000
For the moment, John is best-known as the man to score the own goal that lost his team the 2010 MLS Cup. That was an unfortunate moment, as he's one of the league's better defenders.
Kosuke Kimura, D, COL, $63,525
Kimura, like Cummings, has yet to get his payday, as he was drafted by the Rapids when his career was a long shot. He has emerged as one of the league's elite right backs -- for backup-player money.
Joel Lindpere, M, NY, $125,000
The little-known Lindpere didn't take long to announce himself to MLS last year, when he was the Red Bulls' well-deserved MVP. In spite of the star power assembled around him, he is still one of the most important players on the team.
Sanna Nyassi, M, COL, $42,000
A right winger who has twice overcome malaria, Nyassi is one of the better wide players around.
Tim Ream, D, NY, $62,625
In a much-heralded rookie class of 2010, Ream was the best defender by some distance. Now he is one of the best center backs in the league.
Mauro Rosales, M, SEA, $42,000
In the early 2000s, he was one of the world's most promising right wingers, having won the U-20 World Cup and Olympics with Argentina. The Sounders managed to snap him up for the league minimum. He paid quick dividends, getting three assists in his first four starts.
OVERPAID
Joe Cannon, GK, VAN, $209,756
The hugely experienced Cannon was supposed to fortify the expansion team's defense. Instead, he rides the bench.
Julian de Guzman, M, TOR, $1,910,746
After a good career in the Bundesliga and La Liga, Guzman commanded an enormous salary from Toronto. But he has offered almost nothing in return.
Dilly Duka, M, CLB, $223,000
Columbus was excited about drafting Duka in 2010. But he has shown very little so far.
Emmanuel Ekpo, M, CLB, $222,250
With the departure of Guillermo Barros Schelotto, the burden fell on Ekpo to supply the Crew's offense this year. So far: zero assists and zero goals.
Alvaro Fernandez, M, SEA, $366,666
Although Fernandez is finally showing his ability this year, his salary and the hefty transfer sum the Sounders paid for him are still way out of proportion.
Caleb Folan, F, COL, $203,374
Other than one two-goal game, the Englishman has yet to justify his price tag.
Fred, M, DC, $157,750
In his fifth season, the Brazilian enigma has yet to reveal himself as a reliable asset.
Dejan Jakovic, D, DC, $201,643
They don't come much more gaffe-prone than Jakovic.
Nate Jaqua, F, SEA, $211,000
Jaqua had a good 2009 for Seattle, but has contributed little since.
Kei Kamara, F, KC, $202,500
The king of misses has amused us with blunders such as these. Kansas City doesn't look much better, given what it pays him.