February, 2, 2012
02/02/12
9:34
AM ET
These are testing times for Jose Mourinho. A seven-point lead in La Liga, a stuttering main adversary whose away form seems set to hand the title to Real Madrid for the first time since 2008, and a comfortable Champions League last-16 tie against CSKA should all combine to put a smile on the face of the Portuguese coach. But Mourinho has barely smiled since he arrived in Madrid with a mandate from Real president Florentino Perez to knock his second Galacticos project into shape while knocking Barcelona from the summit of domestic and European competition.
Last season, the source of Mourinho's malcontent was a single figure, Jorge Valdano, whom Perez eventually disposed of to smooth his coach's ruffled feathers. With full power over all aspects of the club's affairs bestowed on him, Mourinho might have expected an easier ride this year. Poking Tito Vilanova in the eye during the Supercup melee was not a grand start to the season on the diplomacy front, but Mourinho has recently been made painfully aware that he is not the only strutting peacock in his own park. Senior players have revolted against his tactics, leading to a morose Mourinho picking a side for the match against Athletic Bilbao that could have been selected by a Marca fans' survey -- even crowd favorite Esteban Granero was invited to dust off his boots. Around the same time, a training ground bust-up with Sergio Ramos provided a revealing insight into how Mourinho's players view the coach. On being blamed by his boss for not picking up Carles Puyol and tracking Gerard Pique for Barcelona's first goal at the Bernabeu, Ramos noted icily, "Sometimes during a match you have to make positional changes. You don't know because you were never a player."
To make matters worse, the incident was apparently leaked by Iker Casillas, who had already incurred Mourinho's wrath by offering an olive branch to Barcelona. Pictures of the two club captains presenting Mourinho with a birthday cake the same week were instructive; Ramos' face, in particular, spoke volumes.
So inevitably, the rumor abounds that Mourinho will pick up his ball and stalk from the Bernabeu this summer, regardless of whether he wins the league, the Champions League, or both. He has made no secret of his desire to return to the Premier League, but a triumphant second spell at Stamford Bridge is extremely unlikely while Roman Abramovich controls the purse strings. The city of Barcelona would riot in the streets if Sandro Rosell even thought about it, Sir Alex Ferguson said recently he has another three years left in him at least, and Mourinho has already made it quite clear he will not coach the likes of Malaga. So with his prickly persona and an astronomical pay packet -- some 13.5 million euros at Real -- who would want him?
Manchester City
The most obvious destination for the world's most controversial coach would be the world's richest and brashest club. City's paymasters, the Abu Dhabi United Group, proved in their dealings with Mark Hughes, and to an extent with Carlos Tevez, that they have little time for niceties in their quest for instant gratification. Roberto Mancini may win the Premier League this season, but if Mourinho becomes available, there is little doubt that City would be willing to match his demands. Mancini's handling of the Tevez affair and his testy relationship with some of his players aside, the Italian's admission during the week that he had not taken the Everton match entirely seriously will not have been met with indifference by Sheikh Mansour.
Arsenal
Talk in Madrid this week has been of a potential swap deal between Arsenal and Real Madrid, with both clubs apparently doubting their leaders. It would certainly be an interesting experiment, perhaps worthy of a fly-on-the-wall documentary. Arsene Wenger -- who has the air of a man who cuts coupons out of newspapers before going to the supermarket -- given an unlimited budget, and Mourinho, who has never been exactly shy with his chairmen's cash, given the keys to the Shenley training ground and told to do what he can with the kids.
Tottenham/Newcastle
There are few more worn jibes in armchair football-watching circles than: "Anybody could coach that lot and win." However, with the amount of money in the game making the playing field anything but level, it no longer has an entirely hollow ring to it. What would embellish Mourinho's reputation as one of the finest coaches the game has ever seen would be restoring a fallen giant to former glories. Tottenham is not exactly destitute, being one of the biggest spenders in the short history of the Premier League, and may be in the market for another manager this summer if Harry Redknapp, as expected, takes the England job. Newcastle has not enjoyed a great deal of success over the last half-century or so, a brief dalliance with silverware under Kevin Keegan aside. It is doubtful that Mike Ashley could meet his salary, but Mourinho would not dismiss the idea out of hand; a long-time assistant to and admirer of Bobby Robson, Mourinho was offered the assistant's job under the former Porto and Barcelona coach, with a view to taking over when the great man retired. He declined at that time. Mourinho lasts only a few seasons at each club, so building a legacy like Ferguson or Wenger is unlikely to happen. Taking his mentor's legacy and adding a bit of spit and polish might be a happy compromise.
Benfica
If there is one piece of unfinished business on Mourinho's CV, it is his brief encounter with Benfica. Promoted from assistant to first-team coach, Mourinho lasted just nine games before his contract demands saw him ushered from the Estadio da Luz. Benfica has won only two Portuguese league titles and a Portuguese cup in almost two decades, and a Porto-style renaissance would be an interesting challenge for any coach, but Mourinho is far from being "any coach" in his own mind, and will probably not return to his native country until he takes charge of the national team.
Bayern Munich
Huge budget? Check. A handful of players with plenty of attitude? Check. Hasn't won the Champions League for a decade so? Check. An institutional structure and a status as the national club, with expectations to match? Check. A glut of celebrity fans, including the pope? Check. Out of the frying pan into the fire, perhaps, but stranger things have happened. And the irony of Mourinho usurping Jupp Heynckes again, as he did at Benfica, would not be lost.
January, 25, 2012
01/25/12
1:33
PM ET
The King's Cup is proving to be more than a mere sideshow to La Liga this season, a fate that often befalls a competition that has traditionally been taken less than seriously by Spain's larger clubs. For many years, it was Real Madrid's club policy to get knocked out as quickly as possible, and even lesser Liga luminaries would habitually field weakened teams. However, with the possibility of getting into the Champions League made all but impossible by the hegemony of the top three, the Europa League is the summit of most clubs' ambition, and merely reaching the final of the cup -- assuming that Real, Barcelona or Valencia are on the other side of the halfway line, or Levante holds firm in fourth -- provides an easier route than a grueling league season. At least that was the crafty plan of Espanyol president Ramon Condal until his team faced Mirandes yesterday.
Miranda de Ebro, Jan. 24, 2011: The small city of 40,000 was sent into raptures when third-division side Mirandes defeated Espanyol 2-1 to reach the semifinals for the first time in its history, a feat matched only once this generation among third-division teams, by Unio Esportiva Figueres in 2002. The stadium erupted at the final whistle, the capacity crowd at the Estadio Anduva pouring onto the field in delight and carrying the hometown players on their shoulders in the manner of the great matadors of yesteryear. All the action was captured for television by a single camera, which appeared to have been mounted on the seat of some unfortunate fan.
It had seemed impossible that Mirandes would overcome Espanyol. The tiny club -- with a budget of 1 million euros and only one player, Cesar Caneda, who had ever set foot in the Primera Division -- had dispatched top-flight opposition in the previous two rounds, ambushing Villarreal and outplaying Racing Santander, but Mauricio Pochettino's Espanyol is a harder nut to crack, as it proved when holding Barcelona to a draw earlier in the month.
Mirandes had taken a two-goal lead in Cornella and then thrown it away with defensive lapses in the final five minutes to allow Espanyol to bang in three. When Rui Fonte extended Espanyol's aggregate lead to 4-2 on the stroke of halftime, it seemed that finally Mirandes' miraculous cup run must come to an end. Mirandes' coach, Carlos Pouso, switched to a more attacking formation for the second period and his players emerged from the locker room with renewed determination. Pablo Infante, the competition's top scorer, gave the home side hope on 57 minutes before Caneda, after sustained pressure from Mirandes, guided an Infante free kick past the near post of Francisco Casilla.
"If the hairs on your neck aren't standing up, you obviously don't like football," cried the television commentator as pandemonium ensued. "It's something to tell the grandkids," said Pouso, who had words of comfort for Jose Mourinho. "He is sad at the moment and he is working miracles. But that is what life is like sometimes, that the poor are sometimes happier than the rich. Without the support of the players, the board and the fans I would be nothing. I am happy because I am in the right place at the right time. We have a date with history."
Madrid, Jan. 23, 2011: "I do not provoke cliques. I know nothing about the leaks. I feel very supported by the board, we're currently in the midst of a very good spell." said Mourinho in his news conference ahead of the second-leg clash against Barcelona, which was overshadowed by reports of a dressing-room rift between the Portuguese players and those who represent La Roja. Spanish newspaper reports stated that Mourinho had had a training-ground bust-up with firebrand defender Sergio Ramos, whom the Real coach blamed for allowing Carles Puyol to equalize during the first leg at the Bernabeu. Ramos said that he had switched to mark Gerard Pique at the time, and apparently delivered a scathing retort to his boss: "Sometimes during games you have to make positional changes; you were never a player so you don't know."
Pouso could not have been more accurate with his observations on the Real coach. Despite a five-point lead in La Liga over their archrival, and two goals without reply required to win the King's Cup tie against Barcelona tonight, Mourinho has the right to feel aggrieved that his players (apparently) and the Bernabeu support (evidently) seem to be turning against their man. Jeers rang out around the stadium when the Ultras Sur sang their "Jose Mourinho" song in Real's 4-1 win against Athletic, in which Mourinho fielded an attacking side and even threw in local favorite Esteban Granero to mollify the baying hordes. Mourinho's problem is that his support believes he should field attacking sides against Barcelona, rather than falling back on the negative -- if successful -- tactics he employed while at the helm of Inter. Italian clubs are predisposed to defensive cohesion. Real was not, and time was required to instill it. Now that it has been, the feeling around the Bernabeu is that he should use that foundation as a base for more elaborate play.
Tonight, at Camp Nou, Mourinho has already warned the world that public enemy Pepe will play if passed fit, suggesting the Madrid manager plans to employ a game plan similar to the one that eventually failed last week.
Perhaps he should take a leaf out of Pouso's book and have a go instead. It's the cup, after all, and as Mirandes has consistently proved, anything is possible. All Mourinho risks by not taking one is the continued erosion of what goodwill remains to him.
January, 18, 2012
01/18/12
8:01
AM ET
It didn't take long for 2012 to throw another Clasico into an extraordinary run of matches between Spain's two richest clubs, which has seen Pep Guardiola and Jose Mourinho face off eight times in a season and a half. The score stands at Barca 4, Real 1, with three ties. That sole victory is what Mourinho is defending in the Bernabeu tonight, the King's Cup, a competition in which Real and Barca have met relatively infrequently. This will be the fifth quarterfinal meeting between the clubs, with both having won two of the previous encounters each. It also presents a curious chance for Barcelona to level the historical tally with perfect symmetry. In 216 matches in all competitions, Real has won 86 and Barca 85, with 45 ties. In the cup, though, Barcelona has not won in Madrid since 1968. For Guardiola, who turns 41 today, the match is an opportunity for yet another footnote in the record books. If Barca avoids defeat, it will become the first side ever to go seven games unbeaten in the Bernabeu.
Real looks stronger going into the match, having won 22 of its past 23 matches in all competitions, while Barcelona over the same period has dropped points at Sevilla, Athletic, Getafe and Espanyol. Guardiola admitted last week that Barca's away form has to improve if it is to retain its Liga crown for a fourth consecutive year. The cup may be the least important competition on the two sides' agenda, but as Xavi pointed out, whichever comes out of the two-leg tie victorious will have a huge boost of confidence for the rest of the season -- and for a potential three more Clasicos.
Three players who could be key to the game:
Jose Manuel Pinto
The occasional Barcelona goalkeeper is nicknamed "Tao Pai Pai" after a character from something called "Dragon Ball." Pinto probably sees about as much of that sort of ball as he does the other at Barcelona, due to the remarkable durability of Victor Valdes. However, Guardiola always plays Pinto in the cup and said this week it would be "treasonous" not to do so simply because Real is on the other side of the halfway line.
An online poll of Barca fans did not concur, the main argument against Pinto being that he was between the sticks for Guardiola's sole loss against Madrid in last year's cup final. In fairness, it's unlikely that either Valdes, Iker Casillas or some hybrid of the two would have stopped Cristiano Ronaldo's header, but Barca fans are a superstitious lot. It is easy to forget that Pinto was once a first-choice keeper, and won the Zamora Trophy in 2006, at Celta, and even Casillas has just one Zamora to his name. "He's a great goalie, and nobody who knows him doubts that," Guardiola said. "We certainly do not, and those who have seen him in action these past few years know that he has always played at a very good level."
Jose Callejon
"I like his mentality," said Mourinho of Callejon recently. Signed from Espanyol in the summer, the winger/forward did not exactly set pulses racing in the capital. A former Real youth player, it was broadly anticipated that he would follow the Esteban Granero/Pedro Leon school of returning alumni and drift quietly into obscurity. But Callejon has delighted the Bernabeu with his tireless running, 10 goals in all competitions and by looking like he means it when he points to the badge and smiles. He's also the most effective goal scorer in the league. His winner against Mallorca last weekend brought his league tally to three, with four in Europe and three more in the cup, scored at a rate of one every 75 minutes. Lionel Messi finds the net every 76 minutes, Gonzalo Higuain every 80 minutes, Cristiano Ronaldo every 91 and Karim Benzema every 101.
Cristiano Ronaldo
Open can, release worms. Everybody knows Ronaldo is a great player -- no one more than Ronaldo himself -- but he really needs a good performance against Barcelona to convince the Bernabeu of it. Some sections of the crowd have taken to booing the Portuguese after his lackluster display in Real's 1-3 league loss to the Catalans, and Ronaldo has responded in kind by sulking, taking pot shots from 40 yards and refusing to celebrate a meaningless fifth goal in a routine 5-1 win over Granada. Messi, in the 10 Clasicos contested since Ronaldo joined Real, has scored seven times. He has bagged 13 in all the Clasicos he has played in. More notably, the Argentine's goals-per-minutes ratio against Real is practically the same as against any other opposition. Ronaldo has scored just three in 10 Clasicos, well below his usual strike rate, and wasted two gilt-edged opportunities in December's league match. After that game, when the catcalls began and the media bared its claws, Ronaldo bagged a hat-trick against Sevilla. "This should serve to shut a few mouths," he said afterward. It didn't. But a similar return against the eternal rival most certainly would.
January, 13, 2012
01/13/12
1:42
PM ET
"Why can't the league be this much fun?" wondered a commentator during a midweek King's Cup match. He was watching Mallorca against the visiting Real Sociedad. The home side had gone a goal behind after a quarter of an hour, leaving it trailing the Basques 3-0 on aggregate and needing four goals to go through. Mallorca duly banged them in during seven first half minutes -- one from Chori Castro compounding the misery of Real goalkeeper Eñaut Zubikarai -- and then added a couple more after the break to complete a 6-1 rout, Real's heaviest cup defeat since Barcelona won by the same margin in 1968.
This season's cup competition is proving to be the most exciting of the millennium so far. This is largely due to two factors that have lent the tournament a little more prestige than it used to enjoy. First, as Espanyol president Ramon Condal admitted this week, it offers a route into European competition for sides who do not traditionally qualify through league position. Second, Real Madrid deigning to take the cup seriously since José Mourinho took over has done the competition no harm at all. Before its triumph last year, Real had not won since 1993 and Mourinho quickly identified the domestic knock-out format as his best chance of picking up a trophy in his first season. He had also no doubt taken note of his predecessor, Manuel Pellegrini, sealing his own marching orders by underestimating Alcorcón in the 2009 competition. The suburban Madrid side then languishing in Segunda B thrashed Real 4-0.
So, it was little surprise that Mourinho decided to take no chances in Real's second-leg match at Málaga, into which he carried a 3-2 advantage. Fielding a strong team and not playing expansively at all, Real eked out a 1-0 win courtesy of Karim Benzema, who scored his 17th of the season two minutes after taking the field. The Frenchman is rapidly becoming Real's most important player this season, a factor not entirely unconnected with Cristiano Ronaldo's current dark mood. The Portuguese forward has been the subject of boos from sections of the Bernabéu support that feel Ronaldo loses interest in games where he is not the center of attention. His refusal to celebrate Real's fifth goal against Granada in the league win was followed by increasingly desperate long-range efforts against Málaga, although he did produce a smart save from Willy Caballero with a tricky header. But just now, everything Benzema touches turns to gold, and so it proved when his own speculative strike inexplicably slipped through Caballero's grasp and crept over the line.
Ronaldo will have a perfect chance to win back the adoration of the fickle Real faithful next week when Barcelona comes to town for the eighth clásico of the Mourinho/Guardiola era. Barça had pretty much ensured its passage to the quarterfinals by thumping Osasuna 4-0 at Camp Nou, in a match now dubbed 'flugate' after it was announced Leo Messi would not play through illness. The Argentinean did, though, take the field in the second half and scored twice to add to Cesc Fàbregas' brace and effectively end Osasuna's run in the competition. As the Pamplona club's president, Patxi Izco, drily noted after the game: "If Messi had a stomach ache then my balls were aching, too."
In the return leg, a second-string Barça was sufficient to win 2-1 to set up next week's clash with Real Madrid. The only bad news for Pep Guardiola was the loss of Andreu Fontás for the season with a knee injury. With Maxwell freshly departed for the riches of PSG and Seydou Keita off to the Africa Cup of Nations, Guardiola is somewhat short at the back.
Espanyol, meanwhile, came with two minutes of being knocked out of the competition by second division Córdoba, which won the first leg 2-1 in Andalusia. Espanyol starlet Álvaro Vázquez, the hero of last weekend's Catalan derby, scored twice inside 20 minutes to hand the home side the advantage and Didac appeared to have sealed the tie 15 minutes later with a third. A goal either side of halftime from Córdoba swung momentum back to the lower leaguers, who would have progressed at 4-4 on aggregate via the away goals rule. Cue Vázquez, who scored with a beautiful lob two minutes from time to cap a rather fine week for Espanyol.
Next up for the periquitos is this year's romance team, lowly Mirandés of Segunda División B Group II. Mirandés, with a budget equivalent to a week's wages for a top-flight player, dumped Villarreal out in the last round -- costing Juan Carlos Garrido his job -- and gave Racing a hiding in the first leg in Miranda de Ebro. The competition's top scorer is Mirandés forward Pablo Infante, who bagged two against Villarreal and one in both games against Racing. A 1-1 tie in Santander was enough to send Mirandés into the quarterfinals, where coach Carlos Pouso hoped his side would get Espanyol instead of Córdoba: "It's a first division side and it'll be more fun for our fans."
On Mirandés' side of the draw are Mallorca and Athletic, after The Lions mauled Segunda B side Albacete. The Manchegan team -- of which Andrés Iniesta is the major shareholder -- had held Bilbao to a goalless tie in the first leg but was undone by an atypically swashbuckling performance from Marcelo Bielsa's sometimes stodgy Athletic. A deft chip from Mikael Susaeta, Ander Herrera's wonder strike and a backheel by the lumbering Gaizka Toquero all illuminated Sán Mamés as Athletic progressed in some style. "This game was an exception," said a pragmatic Bielsa afterward.
Squaring up to the winner of the clásico will be the winner of the Valencia derby. Levante crushed Alcorcón 4-0 to set up a clash with its neighbor, which suffered an almighty final fling at Sevilla. One goal to the good from the Mestalla leg, Roberto Soldado put Valencia ahead in the second half and all seemed set for Unai Emery's team. But Ivan Rakitic pulled one back almost immediately before the unfortunate Víctor Ruiz chested the ball into his own net on 91 minutes to give Sevilla a 2-1 lead on the night. Needing one more with seconds to go, Freddie Kanouté rose to meet a cross but could only watch as his headed effort skimmed narrowly wide.
Whichever side reaches the final from the bottom half of the draw will certainly have earned it. The more open top half could spring any number of surprises, although perhaps not the one practically an entire country is rooting for: Mirandés, cup finalists and Europa League entrants.
January, 4, 2012
01/04/12
9:57
AM ET
As 2011 becomes 2012, we pick six teams with much to do in the new year, and a few resolutions between them that, for varying reasons, must be fulfilled: from Real's mission to knock Barca off its perch to Zaragoza's desperate battle to avoid slipping into the abyss.
[+] Enlarge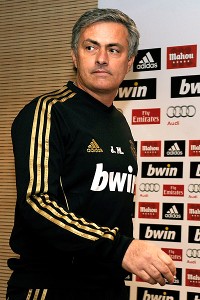 Dominique Faget/AFP/Getty ImagesThe Special One will hope that Barca's dodgy away form continues.
Real Madrid
Top at the new year for the first time under Jose Mourinho and during the Pep Guardiola era. The Portuguese would happily have taken a three-point lead at this stage if offered it in September, but a missed chance to put real daylight between the Catalan champion and the capital challenger will rankle nonetheless. What Mourinho needs in 2012 is for Barcelona's sketchy away form to continue. Real's record is 7-1-1; its rival's 3-3-1. On the road, Barcelona has won 12 points from a possible 21, scoring 11 and conceding eight. Real has reaped 22 from a possible 28, hammering in 27 for five conceded. Of course, the only away result that really mattered in the first half of the season was Barca's 3-1 win in the Bernabeu, and if Mourinho is to bring the title to Madrid, it is another record he will need to reverse; at home Barcelona is unbeaten and has scored 39 times without reply.
Valencia
Third in 2010, third in 2011, third right now. Valencia appears to have established itself as the bronze-medal club in Spain, despite the fiscal necessity of selling players any other side wants each summer. David Silva, David Villa, Juan Mata and Carlos Marchena, World Cup winners all, have been offloaded in recent years to ease Valencia's massive debt, which stood quite recently at more than 500 million euros. However, a convenient deal with Spanish lender Bankia -- to the tune of 250 million euros of debt wiped for the property rights to the old Mestalla, the club's training facilities and a chunk of commercial space at New Mestalla -- opened the way for Valencia to become a challenger again. The team should inaugurate the new stadium "in two years' time," according to the club. It may be too late for this season, with no major arrivals expected in January, but if Los Che have the finances to build rather than pull apart, the 2002 and 2004 Liga winners could soon provide a third horse for an increasingly predictable course. Considering his immediate constraints, manager Unai Emery will settle for third again and look forward to being able to look at what's on the menu, and not the price, for a change this summer.
Osasuna
Also unbeaten at home, Osasuna traditionally relies on its fortress Reyno de Navarra stadium to maintain its Liga status, being generally awful on its travels. But despite a 7-1 thrashing by Real at the beginning of November, Osasuna picked up its first away win of the season at Espanyol two matches later and then beat Betis and Villarreal at home and held Malaga on the south coast to end 2011 in fifth place. With four dogged ties on its travels already this season, it is little wonder that Barcelona considered appealing to switch the order of the Copa del Rey clash between the sides in January to be able to play the second leg at Camp Nou.
Atletico
"There is always hope," said Diego Simeone upon his arrival in Madrid on Monday to take charge of Atletico. The former Argentina midfielder is probably as famous for getting David Beckham sent off in St Etienne in 1998 as he is for anything, but he was the driving force behind Atletico's league and cup double of 1995-96 and was the popular appointment among long-suffering fans. Whether or not El Cholo can do anything with this Atletico remains to be seen. Gregorio Manzano was sacked after a bumbling King's Cup exit at the hands of Albacete -- of which, incidentally, Andres Iniesta became majority shareholder recently -- but the signs have been pointing backward since an uncharacteristically spectacular performance against Udinese in the Europa League. An institutional basket case that averages 14 new players a season forked out huge sums for Radamel Falcao and Arda Turan in the summer, but has perhaps best been served by bargain-basement Adrian Lopez and free transfer Diego. A graveyard of ambition and a knacker's yard for previously competent defenders, Simeone faces quite a task to lift a deflated squad with little real prospect of reward for the remainder of its season. "I am not frightened by the challenge," he boldly stated. Hardly surprising -- nobody with an interest in Atletico expects very much in the first place.
Villarreal
Much like Atletico with Manzano, Villarreal president Fernando Roig had publicly backed his coach but added the caveat: "patience is not infinite." That patience finally snapped when Villarreal slumped to a miserable King's Cup defeat against third-division Mirandes, which won 2-0 in El Madrigal after a 1-1 tie at home. Juan Carlos Garrido, himself promoted to the first team from Villarreal B in February 2010, was replaced by his successor in the role, Jose Francisco Molina. The former Spain goalkeeper, who won the double with Atletico alongside Simeone in 1996, takes over a team in such free fall as to self-parody its nickname of "Yellow Submarine." Bundled out of the Champions League without a single point and currently outside the drop zone only by dint of having scored one more goal than Sporting, the habitual top-10 club with a frightening record of qualifying for Europe through the Intertoto is in a relegation fight. Players said of Santi Cazorla's departure to Malaga: "The club has lost its soul." If Molina cannot turn things around before season's end -- and the return to action of Nilmar and Giuseppe Rossi won't hurt that prospect at all -- Villarreal stands to lose a lot more than that.
Zaragoza
In the Premier League, a Yuletide tradition exists that the club at bottom at Christmas is doomed to the drop. West Brom, under Bryan Robson, became the first side to buck this trend in 2004-05 with a famous final-day reprieve, popularly known as "The Great Escape." Zaragoza, though, has been busily burrowing under the fence ever since returning to the top flight in 2009. Second-bottom during the winter break later that year, Zaragoza finished 14th, five points clear of the drop zone and repeated the trick last season. 20th at Christmas, the Aragonese side was 18th going into the final round of fixtures, and Javier Aguirre emulated Robson by engineering a 2-1 win at Levante to eventually finish a somewhat embellished 13th. The Mexican will not be around to make a fist of it this year, having been sacked during the winter break. The man stepping into the breach, former Sevilla and AEK Athens coach Manolo Jiménez, knows that the stakes have never been higher for his new club. After the frugal stewardship of Alfonso Solans, who preferred to sell David Villa and Cani rather than risk Zaragoza's solvency, Agapito Iglesias had led the club to the brink of oblivion. Zaragoza has debts of over 130 million, filed Spanish soccer's biggest-ever voluntary bankruptcy petition in July, and currently boasts the most expensive squad in its history -- with a wage bill to match. Not a great investment when its one win and ten points are considered. If Zaragoza descends this season, it may well never return.
December, 10, 2011
12/10/11
2:50
PM ET
If the scene was set for a first Real Madrid league triumph over Barcelona under the tutelage of José Mourinho before a ball was kicked in the Santiago Bernabeu on Saturday night, Karim Benzema's opportunistic strike after less than a minute's play appeared to have laid the groundwork for a Catalan tragedy.
[+] Enlarge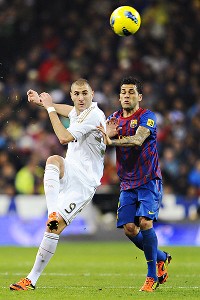 Pierre-Philippe Marcou/AFP/Getty ImagesKarim Benzema had a solid game up front for Real Madrid, but some of his teammates failed to convert with chances on goal against Barcelona.
But so fair and foul a day Mourinho could scarcely have envisaged. Eschewing the game plan preannounced by his right-hand man, Aitor Karanka, in Friday's news conference and opting to field the same formation that had been so clinically dissected in a 5-0 defeat in Camp Nou last season, Mourinho sought again to go toe-to-toe with the purveyors of a balletic soccer style. Leo Messi failed to score, and Cristiano Ronaldo erred in the most basic decision-making to the detriment of his side, but the Clasico has long been about more than the two most lauded players on the planet. The match has become a duel of styles, of ethos.
"We don't know how to play any other way," Xavi said after the match. The only slight tweak on Barcelona's side was Pep Guardiola's shift to a back three. "I wanted to do it after two or three minutes, but after conceding so early, I wanted to stabilize the team. We held on for half an hour and then moved to three at the back because we needed to find spaces."
Guardiola's decision to field Alexis Sanchez in place of David Villa robbed Real of one of its most potent attacking forces, Marcelo, and the Chilean also provided the response to Real's opener via a defense-splitting pass from Messi. Despite going behind a goal in 22 seconds -- the fastest goal in the history of the Clasico -- Barca never betrayed its ethos of patient probing while Madrid, sensing a famous victory, tripped up on its own haste.
Twice Ronaldo had the goal at his mercy, and twice he failed to execute. Against other opposition, there is little doubt that he would have scored, but Real appears to have a clemency switch that can be activated only by the visit of its archrival. Fifteen straight victories in all competitions is a mark few teams can boast, and Real cannot be accused of a lack of industry -- 17 attempts from less than 40 percent possession displays a willingness to get forward, if nothing else tangible.
Guardiola has now overseen 12 Clasicos at the helm of Barcelona and has been defeated just once, in last season's King's Cup final. Against Mourinho's Real his record is won four, tied three, lost one with a 17-8 aggregate score line. The weight of such figures on the opposition should not be underestimated.
Yet Barcelona's greatest hold over its eternal enemy is the indecision it fosters among it. The 4-3-3 that served to overcome Valencia earlier in the season could have stymied Barca on this occasion, but despite a public announcement of this shape on Friday from Mourinho's lieutenant, Karanka, the Portuguese again opted to play the opposition, as Xavi had predicted during the week, "one-on-one."
It could have worked, had Real had the patience to maintain possession of the ball as it has on so many occasions this season. But an endemic desire to put Barca to the sword when its front foot was forward so often led to bad decision-making in the final third with a snap shot favored to a pull-back when a colleague was better placed for a goal attempt. Ronaldo was the chief perpetrator of such impetuousness, but when even Lass Diarra opts for a 30-yard belter instead of a ball to a teammate in space, it is clear that a lack of sangfroid induces Real's players into rash decisions.
In the aftermath, Mourinho cursed his side's luck, and not without good reason. There is a case for reviewing Messi's continued presence on the field after a rash challenge that could have brought about a second yellow. That instance and Barca's second goal, a heavily deflected Xavi effort that sneaked past Iker Casillas' far post, were undoubtedly game-altering moments. But when all is said and done, Real again failed to capitalize on a momentum born of 10 consecutive league victories and home advantage to open up a six point gap and possibly a nine-point chasm in December. The exodus of the home support before the final whistle sounded told its own tale.
Call it luck, or a lack of mental fortitude, as suggested by Mourinho, but Barca has hauled Real back in the standings. However, as the Portuguese manager was at pains to point out after the match, anything other than a loss at Sevilla next weekend will leave Real leader before the winter break -- something that has not yet occurred under Mourinho and a small psychological boon to soothe the familiar sting of a Clasico defeat for the capital club.
December, 8, 2011
12/08/11
1:47
PM ET
Going into the first Clasico of the season, the panorama is quite different for Jose Mourinho's Real Madrid than it was last year. The Portuguese's team is breaking club records with ease and has just completed a perfect Champions League group stage with six victories and a goal difference of plus-17.
More importantly, it also leads the league by three points over Barcelona for the first time at this stage of the season in the Pep Guardiola era, and has a game in hand on its eternal rival. For the first time under Mourinho, the pressure is on Barcelona.
Here are some issues for both sides ahead of Saturday's clash.
[+] Enlarge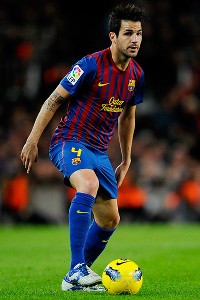 David Ramos/Getty ImagesWill Pep Guardiola opt to include Cesc Fabregas in his starting eleven against Real Madrid?
A season-defining match?
Leo Messi thinks so, having said that a good result is imperative ahead of the Club World Cup event in Japan. A loss would potentially leave Barca nine points adrift of Real before the winter break, a chasm in Liga terms and one that would leave the destination of the title very much out of the Catalans' hands. Real is on a record-breaking streak of 15 consecutive wins. Meanwhile, Barca has only won nine of 18 possible points on the road this season.
A beautiful game?
Vilified for Real's negative tactics and his players' bruising approach to last season's Clasicos, Mourinho altered his approach in the two-leg Supercup and what unfolded were two largely sporting and riveting contests -- until the last-minute mayhem that resulted in three red cards. It is probably as well for Real as it is for soccer that a shortage of defenders means Pepe will be required at center back on this occasion.
Let's talk about Cesc, baby
Arsenal fans used to have a decent song starting with this line. Barcelona fans, if they sing at all during Camp Nou matches -- which are more like sitting in a library than even the Emirates -- stick to a generic "Baaaarca" or "insert-name-of-player" and little else. However, they may have to find a ditty for Cesc, who has defied prognostications to become not only Barca's second highest-scoring player this season, but a linchpin of its intricate forward play. Rumors that David Villa has not taken too kindly to the new arrival are probably not entirely inaccurate. It will be a major surprise if Barca's No. 4 isn't shoehorned into the starting 11 on Saturday.
Lass man standing
It was instructive that of the six players Mourinho excused from the team's midweek trip to Amsterdam, Lassana Diarra was among them. Prevented from being sold or going out on loan by the Portuguese manager, in the big games this season the stocky Frenchman has been called into action. Expect a three-man midfield Saturday, with Lass alongside Xabi Alonso and Sami Khedira.
The opening goal
Not since October 1988 has Real come from behind to win a Clasico in the Santiago Bernabeu.
[+] Enlarge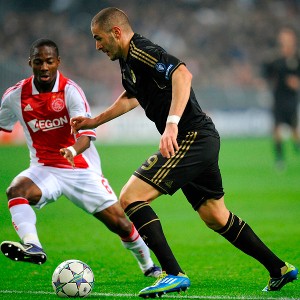 John Thys/Getty Images Karim Benzema featured for Real against Ajax on Wednesday, but the French forward should be in Mourinho's starting lineup for Saturday's Clasico with Barcelona.
Three at the back for Barca?
A new feature of Guardiola's team this season has been the experiment of playing with three at the back. An extra man in midfield permits Barca to move the ball around with even more speed and precision than usual. This setup was used in last weekend's 5-0 lashing of Levante, but as displayed against Valencia earlier in the season when Dani Alves pushed up into midfield, Barca's left flank is overly exposed with a three-man defense. It should also be noted that Gerard Pique was unavailable on both these occasions, with Eric Abidal, Carles Puyol and Javier Mascherano forming the defensive troika. The Shakira-botherer was punished for incurring a fifth yellow against Rayo to sit out the Levante match by being selected to join the kids for the BATE Borisov dead rubber midweek, but he will likely return to the defense Saturday.
Karim of the crop
"On Saturday, Cristiano, Di Maria and one of the two will play," said Mourinho after the Ajax match on Wednesday. The fact that Gonzalo Higuain played the full 90 minutes and Karim Benzema was substituted after less than an hour shows the France striker has made the starting spot his own.
Cuenca surprise?
In last season's Clasico at the Bernabeu, Guardiola attempted to surprise his counterpart by playing Dani Alves on the right wing, in a ploy that didn't pan out and was rectified with a tactical switch. Using Isaac Cuenca on the right Saturday would be as much of an eyebrow-raiser, but the latest Guardiola prodigy has shown enough youthful verve this season to suggest that he could equally raise hell down Real's left. Alexis Sanchez and Pedro, though, are probably ahead in the pecking order for the right-hand berth this weekend.
Careful in the box
There have been 18 penalties in Clasicos at the Bernabeu down the years. Only one corresponding spot shot, which Andoni Zubizarreta saved from Emilio Butragueno, failed to go in. And how many of the 12-yarders have been awarded to the home side? Fourteen.
November, 30, 2011
11/30/11
10:33
AM ET
"Pulling back six points on Real Madrid isn't the greatest challenge I've ever had," said Pep Guardiola after a Saturday evening in the Spanish capital that left the champion trailing in the wake of Real Madrid by the largest margin since he took the reins at Camp Nou in 2008.
Barcelona found itself playing in the southern suburb of Getafe immediately after Real had dispatched Atletico 4-1 at the Bernabeu. At the Coliseum Alfonso Perez, meanwhile, Getafe achieved what no other side has this season and beat Barcelona. It was not attractive, with Getafe placing 10 men behind the ball, throttling Barca in midfield and scoring the game's only goal with its only shot on target. "The defeat is not terrible," Guardiola said. "There is plenty of league left to go."
[+] Enlarge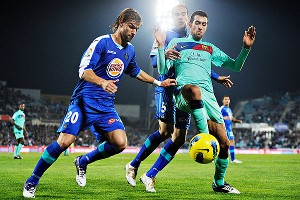 David Ramos/Getty ImagesGetafe's lung-busting effort against Barcelona -- challenging for balls, closing down space and, yes, parking the bus -- handed the Catalans their first league loss this season.
The problem facing Guardiola is that Getafe will not be the only side to shut up shop when Barcelona comes to town, so his team can expect to be similarly confined in stadiums up and down the country between now and May. Upon buying Zlatan Ibrahimovic in 2009, Guardiola announced that the bashful Swede would provide Barca with a Plan B. It was an experiment with mixed results; Ibrahimovic was worth a goal every two games and provided several assists, but he never really fit into the Barcelona system. With a Plan A that is so effective, it could be argued that Barca needs no alternative route to goal, but the short-passing game can be stifled if the opposition has the tactical blueprint correct and, more importantly, the legs and lungs to carry it out for 90 minutes.
Another conundrum is Lionel Messi, to whom the team naturally turns when a spot of individualism is required. Prolific at Camp Nou, only one of Messi's 16 league goals this season has been scored on the road. Barcelona has won two, tied three and lost one of its six matches outside Catalonia.
Still, Guardiola can be excused for adhering to the tried and tested: The loss at Getafe was only his ninth in charge of Barcelona, and five of those came in his first season, when the Catalans won the title by nine points. In 2009-10, the margin was three points. Last season, the gap was four points. Barcelona's room for maneuvering this season will be tighter still, with Real in the ascendence.
Jose Mourinho's team has won 13 consecutive matches with an aggregate score of 47-8. More importantly, it has done so playing both a possession-based game and by employing its lightning counterattacks. "We've taken a big step forward," Xabi Alonso said. "We are on a great run, not just in terms of results but also in the way we are playing. We want to continue doings things well to have a better chance to win all of our games, starting with Saturday's [at Sporting]."
Mourinho has always said his second season at any club is his best, and the statistics so far this year back his claim: Real has scored 13 more, conceded one less and has one more win and two more points than this stage last term.
Barcelona reeled Real in by three points Tuesday evening as it honored its Week 17 fixture against Rayo -- a routine 4-0 win at Camp Nou -- ahead of the Club World Cup in Japan in December. In the corresponding round of fixtures, the final match day before the winter break, Real faces a tricky trip to Sevilla, where the recuperation of those three points is far from guaranteed. The week beforehand, on Dec. 10, is the first Clasico of the season, at the Bernabeu. Never since Guardiola arrived at Barcelona has Real been in a better position to exploit its great rival's weaknesses, and never has there been a better moment for Mourinho to display the veracity of his second-season success.
November, 25, 2011
11/25/11
1:51
PM ET
The Madrid derby doesn't get quite as much attention as it used to, the biggest rivalry in Spain's most popular sport -- one also infused with a fair dose of political undercurrent -- now firmly established between Real and Barcelona. When the clasico approaches, it is impossible to blink an eye without encountering a towering billboard of Cristiano Ronaldo and Leo Messi loudly advertising the Greatest Game of Them All. Ahead of the derby, quiet nostalgia is more traditional as former players and managers peer over their sepia-tinted glasses to the days when the match was still considered a contest.
The last time Atletico won the capital clash was in 1999. Jimmy Floyd Hasselbaink netted twice in the Bernabeu either side of Jose Mari's effort as the rojiblancos overturned a one-goal deficit from Fernando Morientes' thundering header. This was the year that the United States won the Women's World Cup in China, MSN Messenger was launched and the Kosovo war was in full flow.
It was still the 20th century, when soccer was a more equitable enterprise. Not that Atletico is reluctant to open its checkbook, but it is not in a position now to attract the same class of player as Real. And it has an uncanny knack of turning those good players it does purchase into average ones.
[+] Enlarge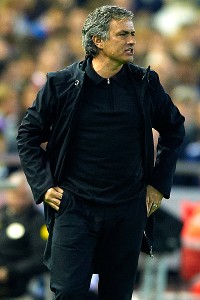 Manuel Queimadelos Alonso/Getty ImagesReal manager Jose Mourinho expects Saturday's Madrid derby with Atletico to be a low-scoring affair.
Today, few people give Atletico the slightest hope of defeating its cross-city rival. Over 12 years the biggest match in the southern Madrid side's calendar has become a gravitational force, dragging optimism to the ground well before the players have set foot on the field.
"Playing against Madrid is not pressure, it is a responsibility," striker Adrian Lopez said this week, and in terms of goals it is on his shoulders that the burden will fall with Radamel Falcao seemingly ruled out.
Despite Real's incredible run in the fixture, Jose Mourinho has been active in dispelling any sense of complacency in the white half of town: "If you offered me a 1-0 or a 2-1 result now, I'd take it," he said on Friday morning. "They've won it before. They could win it tomorrow. Derbies are derbies. If people think we are going to score three or four they are mistaken. There is no room for statistics or tradition. In a derby anything can happen."
For his part, Atletico coach Gregorio Manzano seems intent on ensuring that Mourinho's goal cast is accurate. "Playing attractive, open and joyous soccer does not do you any good in the end if you do not achieve your objective, which is to win," he said. "This is what we have to do. No joyous, open or attractive play. We have to play a tight, ugly and hard game, not without quality but not playing like the little sisters of mercy either."
Atletico is not incapable of beautiful movement, as its third goal in an entirely unexpected Europa League demolition of Udinese showed.
However, Manzano is right to be cautious. Real's potency in all areas this season is greater than last, particularly in its pressuring high up the field and its devastating counterattack. Mourinho's side is on a run of 12 straight victories, has scored 42 league goals while conceding nine and until inexplicably dropping its guard against Dinamo Zagreb on Tuesday, had scored 15 without reply in Europe. Atletico has scored just one more than it has conceded domestically, 17 to 16.
When asked about the prospect of an Atletico-colored bus being parked in front of Thibaut Courtois' goal, Mourinho was typically sagacious: "As a coach I say that everybody can play how they want to and set up their team how they want to. It is not my place to criticize the approach of another coach. As a fan though, like when I go to the cinema, if someone tells me the film is bad, then I won't go. I respect the tactics of Manzano."