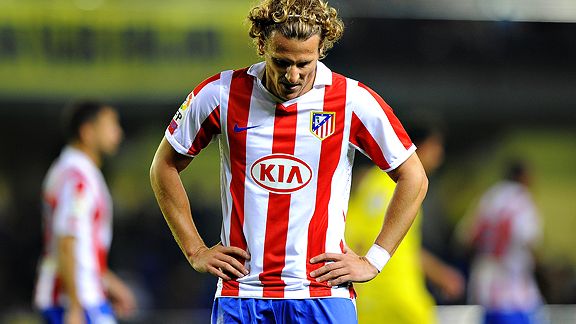 Jose Jordan/Getty ImagesIs Diego Forlan suffering from a post-World Cup hangover?
MADRID -- As surely as a hangover follows a night of excess, a La Liga striker will endure a barren patch in front of goal. Unless that striker is Diego Forlan. In his seven years in Spanish football, evenly spread between Villarreal (2004-07) and current club Atletico Madrid (2007-), Forlan has bagged 123 league goals in 215 games. The Uruguay forward, idolized at the Vicente Calderón with a chant to that very effect, has twice won the Golden Boot as Europe's top scorer and took the Golden Ball home from South Africa, scoring five as his country swashbuckled its way to the semifinals.
Forlan's current 10-game goalless drought with Atletico is something alien to Spanish observers. Fans of Manchester United, though, will remember a profligate Forlan well enough. During his ill-fated spell in the Premier League, Forlan scored just 10 league goals in three seasons. During his inaugural year at United, he failed to trouble opposition goalkeepers at all.
Forlan's 2004 move to Villarreal gave him a new lease on life, and he duly hit the target 25 times as the Yellow Submarine rose to the improbable heights of third in La Liga, earning a first foray into the Champions League.
There is not yet any hand-wringing in the Calderón -- or in the Spanish media, which is primarily obsessing over who of Cristiano Ronaldo and Lionel Messi will end the season with the Pichichi trophy as the league's top scorer-- and there is good reason for manager Enrique "Quique" Sanchez Flores to back his man. Forlan typically scores most prolifically after the winter break.
"I'm tired of giving explanations for a matter that doesn't exist," Sanchez Flores told reporters ahead of Atletico's King's Cup match at Las Palmas last week. "Forlan is Forlan, and with that I've said all there is to say."
Sanchez Flores wasn't quite finished, though, and added that Forlan would not be making the trip to the Canary Islands. Instead, his star striker would be following a special training program in Madrid. In hindsight, it might have been wiser to take Forlan, so he could have tried to regain his form in a match that turned out to be a 5-0 case of shooting minnows in a barrel.
Restored to the starting lineup for Sunday's match against Almeria, Forlan's midweek repose did not appear to have had any tangible effect. There were flashes of the Uruguay striker of the summer, but there was no bang, and he was substituted for Diego Costa midway through the second half as Atletico was forced to settle for a 1-1 tie against a resolute Almeria.
[+] Enlarge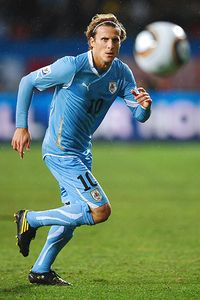 Laurence Griffiths/Getty ImagesIn South Africa, Forlan won the Golden Ball as the World Cup's top player. He scored five goals and led Uruguay to the semifinals.
There is talk of Forlan suffering from post-World Cup fatigue, but Spain's contingent played the same number of games as Uruguay and its players are for the most part firing on all cylinders. Barca's David Villa, who has been locked in his own personal altercation with the back of the net, scored two sublime strikes in his team's 5-0 rout of Sevilla over the weekend.
Forlan endured a wretched start to the season last year, too, yet led Atletico to Europa League glory and the final of the King's Cup, scoring freely in both tournaments. However, Atletico played a staggering 64 games in all competitions -- not far off two entire Ligas -- in a World Cup year. That's a lot of football for anyone, and let's not forget that Forlan, at 31 years old, has logged plenty of miles.
Atletico's physical trainer, Jordi Garcia, warned after the World Cup that Forlan might pay the price for his South African exploits during October and November. He started strongly, scoring three goals in the first two league games of the season, but has not found the target since. It might be that Forlan simply is suffering from a spot of delirium tremens after the highs of last season. If so, La Liga's winter hiatus will provide the antidote. It might also be that his heart is no longer in Spain, as his recent, plaintive mentions of the Premier League suggest.
Sanchez Flores' take? "He places too much responsibility on himself," the manager said. "At the end of the season, he'll be the team's top scorer."
Atletico supporters will hope that Forlan starts to make good on his coach's assertion in the team's next game, the derby at city rival Real, a fixture in which the red-and-white half of Madrid's collective famine stretches back more than a decade.