Spain is in very good hands
November, 11, 2010
11/11/10
9:33
AM ET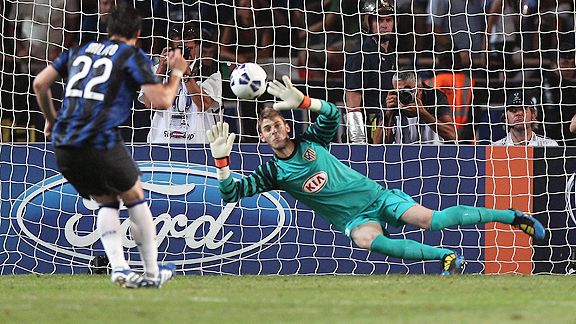 Michael Steele/Getty ImagesAtletico Madrid's David de Gea, the Spain under-21 No. 1, is the heir apparent to Spain's Iker Casillas.
MADRID -- As David de Gea fished the ball from his net a second time in last weekend's Madrid derby, the young Atletico keeper might have cast an admiring glance upfield, as much toward Iker Casillas as to the defense that shields the Spain and Real Madrid captain's goal.
Days earlier, De Gea had presented Casillas with the Gold Insignia of the Madrid Football Federation (FMM), received by the latter on behalf of La Roja for its victorious South Africa campaign.
At the same ceremony, De Gea, the Spain under-21 No. 1, was garlanded with the Golden Boot as the best player in the regional federation's aegis. Casillas himself had picked up the same prize exactly 10 years earlier at the age of 19.
Sunday marked the occasion of De Gea's 20th birthday, and while a solid back four would have been a welcome gift, the Atletico custodian embellished his already lofty reputation with a slew of saves worthy of his opposite number. De Gea has made less than 50 senior appearances for Atletico after wresting the starting berth from Sergio Asenjo and was called up to Vicente del Bosque's provisional World Cup squad, albeit for a taste of the senior sphere and not a full investiture.
De Gea was faultless for the two goals that denied him a derby win to usher in his third decade, and which consigned Atletico to an 18th straight showdown with its city rival without a victory. The positioning of Atletico's defense to allow Mesut Ozil's free kick to thud into De Gea's right corner was something the goalkeeper probably hadn't seen since his days with Atletico B.
"When you play in the junior categories, you only think about enjoying yourself," De Gea said at the FFM presentation. "I've had the good fortune to rise to the Primera and play with the best in the world."
Casillas, speaking at the same event, described De Gea as a "good kid, and an extraordinary person. We're all calm because we've got a keeper for a while, he's very good, and he will have his place [in the national team]."
De Gea will have to wait, as Pepe Reina, Victor Valdes, Jerzy Dudek and Antonio Adan can all attest. Casillas, or "Saint Iker" as he is known in Spain, has certainly been blessed with an injury free career and he stands just 11 international appearances shy of the all-time record of 126, held by Andoni Zubizarreta.
De Gea is the most natural goalkeeping talent to emerge in Spain in his generation, but all raw goalkeepers need a mentor. Asenjo is an interesting prospect, but has suffered a string of injuries and patchy form since his arrival from Real Valladolid and is firmly now Atletico's second choice behind De Gea. Joel, like De Gea a Madrid native, has made just two senior appearances for the club. With Dudek, at 37, scarcely a long-term backup for Casillas and Adan not yet having broken into the first team reckoning, Real might well be in the market for a potential successor to its crown jewel.
De Gea might be Casillas' heir apparent at the international level, but the idea of him moving from Atletico to Real isn't a popular one, with only Santiago Solari, the Argentinean midfielder, and Jose Manuel Jurado, born far from the tribal considerations of the capital in Cadiz, making the switch directly between the two clubs in recent memory.
Real president Florentino Perez is also on a documented drive to swell the ranks of Spanish players at the club. Playing behind Atletico's Laurel and Hardy defense hardly helped the eminence of Gregory Coupet, Leo Franco or Christian Abbiati in seasons past, even if the arrival of Diego Godin and the rebirth of Luis Perea as something resembling a footballer has shorn up the back line.
History is a fickle mistress that records mostly the deeds of the victorious. After all, how many outside the Vicente Calderon recall that Raul Gonzalez began his career in the red and white stripes of Atletico? And for how long will De Gea be content to play in the Europa League and challenge for sixth place in La Liga?
The checkbook of Perez might hold the answer.