[+] Enlarge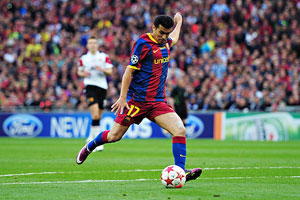 Shaun Botterill/Getty ImagesPedro has been a key to Barcelona's attack.
It's fair to say that Pep Guardiola has done little wrong since he took over the Barcelona first team from Frank Rijkaard in 2008 -- the Zlatan Ibrahimovic debacle aside -- but perhaps his finest moment in any administrative capacity as coach took place in 2007, when he was still in charge of Barcelona B.
At the end of the previous season, Barcelona's C team had ceased to exist and several of its players were on the verge of being pushed out of the club. One of these players, a wiry winger from the Canary Islands called Pedrito Rodriguez, was set to leave the Catalan giants for a season on loan at third-division Racing Club Portuense. Guardiola's intimate knowledge of Barcelona's youth set-up left him with no choice -- he picked up the phone, gave the order, and Pedrito was elevated to Barcelona B under Guardiola's tutelage.
Pedrito made his first-team debut under Rijkaard in January 2008, coming on for a few minutes in a league match against Murcia to replace Samuel Eto'o, a prescient vision of the future. Guardiola replaced Rijkaard in the summer of 2008 and swiftly ditched party boys Ronaldinho and Deco. Eto'o, not the easiest of locker room characters, had one foot out of the Camp Nou door, but eventually persuaded Guardiola through his dedication in training to retain his services. Almost unnoticed at the time, Pedrito, Sergio Busquets and Jeffren Suarez were quietly elevated to first-team status.
It could all have been so different for Pedrito. His family did not have a rich tradition in sports, unlike Busquets, whose father, Carlos, had played in goal for Barca. And Pedrito wasn't a child prodigy such as Lionel Messi, Andres Iniesta or Cesc Fabregas, installed at an early age in La Masia's incubus, the breeding ground of tiki-taka. "From the start you are practicing this playing philosophy and it makes the transition much easier when you reach the senior team," Pedrito said. "For those that arrive later, like me, it is more difficult. I came from the Canaries, where the style is more direct."
It was in his native Canaries -- a hotbed of tricky midfielders and wingers that has also produced Juan Carlos Valeron and David Silva -- that Pedro was spotted by Barcelona's ever-watchful talent scouts. He had already made his professional debut by that stage, for CD San Isidro of the third division. He was almost 18 when he arrived at Barca.
In Guardiola's first year in charge, few but the balding sage held much faith in Pedrito's ability. The young winger's case was not helped by a season-long blank in front of goal for the first team. He made the briefest of appearances in the 2009 Champions League final against Manchester United, coming on in the 92nd minute for Iniesta. "I didn't touch the ball," Pedrito said, "but I played in the final."
All of which makes his extraordinary rise more impressive still. Pedrito's first goal for Barca came in the 2009-10 Spanish Supercup, against Athletic Bilbao. He followed this with the winning goal in the European Supercup as well as tallies in the league, King's Cup and Champions League, and an 89th-minute equalizer against Estudiantes in the Club World Cup. Less than six months after signing his inaugural first-team contract at Barcelona, Pedrito had become the first player in history to score in all six club competitions in a calendar year.
He also shed his name, although not under his own design. Pedrito became Pedro, or Don Pedro. "I always liked Pedrito, because I've always been called that," he said at the time. "But if the club prefers Pedro, then Pedro it is."
"If he was Brazilian, he'd be called Pedrinho and we wouldn't be able to afford him," said Guardiola with annoyance when he learned of the change.
Since then, the Canarian has been on song in a number of important games: in both legs of the Champions League semifinals against Inter last season and against Real Madrid in his first clasico appearance. This season, he scored the second in Barca's 5-0 rout of Real in the league and the equalizer against the same opponent in the Champions League semifinals. It was little surprise that he opened the scoring in London at Wembley against Manchester United this past Saturday.
Messi, by contrast, had never scored in England in countless attempts, hence his exuberant celebration when he netted the second goal Saturday. Cristiano Ronaldo required 352 minutes of football to open his account against Barcelona, from the penalty spot at the Bernabeu. Pedro needed just 55 minutes to notch his first against the eternal rival, and he did so outside Camp Nou.
Now a World Cup-winner and with every major club honor available already secured, Pedro has a staggering 75 million-euro release clause written into his contract. Not that it would matter if he didn't. At the end of his outwardly disappointing 2008-09 season, Malaga, Sporting, Zaragoza, Racing, Tenerife, Olympiacos and Wigan all made their interest known.
Guardiola again exerted his authority. "Pedro is not going anywhere," he said.