Are Real and Barca killing Spanish football?
August, 30, 2011
08/30/11
6:05
PM ET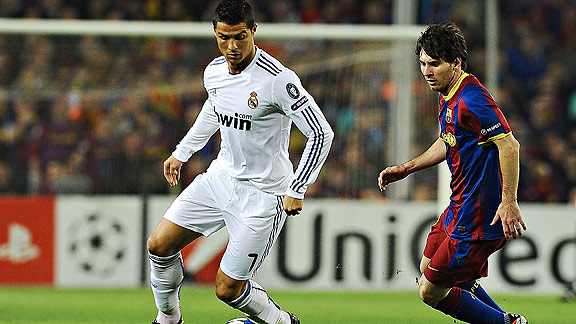 Siu Wu/AFP/Getty ImagesWith Real and Barcelona reducing the league to a two-team race and a bunch of also-rans, they are slowly killing the Spanish game to the point that fans will stop watching.
Anybody expecting anything other than a two-horse race in La Liga this season would have been swiftly deflated after the first round of fixtures. Real Madrid's trip to Zaragoza was destined to have just one outcome, and only the heroic performance of goalkeeper Roberto prevented Cristiano Ronaldo and his teammates from getting into double figures. Villarreal's 5-0 capitulation at Camp Nou was more indicative of a general malaise among the division's middle class and opens up the question not of whether any side can stop the big two, but if Real Madrid and Barcelona are already on course to smash all current records. The 107 goals in a season set under John Toshack in 1989-90 is surely under threat when 6-0 batterings are likely to be the norm. Both Barca and Real could realistically achieve the 100-point mark this year given the dearth of genuine resistance facing them.
Sevilla president Jose Maria del Nido put it succinctly when he told the media, "It's a league which only two teams can win … it's third-world."
But the other teams have more to worry about than whether Real or Barca will win the league. No fewer than 12 sides will battle relegation this season. Sevilla, Valencia, Villarreal, Athletic and Atletico will contest the European spots. Malaga will likely do neither, for this season at least. Last term, Barca scored 95 in winning the league, Real bagged 102. At the current rate of scoring, Barca will need 19 games to match last season's haul, Real a mere 17.
Both sides managed to bang six, seven or eight past an opponent last season on various occasions, and this year the traditional also-rans will lag even further behind. Villarreal, Valencia, Atletico and Sevilla all lined up this past weekend without shirt sponsors as investment on almost every level abandoned La Liga en masse. So impoverished are clubs that radio broadcasters were barred from stadiums over the weekend because of a fee dispute -- the league wants them to pay, the stations do not. Real's match against Zaragoza was almost pulled from television after a disagreement between the club and Mediapro, the company that owns broadcast rights to Liga matches, over an unpaid debt. Zaragoza is 130 million euros in the hole and in the hands of administrators.
In La Liga in 2011-12, every penny counts.
This is why few clubs can expect to avoid an embarrassment when they face Real and Barca, let alone compete over the course of a season. Valencia finished in third last year, 21 points behind Real. That gap will be considerably wider this year, with Los Che weakened by the loss of Juan Mata, Isco and Joaquin Sanchez. Atletico is an unknown quantity: more will be discernable when marquee signing Radamel Falcao is cleared to play and Arda Turan has found his feet in Spain, but it promises to be a season of transition for the Rojiblancos. Villarreal proved on Monday that it will miss the incisive Santi Cazorla -- and that it needs a new defense -- and Sevilla has been wobbling for a couple of seasons. That Roberto Soldado and Alvaro Negredo, saviors of Valencia and Sevilla respectively this past weekend, are Real cast-offs speaks volumes about the balance of power in La Liga.
There are some who will argue that we are witnessing a great sporting rivalry of our time. That may be so -- the world's top tennis players have to dispatch plenty of lesser lights before facing each other, but not at the cost of competition. Upsets are frequent, close shaves regular occurrences.
With Gillette model Ronaldo and Lionel Messi duking it out for the individual honors and both Real and Barca equally aware that this season may be a tighter race still, goal difference is a factor that other clubs will learn to loathe.
What, if anything, can be done to alter the status quo? One of the key elements of the Association of Professional Footballers arguments in calling strike action two weeks ago was that clubs that cannot -- or simply choose not to -- pay their players should face administrative relegation. In Spain, where financial forethought is seemingly an afterthought, that would leave about 10 clubs in Primera. UEFA Financial Fair Play regulations came into effect in June, meaning this past transfer window was ostensibly the last one when clubs can overspend with wild abandon. The rules state that all of Europe's soccer teams have three years to balance their books. Barcelona, when a 150-million hole in its accounts was discovered by the Rosell administration, took roughly five minutes to pluck the exact same amount from the pockets of the Qatar Foundation, its main sponsor. UEFA's scheme may prove to be restrictive, but it will be far from a leveler of the playing field.
Twenty-one clubs in Spain are either in, have recently exited, or are applying for administration, taking advantage of Spain's very leaky solvency law. Zaragoza bought goalkeeper Roberto Jimenez from Benfica this year for 8.6 million euros, despite its crippling 93-million third-party debt, through an investment fund base in Jersey on the Channel Islands. Deportivo, still owed cash by the Aragon club for the transfer of Lafita, and relegated last season while abiding by the rules of competition, was understandably less than amused.
Essentially, there is a way around everything in La Liga.
Malaga's model perhaps offers an alternative -- a solvent long-term approach to establishing a club in the upper echelons of the division. But for every Sheikh Al-Thani, the wealthy owner of the club, there are others without a sugar daddy that are struggling to stay afloat.
A more equitable distribution of television revenue has been debated for some time, with a core of Liga clubs refusing to bow to the current format, under which Real and Barca reap more than half the pot of 600 million euros. A motion to adopt a fairer system similar to that of other European leagues has fallen strangely silent since it was first mooted last year.
For the foreseeable future, the stable door has slammed shut with Real and Barca having already bolted.
"If Real and Barca only want to have two matches, let them have two matches," Villarreal president Fernando Roig said after his Champions League side's Monday night humbling. "But it isn't good for football. I give it three or four years. Either the situation changes or we kill Spanish football."