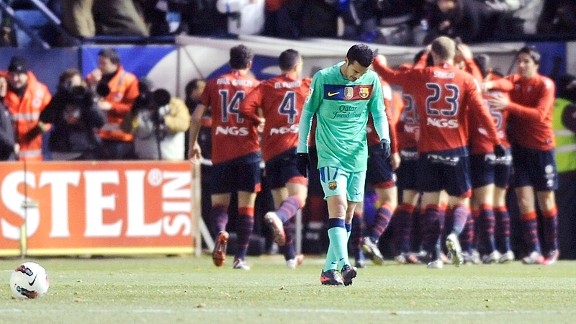 Ander Gillenea/AFP/Getty Images)The latest defeat, 3-2 away to Osasuna, has Barcelona ten points adrift of Real atop La Liga.
"It's ten points now. It's very difficult to make up 10 points, especially when it's Real Madrid," said Barcelona goalkeeper Victor Valdes after his side's unexpected 3-2 loss to Osasuna on Saturday, nearly a whole day before Real Madrid and Levante took the field to confirm the new double-figured gap at the top of La Liga. Unexpected because even though Osasuna is a tough nut to crack at the Reyno de Navarra, Barcelona had already played Jose Luis Mendilibar's team three times this term, winning on each occasion with an aggregate score of 14-1. Yet the result was not entirely out of character for Barcelona this season away from home: It has lost twice and tied six times on the road so far in 2011-12, the same number of points dropped over the whole of last season, and all of them outside Camp Nou, where it is unbeaten since 2010.
The whispering started earlier this season, but it was ever-present as an undercurrent to Barcelona's summer dealings, which saw only the arrival of Cesc Fabregas to freshen up the first-team squad: Were Barcelona's all-conquering players simply getting a bit bored of it all? And will the policy of bringing youth players through be sufficient to keep pace with Real in the short term, and others with bottomless pockets (such as Malaga) in the long run?
Pep Guardiola was forced to field the first question after just a few games: "The day when they stop running, when they no longer have the hunger, I'll sit here and tell you. When we play badly, I'll come here and say so," the coach told a news conference after his team had put eight past Osasuna following successive 2-2 ties against Milan and Real Sociedad.
And the Barca boss toed a similar party line after the King's Cup victory over Valencia when he admonished the gentlemen of the assembled press: "We're very, very pleased to be in another final, the third in four years, and that says it all. If you ever have the temptation to doubt some of the players, whether they're tired or have eased up, before writing it or saying it, count to five and remember this game."
The trouble for Barca is that its rivals view any match against the Catalans as a cup final. "I will always remember scoring twice against Barcelona," said Dejan Lekic after Saturday's game. While there is little doubt that a group of highly paid professionals is unlikely to find motivation for lesser Liga matches hard to come by, Guardiola's squad is one of the smallest of any club in the European leagues. His 22-man first-team pool at the moment includes Jose Manuel Pinto, the reserve goalkeeper; long-term absentees Ibrahim Afellay and David Villa; and three canteranos: Isaac Cuenca; Jonathan dos Santos, who was promoted to the first team 12 days ago; and Andreu Fontas, who is out for months with a cruciate ligament injury.
Javier Mascherano is facing Liga suspension after getting himself sent off after the final whistle Saturday, and Sergio Busquets is still nursing a gash in his leg picked up against Real Sociedad, but he will be on the plane for Tuesday's match against Bayer Leverkusen even if not fully fit. More canteranos, Oier Olazabal and Marc Bartra, have been drafted in to make up the numbers.
Barcelona will be a lot happier than it might have thought to see its one African Cup of Nations-eligible player, Seydou Keita, back at Camp Nou this week after Mali's third-place finish in Gabon and Equatorial Guinea.
At least in European competitions, Barca can count on the real Leo Messi reporting for duty. The Argentine -- unlike Xavi, Andres Iniesta and Fabregas, who did their best to warm the freezing benches at the Reyno de Navarra -- is never rested, and apparently is none too happy at being so much as substituted. Fair enough when you are the best player in the world, but Messi's numbers away from home this season in the league are not prolific. Of his 23 goals, four have been scored outside Camp Nou, and three of those were in a single afternoon at Malaga. In the Champions League, he has six in three matches.
"We still have the Champions League, and we are Barcelona," said Gerard Pique, who has good cause to rue his taunt of last week when he predicted "a long and difficult" second half of the season for Real.
He and Valdes were not alone in practically ceding the Liga title to Los Merengues, either. "The reality is that there is an important distance between us and Real," Guardiola said. "But we have to continue to the end of the season. The youngsters that come through to the first team know they have always been under pressure. They have always had demands placed on them sufficiently to arrive at this level and take it on naturally."
Bayer's coach, Robin Dutt, said it would be a "miracle" if his side could eliminate Barca over two legs. Should that happen, it won't be quite as cataclysmic for the world of soccer as it would have been 12 months ago, as only recently are Barca's rivals beginning to sense its weakness outside Catalonia.