Sunday's big test for Atletico
February, 24, 2012
02/24/12
11:59
AM ET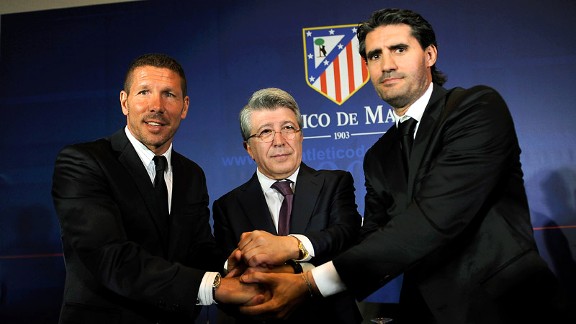 Dani Pozo/AFP/Getty ImagesSince Diego Simeone, left, joined Atletico on Dec. 23, the club has yet to lose in La Liga and beat Lazio 4-1 on aggregate to advance in the Europa League.
Sometimes, switching your coach in the middle of the season is quickly proven to be a disaster. The managerial merry-go-round of La Liga -- nine dismissals or departures since the first day of the season -- has already witnessed a triple appointment, Inaki Tejada's brief tenure as caretaker at Sporting taken into account. Having spent eight years as assistant, Tejada replaced Manolo Preciado after the then-longest serving coach in the division was fired following a 5-1 loss to Real Sociedad. Two games and a 4-0 stuffing at the hands of Valencia later, a relieved Tejada returned to relative obscurity on the coaching staff, making way for the combustible Javier Clemente.
Clemente's first game in charge was against Atletico Madrid last weekend. An unremarkable 1-1 tie was a vast improvement on Sporting's recent results and a footnote to Liga statisticians; Sebastian Eguren's strike was the first goal conceded by Atletico in the league in 2012. Just before the winter break, the same side had shipped three over two games against third-division Albacete, which was sufficient for the board to dispense with Gregorio Manzano.
Atletico is traditionally a basket case of an institution, formerly run as the personal fiefdom -- and bank account -- of the corrupt former mayor of Marbella, Jesus Gil, and fans of the club still spend as much time protesting his offspring who remain on the board as they do cheering the team. In managerial terms, Atletico is one of La Liga's least patient employers. Since 2000, it has had 14 coaches, but the last of these, Diego Simeone, looks like he might be at the Calderon to stay.
Simeone is probably best known globally for a spat with David Beckham at the 1998 World Cup, when the Argentine apparently held forth on the virtues of Beckham's wife and went down theatrically when the expected retaliatory kick was aimed. In the red and white of Madrid, he is lauded as a key player in the club's last domestic success, a league/cup double in 1996. Now, Simeone is transforming a side that looked set for yet another season of nearly-but-not-quite. Unbeaten in seven league games, Simeone also guided Atletico through a Europa League round of 32 tie against Lazio -- the only bright spot of Manzano's reign was the side's continued good form in the competition -- while resting his star players in the second leg, a luxury unthinkable just a few weeks ago.
El efecto Cholo has been nothing short of miraculous. Simeone has shorn up one of La Liga's most comedic defenses, inspired Radamel Falcao to score again and created something resembling a functioning midfield -- built on loanee Diego, who will be missed while sidelined, and Arda Turan. The number of times Atletico has functioned in all thirds of the pitch since Simeone's playing days can be counted comfortably on one hand.
This weekend is the greatest test yet of how far Simeone's dynamism and granite stare have brought Atletico. Barcelona visits the Calderon on Sunday evening, with the future of its coach, Pep Guardiola, the subject of fierce debate nationwide. Barcelona's away form is directly responsible for the 10-point gap between it and Real Madrid, and one more slip up on the road will likely hand the title to Jose Mourinho's side. In the last meeting between the two, Barcelona won 5-0 at Camp Nou in a contest expected to be close after Atletico had won two matches on the bounce, scoring eight and conceding none. Simeone will expect the distance to be less marked on this occasion.
Neither does Guardiola have an especially dominant record against Atletico. In his first year in charge, he left the Calderon on the wrong end of a 4-3 scoreline; in 2009-10, Atletico inflicted the only defeat of the Barca boss' second title-winning season.
It may be too soon to expect Simeone -- whose managerial career has been eclectic, to say the least -- to outfox his opposite number Sunday, but all eyes will be on the Calderon for a match that is often more of a clasico than its more famed counterpart. In the red corner, a coach whose star is on the rise; in the scarlet and blue, one whose short-term future is more in question than ever before.