Soldado or Torres for Spain?
March, 1, 2012
03/01/12
11:49
AM ET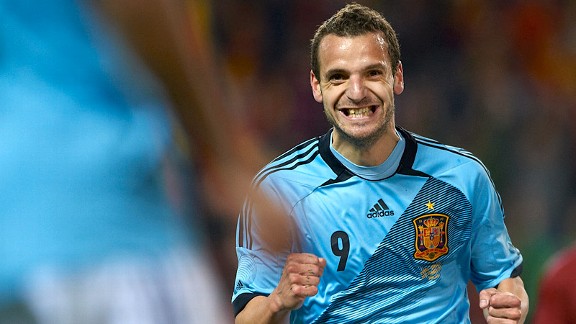 Manuel Queimadelos Alonso/Getty ImagesSoldado's dazzling cameo for Spain against Venezuela further complicates Spain's striker conundrum.
Of all those interested parties watching Spain cruise past Venezuela 5-0 on Wednesday night, Fernando Torres likely had the least to cheer about. The misfiring Chelsea striker (four goals this season!) was omitted from a Spain squad for the first time since 2006, though when Vicente del Bosque announced his team for the friendly, he cited "technical" issues rather than anything to do with El Nino's fitness. To add insult to Torres' lack of current injury, his cellphone didn't ring when Alvaro Negredo withdrew from the squad on Monday with a thigh injury as Del Bosque opted not to replace the unlucky striker from Sevilla.
While stressing that the players called up this week would by no means form the definitive squad for the European Championships, Del Bosque did concede that it was very much the 'basis' of what he would be taking with him to Poland and Ukraine as Spain seeks to become the first nation in history to complete a Euro-World-Euro treble. Is there room for Torres, the hero of Vienna, to stake a late claim for a seat on the plane?
Much will depend on the situation regarding David Villa, the country's all-time leading scorer, who fractured a shin bone at the Club World Cup and is unlikely to play much of a role at Barcelona before the end of the season. The Asturian striker had two screws removed from his leg earlier this week and said the prognosis is hopeful: "When I got injured I said it was my goal to make Euro 2012 and help Barcelona at the end of the season," said Villa. "I'm getting more optimistic about it every day as it's going well."
Villa's availability would certainly signal the end of Torres' chances, even if Spain's other 'kid' is a little rusty when the tournament kicks off in early June. Del Bosque is unafraid of playing with a fluid forward line, with no fixed striker such as Fernando Llorente or Soldado and using the likes of Cesc Fàbregas, David Silva and Andrés Iniesta as roving get-forward midfielders -- very much in the style of the current Barça. It is a ploy Del Bosque used at Real Madrid to good effect, and with the national team, he certainly has the players to adopt such a system. The elevation of Iker Muniain, Athletic Bilbao's young trickster-in-chief, for the Venezuela match is a further pointer toward Del Bosque's intentions for the finals. Muniain is comfortable in a roaming forward position, making darting runs and slipping markers, the art of what Spain calls a 'false 9.'
With that in mind, how many actual 9s will Del Bosque require? Villa spends most of his time at club level shunted out to the left of a forward three but would certainly be in the middle in a 4-3-3 for his country. Fernando Llorente usurped Torres as Spain's back-up striker some time ago and will be on the plane, barring injury in the interim. That would leave one more place for a striker, based on the latest squad, which contained 12 midfielders and three forwards before Negredo's injury withdrawal.
Enter Soldado, making his first appearance since 2007. A second half substitute against admittedly limited opposition, it took him four minutes to score his first international goal, an additional four minutes to add his second -- when Venezuela still had 11 men on the field -- before he won (and missed) a penalty, finally securing his hat-trick with ten minutes to play. Three goals in 35 minutes; to compare, Torres hasn't scored a single goal since last October -- exactly 1,338 minutes of game time.
It's a dream to return to the national team like this," Soldado said pitch-side after the game. "But you also have to take into account the circumstances in the second half, which was even harder for them after the sending off. I don't think this is my ticket to the Euros. It was an opportunity but there are still three months of competition left and [the remainder of the league] will go a long way to deciding whether I go to the Euros or not."
"Soldado finished off what his teammates created for him and he did so very well," said Del Bosque. "It would be unjust to make useless comparisons with other players just now. We'll have a look at what Soldado did tonight with objectivity. We have two months to assess our players and those in good condition will be in the squad."
The majority of the squad publicly back Torres to make a dazzling return to form -- and to national team contention -- in those two months, and the former Atlético and Liverpool striker has lent his hair to superstition: after a brief trip to Spain, El Nino returned to England sporting the blond locks that accompanied his now-ancient scoring prowess.
However, there is growing support for the inclusion of Soldado after Wednesday.
"Whenever he plays he seems to score," said Alvaro Arbeloa. "He took his chances to perfection."
Santi Cazorla, playing in front of his own fans, described Soldado as a "God-send" but opined that "whoever goes to the Euros, the matter of scoring goals will be covered."