Comparing La Liga and the Prem
March, 31, 2012
03/31/12
3:17
PM ET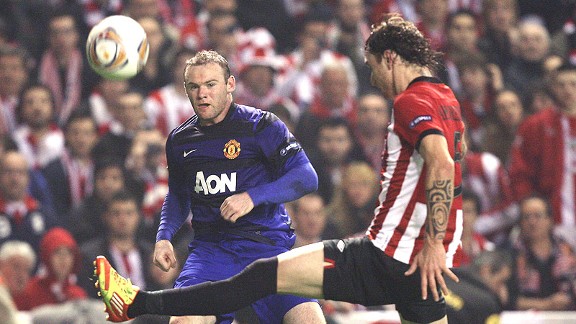 John Peters/Man Utd/Getty ImagesWayne Rooney and Manchester United were manhandled by Athletic Bilbao, hinting at La Liga's clear threat to the Prem's hegemony.
The latest strain of never-ending advertising propaganda on both Spanish and English sports channels has them claiming that their own leagues are the best in the world. It is a long-running argument and one that is likely to take on a new dimension if the Manchester clubs succeed in transforming the English table into one existing for two clubs to feast on the rest, as has been the case in Spain for much of the past decade. Although it is impossible to satisfactorily settle the question, there are a number of pointers that suggest the balance of power is swinging toward La Liga.
UEFA coefficient
The Premier League is currently the top-ranked league on the UEFA coefficient list, which tallies the total number of wins and ties achieved by clubs participating in the Champions League and Europa League over the previous five seasons, with bonus points awarded for the number of teams qualifying for both competitions and the stage that they reach.
The Premier League edged La Liga in both 2007-08 and 2008-09, with the two leagues tied the following season. 2010-11 was another very narrow victory for the English top flight, but this season, with only Chelsea still flying the flag compared to five teams from Spain, La Liga is a country mile ahead. UEFA's ranking for the two now stands at 83.410 for the Premier League and 80.329 for La Liga. Another European season like this one in 2012-13 will turn the table in Spain's favor.
Table for four, sir?
Since the inception of the Champions League in 1992, Spain has had 12 different clubs participating in Europe's elite club competition compared to nine from the Premier League. Of the English participants, Blackburn Rovers (one appearance) last featured in 1995-96, Leeds United (one) in 2000-01. Spurs (last season) and Manchester City (this season) also made one appearance. While there is no doubt at all that City will add to that tally, there is an ominous prospect of Spurs failing to do so on current form, much to the benefit of Arsenal and Chelsea. Between them, the erstwhile "big four" of the Premier League -- Liverpool has, for now, ceded its place to City -- have racked up 49 Champions League appearances.
In the same period, La Liga has supplied Barcelona and Real on a combined 32 occasions, with multiple appearances from Valencia (eight), Deportivo (five), Atlético (three), Villarreal (three), Sevilla (two) and random contributions from Mallorca, Real Sociedad, Celta, Betis and Athletic.
This season, Valencia is by no means guaranteed to qualify -- any side from third down to Athletic Bilbao in 11th place still has an outside shot. That includes such heavyweights as Osasuna, Levante, Espanyol and Getafe, plus newly rich Malaga, which has snuck into fourth, level on points with Valencia.
Compare with the Premier League, where the Manchesters will be joined by two of Arsenal, Tottenham, Chelsea and Newcastle.
Only when Wolves, Bolton, Sunderland and Villa are within a shout of the Champions League with fewer than 10 games to go in a season can the Premier League point to La Liga's supposed lack of competitiveness with a straight face.
Shut the door on your way out
Since Florentino Pérez swept up two of the Premier League's top performers in Cristiano Ronaldo and Xabi Alonso in 2009, the traffic of players between the two leagues has been very much one way. La Liga has lost young stars (David Silva, Kun Aguero, Juan Mata and David de Gea) with Cesc Fabregas and not much else coming back the other way.
Reports abound that Chelsea is after Gonzalo Higuain, Angel di Maria, Falcao -- even Ronaldo -- while Athletic Bilbao faces a summer of poaching attempts and Valencia may have to hide Roberto Soldado for safe keeping after the Euros. The number of Premier League stars currently interested in La Liga? Gareth Bale, maybe.
Cashing out
A good reason for this exodus is, of course, that Spain is up to its eyeballs in debt, with dozens of clubs going into administration, some disappearing entirely and the total debt to the taxman standing at about 750 million euros.
During 2011-12, English clubs went over 192 million pounds in the red through transfers. La Liga went into debt to the tune of 52 million euros, almost all of it spent by Malaga, which didn't have much to sell to balance the books. Real and Barca played their parts, of course, but 12 La Liga clubs broke even or better compared to just six in England. Of last season's top four in both leagues, only Arsenal and Villarreal posted a profit.
My Michel
Why does this matter? Because UEFA chief Michel Platini's much-vaunted Financial Fair Play rules are soon to come into effect, preventing clubs from spending beyond their revenue-generating capacity -- effectively prohibiting the use of money generated outside soccer on player transfers.
Of course, there is a loophole that Real, with its new luxury resort development in Ras al-Khaimah, and City, with its Etihad airline deal and plans for a 1 billion pound development around its stadium, are exploiting already: The rules don't apply if clubs spend money from outside sources on infrastructure. UEFA also states that "activities clearly using the brand of the club as part of their operations" will count as relevant revenue stream toward breaking even. All very well for the big boys, but the smaller clubs are going to feel the pinch. In this respect, La Liga is already well ahead of the Premier League.
La Liga's fifth-best team
It's worth mentioning again: In Europe at the moment, England has one team, Spain five. There is every possibility of a Spanish Champions League-Europa League double, something only achieved once before, by Barcelona and Sevilla in 2006.
The English media scoffed at Athletic's status as Spain's fifth-best team before Marcelo Bielsa's side annihilated Manchester United, by its own criteria the best team in the Premier League, over two legs. Athletic is now just Spain's 11th-best team, and Portugal's fifth-best side, Sporting, beat Manchester City. Chelsea is in the driver's seat against Benfica, but will then probably play Barcelona. Ask the sports betting sites how that one is expected to turn out.