Will La Liga be Villas-Boas' next stop?
April, 11, 2012
04/11/12
12:47
PM ET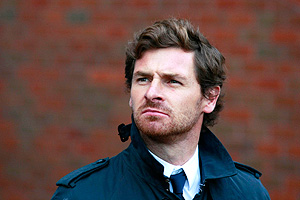 AP Photo/Tim HalesAndre Villas-Boas never stood at chance at Chelsea, but he may find opportunity to coach in La Liga, even at Real Madrid, sooner than later.
When Andre Villas-Boas was sacked as Chelsea manager in March, he immediately splashed some of Roman's rubles on a family holiday and announced he would decide his next move in the summer. With the thaw now underway in Britain, will the Premier League warm again to the youngest coach in the game to have won a European title? It's difficult to see Liverpool, Tottenham or even Manchester City (should Roberto Mancini continue to try to talk himself out of a job) taking a punt on the Portuguese.
Villas-Boas' tenure at Chelsea was conditioned by the "culture" at the club, which is encapsulated by the English core of John Terry, Ashley Cole and Frank Lampard. All three Chelsea stalwarts are close in age to Villas-Boas and did not take kindly to being ordered about by the former Porto coach.
These are not the types of players Villas-Boas worked with at Academica and Porto.
But their influence at the club is such that it is impossible to conceive they had nothing to do with Roman Abramovich's decision. It has been said that Roberto di Matteo was unpopular as Villas-Boas' assistant, but now with Lampard back in the team and Terry and Cole appeased, "Robbie," as the players call him, can do no wrong.
Should Villas-Boas have been expected to do more with Chelsea? Perhaps, in view of the wide-open nature of this year's Premier League and an across-the-board drop in standard among the traditional frontrunners. But Chelsea has an aging squad, a locker room with barely enough space for its larger egos, a hands-on owner and a striker who has scored a goal for each 6.25 million-pound installment of the $50 million fee paid to Liverpool nearly a year and a half ago.
In reality, Villas-Boas never stood a chance.
So what now for the man dubbed mini-Mourinho, who as a teenager would stop Bobby Robson in the apartment block they both lived in and demand explanations of the then-Porto manager for his team selection; Robson gave Villas-Boas his first job and arranged for him to obtain his coaching badges.
A return to Portugal is unlikely, the Premier League equally so, but La Liga could have a few vacancies this summer. Unai Emery and Valencia seem to have run the course of their relationship, with the fickle stands of Mestalla often awash with the white handkerchief used by Spanish crowds to show their discontent. Malaga sneaked into third last weekend, a point ahead of Valencia, pending the results of a midweek round of fixtures. Failure to qualify for the Champions League, a financial lifeboat for a club always just keeping its head above water, would probably be enough for Emery to be thrown overboard. Then there is the fans' berating of the team's playing style and a visibly jaded squad that is said to be tiring of the minutiae of Emery's famously obsessive match preparations. It would be harsh on the professorial Emery, who has consistently kept Valencia in the Champions League despite having to sell his best players every summer and shop for cut-price replacements.
Sevilla is in a similar situation. The UEFA Cup-winning and Champions League-challenging glory days on the South Coast are long since gone, and Mechel -- a coach who sits at the front of the Liga jobless managers classroom, desperately thrusting his arm into the air whenever a coach gets the bullet (or in the case of Juan Carlos Garrido at Villarreal, before he had even been sacked) -- has a contract until the end of the season. Its renewal is largely dependent on European qualification. Sevilla is currently five points off the Europa League and eight adrift of the Champions League.
Then there is the great question of Jose Mourinho, Villas-Boas' mentor (not that Mourinho likes to talk about his former protégé), and whether he will jump ship in the summer. The likelihood is that if he wins the league and/or the Champions League, he will leave Real Madrid, his job more or less complete. If he fails to win either he could still depart, such is his relationship with the Spanish press, Barcelona and just about everybody who does not wear a white shirt, with Chelsea among his potential suitors.
With a large and influential Portuguese contingent at Real, a conciliatory captain in Iker Casillas and a president who confines his thoughts to the boardroom, Villas-Boas could be a perfect fit. What conspired against him at Chelsea would be reversed in his favor. After his experience in England, it may be in Spain that he does the same with his reputation.