El Clasico, the morning after
April, 22, 2012
04/22/12
9:31
AM ET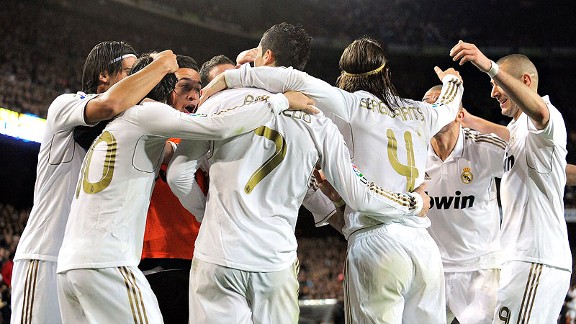 Denis Doyle/Getty ImagesReal's El Clasico win puts it seven points clear at the top with four to play, effectively deciding La Liga.
In the end, it wasn't so much a clasico as a basico; Jose Mourinho's tried and tested 4-2-3-1 bettered Pep Guardiola's rather bizarre midfield creation, one that had Thiago and Sergio Busquets playing at its base and Andres Iniesta and Xavi at its head. "It may be that I was mistaken," said the Barcelona coach after Saturday night's 2-1 defeat at Camp Nou practically assured that Real Madrid will be crowned La Liga champion this season, its first title since 2007-08.
Given the thoroughly satisfying result, it might have been expected that Mourinho would break his self-imposed media silence, but he once again sent out Aitor Karanka, who simply provided a mantra he has been repeating all season: "Cristiano is the best player in the world."
Certainly Ronaldo had the better of the evening in comparison to Lionel Messi, whose scowl has been growing darker over the past few days. After all, two games without the Argentinean's name on the score sheet has coincided with two losses for Barcelona in two of the most important games of its season. When Messi fails to spark, the rest of Barca's machinery grinds to a halt, although neither Chelsea nor Real made it easy for the little man, as the 32 fouls doled out between them over 180 minutes can attest.
"I congratulate Real for the victory and for the league title they have won," Guardiola said after Saturday's match. It could all be decided in the capital next weekend: If Real beats Sevilla and Barca fails to knock off Rayo Vallecano, the title will be heading back to the Bernabeu. In any case, at seven points clear with four games to go, the national press has already handed Real the trophy.
Marca, a pro-Madrid sports daily that is Spain's biggest-selling publication, dedicated most of its Sunday issue to the clasico -- hardly surprising, especially when it generally devotes the first 20 pages of every issue to the slightest morsel of Madrid-based interest. "Silent Mourinho conquers Camp Nou," was a surprisingly reserved headline by its usual standard, although a banner picture of Xavi at the top of its website under the quote "We know how to lose," is more its style.
Also rabidly pro-Madrid, and also rarely featuring anything non-Bernabeu on its pages, AS ran the same Xavi quote alongside a picture of Ronaldo's early headed chance under the headline "Real is absolutely right." What followed was a benediction of Mourinho's methods: "Mourinho conquers Camp Nou with a victory that's worth a title. The win undressed a Barcelona with passing but without goals. Cristiano got the better of Messi."
El Mundo Deportivo and Sport, broadly pro-Barcelona publications, limited themselves to the simple headline: "Goodbye to the league." Sport, the more partisan of the two, ran the same photograph of Xavi with a slightly different quote from its Madrid counterparts: "We can still have a great season."
El Mundo Deportivo also contained an aside about Gerard Pique's continued absence from the team and suggested he will speak out on his plight on Monday, adding to Guardiola's woes. The gossip magazines, of which there are thousands, will be sharpening their pencils in anticipation of another ticking-off from the Barca boss over the nocturnal activities of his errant defender.
Right-leaning daily El Mundo went with the remaining fixtures under the headline "Dates for the victory song," while also pointing out that if Real wins its last four games, it will break the 100-point mark. Also noted by the journal is that Sami Khedira's goal was Real's 108th of the season, thus smashing the record achieved by the legendary Quinta del Buitre under John Toshack in 1989-90.
El Periodico de Catalunya ran the story "New tactical blueprint, but with no punch," in relation to Guardiola's curious tinkering. It should be noted that the paper's star columnist is Johan Cruyff, who rarely passes up an opportunity to say that everything was better in his day. Also featured is that man Hernandez again, with the pull quote: "It's not a delicate moment, it's a hopeful one."
Left-leaning daily El Pais simply pasted a colossal headline on its sport pages: "Madrid ties up the league in Camp Nou."
I'll give the final word to El Mundo Deportivo, the only publication to have apparently been gifted a quote from the Special One himself: "The league is not yet over." On the morning after in Spain, only the Portuguese genius seems to be of that opinion.