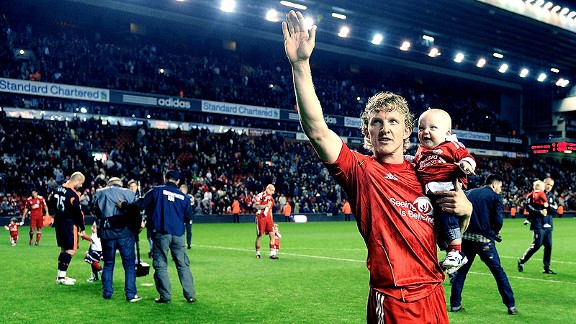 Andrew Powell/Liverpool FC/Getty ImagesDirk Kuyt's tireless service to Liverpool made him a beloved figure at Anfield.
These days, few events in the soccer world surprise me -- a player said he didn't want a transfer and then leaves for way more money! Mario Balotelli acts out! Cristiano Ronaldo scores physics-defying goal! -- but Sunday morning saw the most stunning news of all. Dirk Kuyt is leaving Liverpool.
Now, the event in and of itself isn't shocking. The past season saw his touch and influence decline to the point that his play in sporadic deployments was as ugly and occasionally terrifying as the man himself, and with new manager Brendan Rodgers rapidly ushering in a new style of play, the 31-year-old Dutchman was clearly surplus to requirements. One look at his lingering valedictory lap around Anfield, newborn baby Aidan in his arms, after Liverpool's meaningless 4-1 league win over Chelsea told you that he was heading for the door.
What makes his departure stunning is that I'm forced to say goodbye to one of my all-time favorites.
Dirk Kuyt was never a glamorous player. Referring to him as "hardworking" was an endless praise, yet endless slander, considering his value to Liverpool over six-plus seasons. He never commanded the spotlight as soccer stars do, never boasted or bragged for the cameras, never slandered opponents and rarely broached the decorum of the game while he played. No matter if shuffled between striker understudy, either flank or inconsequential substitute, Kuyt never complained. He and his family embraced the culture, warmed to its occasionally ramshackle charm and did whatever he could for managers Rafa Benitez, Roy Hodgson and Kenny Dalglish since joining the club in 2006.
And the goals. To acknowledge one of my favorite LFC blogs, Oh You Beauty, the list is plentiful: a scene-stealing hat trick against Manchester United last season. Five goals (two game-winners) against Everton. The 102nd-minute penalty against Arsenal last April, an equalizer that still stands as the latest goal in EPL history. Then there's a deeper stat still (from the same source): "By my count, 24 of Kuyt's 71 goals were game-winners, including 10 after the 80th minute. 24 of his goals were scored after the 75th minute, that desperate period as the clock ticks closer to midnight."
Yet despite these heroics, Kuyt never rose to the level of strikers who came and went after him. He remained firmly, grittily entrenched in that most honored of labels: cult hero.
Every team has a guy for whom irrational and unrelenting love eclipses any perceived on-field paucity or inconsistency in skill. I'd argue that Ji-Sung Park, United's Kuytian figure, is one of them. But dig deeper, as the 1990s were full of such icons: Man United's Ole Gunnar Solskjaer, Man City's Georgi Kinkladze, Paulo Wanchope and Shaun Goater, Chelsea's Jimmy Floyd Hasselbaink, Everton's Duncan Ferguson, Thomas Gravesen and Neville Southall, Newcastle's Nolberto "Nobby" Solano, Arsenal's Ray Parlour and Swindon's Jan Aage Fjortoft.
In the modern era, still more examples abound. Yossi Benayoun, Emmanuel Eboue, Gennaro Gattuso and Luis Garcia. In the MLS, Mike Fucito (when with Seattle), Brian Ching, Chris Wondolowski, Nate Jaqua, and DC's player-turned-coach Ben Olsen.
Dirk Kuyt's time served at LFC will always be fondly remembered among Reds fans as a player who ignored the maelstrom around the game and always worked tirelessly even when his own skills let him down. A man who could run for days and then run some more. Sure, he didn't score as mechanically as some of his peers, but he never let the failures impede him.
When watching Dirk play, one sensed that soccer was something he really had to work hard to master, not a genetically embedded reflex that could be casually recalled by the likes of Lionel Messi. Nothing was automatic. Nothing was taken for granted. Yet, those moments when it clicked -- his crucial goal against Cardiff in the Carling Cup final -- brought indisputable joy. His celebrations were like your own as you watched from the stands on on TV: natural, genuine and pure.
May you thrive at Fenerbahce, Dirk. You'll be missed at Anfield.
[+] Enlarge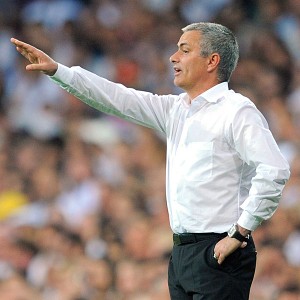 Denis Doyle/Getty ImagesIs Mourinho's enhanced contract a case of putting down roots or opportunism in the wake of Barca's wane?
In signing a contract extension to stick with Real Madrid through 2016 -- an extra two years beyond his current deal -- are we seeing a new and improved Jose Mourinho at work?
We all know the particulars of his career: Following early success with Porto, Mou quit/was forced out at Chelsea over a perceived power struggle and then practically rented himself to Internazionale for a short time (worth noting that the Serie A club hasn't yet recovered from his two-season stint) to win everything in sight. So is Tuesday's much-lauded pen-to-paper move a sign that the Special One is settling down for the first time in his career?
One senses that Pep Guardiola's choice to step away from management played a part. Pep's hiatus, fatigued and emotionally frayed as he was from the exhausting spiritual battle between Barcelona and Real Madrid, coincides with the fact that there are more questions surrounding the Blaugrana than ever before. In that vein, the opportunity exists for Real Madrid to construct its latest dynasty.
Mourinho has always been a prickly, elusive character, never one to take the game or its peripheral distractions -- the media, the pundits, the fear of failure -- too seriously. Of course, all his suave soundbites were ditched whenever Real Madrid lost a big game, but in finally surpassing Barca as Spain's top team, the chance to settle down was too great to pass up.
It feels so unlike the man who left Chelsea in ignominious circumstances to take on greater challenges around Europe -- namely, being the first manager to win league titles in Spain, England and Italy -- especially now that his goal has been resoundingly fulfilled. Stick around at one club for six years? After wandering the continent and managing four different clubs to seven domestic league titles, two Champions Leagues and a UEFA Cup in eight seasons? Seemed inconceivable at one time, but now, having fended off advances from every major club to ditch the Bernabeu, he appears set to settle.
Evolution is an essential part of life. Change or die. Switch up or fade away. Mourinho's shift is no different. Having long been known as the rakish, nomadic trophy magnet, Mourinho perhaps realized that Real Madrid represents his best chance since Chelsea to create something far bigger than anything on his impressive individual résumé. Something that satisfies an entity far more wide-reaching and powerful than his own ego.
Then again, it could be opportunism of a different kind. Perhaps Mourinho was unimpressed with the overtures of possible suitors, none of whom could boast the spending power and/or unyielding support that Real Madrid provides. (Given that Mourinho is the best-paid manager in world soccer, it's unclear how much more club president Florentino Perez could have offered him in wages, though the added years do mean that Real Madrid has much more leverage if another mega-club ever comes knocking.)
Whatever Mourinho's reason for sticking around -- Barca's apparent downward trend, his job security in Madrid or the lack of tantalizing next steps -- it's clear that his decision to double-down with Los Blancos makes some kind of sense. To him, it's a step closer to managerial carte blanche. To Perez, it's an obvious investment. To us, it's a chance for Real to grip soccer and its obvious spoils by the throat. To Barcelona, it's an ominous portent of a potential lean spell yet to come, and perhaps a sea change of its own.
Though if things go awry for Real next season, don't be surprised if we get bombarded by leaked reports, rumor mills and signs that Mourinho's flighty spirit isn't dead, but just dormant.
May, 16, 2012
05/16/12
9:05
AM ET
[+] Enlarge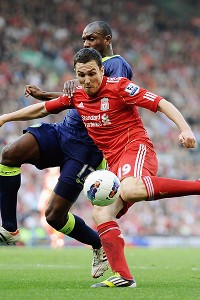 Laurence Griffiths/Getty ImagesStewart Downing was one of Roy Hodgson's more curious inclusions in the England squad.
To paraphrase Sir Alex Ferguson for a moment, "The England squad. Bloody hell."
In the 15 or so days since Roy Hodgson agreed to take the most volatile (and most scrutinized) managerial position since Steve Carell left "The Office," it appears that Hodgson hasn't shaken the foundations of English soccer in selecting a squad rich in youth, verve and potency. If anything, England's 23-man roster has a bizarre sameness to it that, being honest, we should have expected all along.
You see, despite cries for revolution and outside-the-box thinking, England managers are united in their sustained desire not to upset too much of the status quo. (John Ruddy will be thrilled with the call-up, though as third keeper, it's merely an acknowledgment of his excellence this season than a shot at a full-time Three Lions gig.)
Ultimately, in dropping Rio Ferdinand on Tuesday, we were proffered the biggest shock a full 24 hours ahead of time. Clearly, the tension of the John Terry incident versus QPR forced Hodgson and the England brain trust toward a delicate game of brinkmanship in getting Rio and the Chelsea captain to play nice; however, in backing away and backing the better defender/worse man, that brain trust has weakened one of the more reliable components on the England squad.
But back to stunners for a moment. Stewart Downing made the cut. Stewart Downing! You know, he of zero goals and zero assists (and 72 shots, in 36 Premier League appearances for Liverpool this season) made it into Hodgson's inaugural squad. Downing's expensive failures at Anfield have already seen one man, Damien Comolli, succumb to the guillotine -- Kenny Dalglish could well follow -- but now Hodgson has aligned his own precarious public opinion ratings on the former Middlesbrough winger's efforts, as well. Downing does bang in a fair few decent crosses for club and country, perhaps unlucky at the profligacy of Andy Carroll (who also made it in) and Luis Suarez around goal, but that doesn't justify his spot on a squad screaming for bright ideas.
I'm guessing Alex Oxlade-Chamberlain was picked to mentor Mr. Downing.
(To dilute the mockery slightly, there is a very Opta stats-heavy justification for Downing in the eyes of some -- namely, his "assists for England since August 2010" -- but it remains a narrow window of analysis.)
Carroll's inclusion is surely the byproduct of the adage, "what have you done for me lately?" Though he's still far from being what Liverpool paid handsomely for, his performances over the past two months have shown the confidence and strength (both in possession and in the air) that were highly coveted during his Newcastle days. But to sneak in over the likes of Grant Holt, perhaps an over-optimistic pick given Norwich's impressive season, is still puzzling. It perhaps speaks to Hodgson's nascent game plan: Carroll as lightning rod for long balls, while the likes of Theo Walcott, Wayne Rooney (after his suspension) and Jermain Defoe scamper on to his every knockdown. With European soccer now firmly focused on style and speed, Carroll's analog muscularity will pose problems for many defenses -- assuming England gets far enough in the tournament to meet them.
In other words, Carroll is likely a Plan B until Rooney returns. Surrounded by short players with pace, Andy's head will become the focal point of England's hoof and hope.
There are other stunners, too: the absence of Michael Carrick and Paul Scholes, both superb in United's shaky midfield for long stretches of the season, and Jordan Henderson's making the stand-by list. (If Scott Parker's late-season injury struggles persist, the young Reds midfielder would get called up. Think about that for a moment.)
In hiring Gary Neville to his managerial team, Hodgson has shown that he isn't immune to new ideas. Neville himself has spoken at length about the need to refresh the England system, its squad, its tactics and its general composition. Yet, in picking under pressure with Euro 2012 less than a month away, outside-the-box has given way to more of the same. Hodgson feels he can succeed with this squad, and in less than a month, we'll find out.
Meet the new boss, same as the old boss.
Meet the new squad, same as the old squad.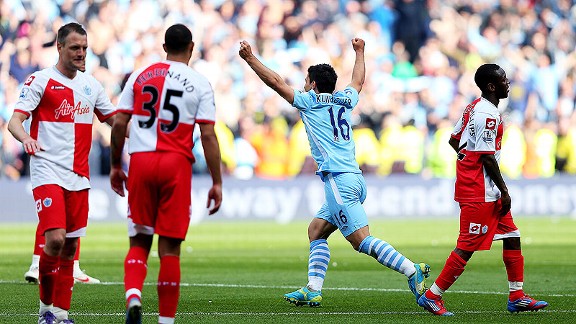 Alex Livesey/Getty ImagesSergio Aguero's late, late, late strike ensured his spot in Man City lore.
Are we all still standing after that? Has the dust and confetti (or, in United's case, the tears) cleared after an utterly absurd and brilliant conclusion to the EPL season? It stands to reason that the Prem is an intriguing beast, one that never quite allows itself to be tamed by convention or the expectations of the masses. As Fergie has said on a number of occasions: "Football. Bloody hell." And who are we to argue? When we stake our souls on a 90-minute tightrope, that's about as eloquent as we can get.
So as City begins its bespoke title celebrations -- party in Liam Gallagher's luxury suite! -- I couldn't recap the action without looking at the figures, both marvelous and mystifying, who placed the largest imprints on the destiny of the EPL title.
Final day heroes
Sergio Aguero
Let's begin with the obvious. The Argentine bustled and hustled all afternoon for the Citizens' cause, though it wasn't until he drifted into the box with seconds remaining that he sparkled, meeting Mario Balotelli's pass, slipping past a sprawling defender and smashing a close-range shot past Paddy Kenny to send the Etihad into a tension-releasing frenzy.
With 23 goals in the 2011-12 Prem season, Aguero's contributions will rank highly when trying to pinpoint the Citizens' drought-ending success, though his 94th-and-then-some-minute strike won't be beat.
Paddy Kenny
Look, he let in three goals and QPR lost, but to deal with that Etihad crowd, with that much at stake? Kenny was stunningly stoic between the sticks, facing down 44 shots on goal, making 12-of-15 saves and organizing a 10-man side through 30 agonizing second-half minutes (plus five in stoppages) and 19 corners of relentless, never-say-quit attacking soccer.
It's not often you'd put a Wigan player -- especially the Latics' taciturn right back -- on such a list, but his pair of sublime strikes in a 3-2, dead EPL rubber win against already relegated Wolverhampton Wanderers merits inclusion. Though all eyes were on the Etihad and the Stadium of Light, it was (as the Daily Telegraph phrased it) Boyce's "passable impersonation of Cafu" that marveled.
[+] Enlarge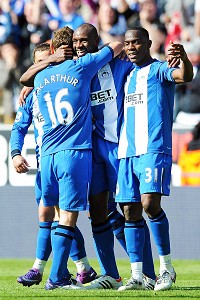 Chris Brunskill/Getty ImagesTwo goals by Emmerson Boyce, the 32-year-old Wigan defender, capped a memorable stretch for Wigan Athletic in which it won seven of its last 10 games.
Thumping in a header and snapping a sweet second-half half-volley to seal Wigan's win capped a superlative couple of months for Roberto Martinez and his squad: seven victories in its past 10 games not only confirmed the Latics' tenure in the Prem, but augured at a faint, but potentially bright, future.
Final day villains
In a move every bit as brainless as John Terry's knee in the Champions League semifinal, Barton seemed to try his hardest to sabotage QPR's survival efforts with his red-worthy thuggery early in the second half.
Having been an integral part of the West London side's grace-under-pressure defending, Barton reminded Man City fans that despite the talk of pacifism on Twitter, Barton's still the powder keg he always was.
It wasn't enough for him to land an elbow on Carlos Tevez near the Rangers' box -- though Tevez did milk the contact a touch -- and get his marching orders from referee Mike Dean. Barton also followed through by kicking Aguero and then aiming a head-butt at Vincent Kompany during his ignominious exit.
That QPR defended just as well without him was beside the point; more troubling to Mark Hughes will be the fact his club captain's recklessness could have doomed his side to relegation were it not for Bolton's inability to defeat Stoke. Hardly a sound definition of leadership.
West Brom's player of the season award had been given to keeper Ben Foster, the stalwart between the posts who hadn't missed a Prem game all season. Yet, following a muscle pull in training, in came backup Fulop at short notice to ruin Roy Hodgson's farewell party before the Baggies boss takes up the England reins.
Fulop was directly responsible for two Arsenal goals -- allowing Yossi Benayoun to pounce on a soft Robin van Persie shot and then muffing a simple save from an Andres Santos shot -- but didn't stop there. In the 55th minute, the Baggies' reserve punched a harmless RvP corner toward his own net, where Laurent Koscielny gratefully slotted it home from six yards out.
Three gaffes, none you'd expect Foster to make had he been available, and a good home performance gave a sloppy Gunners side three points and a third-place finish at Tottenham's expense -- plus another season of Champions League footy.
[+] Enlarge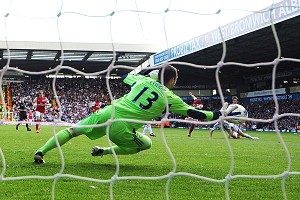 Stuart MacFarlane/Arsenal FC/Getty ImagesMarton Fulop's trio of goalkeeping gaffes gifted Arsenal a 3-2 win at West Brom and sealed the Gunners' Champions League spot for 2012-13.
Poor Spurs, finishing below Arsenal again. Dodgy lasagna scuppers them one season; in 2011-12, it's a dodgy goalie. Though Harry Redknapp's side had a CL spot of its own having finished fourth, it's far from guaranteed. Should Chelsea win next Saturday in Munich in the Champions League final, Spurs would drop to the Europa League. I'm guessing Fulop doesn't get a Christmas card for his role in it all.
Jon Walters
Shame on you, Jon. With Stoke City comfortably buttressed in mid-table and with little to play for, his muscular act as the Potters' frontman gave Tony Pulis' side a 2-2 draw and contributed to visiting Bolton's relegation heartbreak.
His double was too much for Wanderers and the Davies Duo (Mark and Kevin), who both scored in the first half to give Bolton head coach Owen Coyle faint hope of survival. That QPR eventually lost made Walters' act all the more crushing; his first goal, nodding it in as Adam Bogdan held it, seemed to be a foul, while his second was a simple penalty conversion after Peter Crouch was capsized by the Bolton keeper as the pair lunged for a long ball.
Bolton couldn't find a third in the remaining 15 minutes, and so when Stuart Holden returns from his latest injury layoff, he'll join fellow American Tim Ream as the squad adjusts to life in England's second soccer tier.