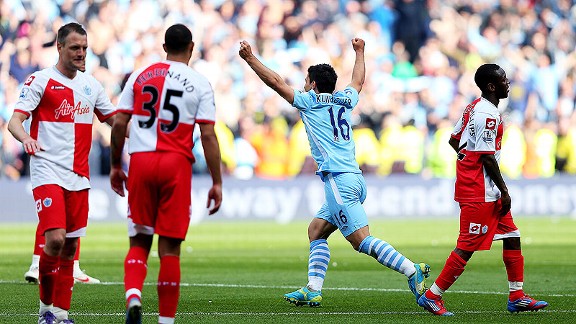 Alex Livesey/Getty ImagesSergio Aguero's late, late, late strike ensured his spot in Man City lore.
Are we all still standing after that? Has the dust and confetti (or, in United's case, the tears) cleared after an utterly absurd and brilliant conclusion to the EPL season? It stands to reason that the Prem is an intriguing beast, one that never quite allows itself to be tamed by convention or the expectations of the masses. As Fergie has said on a number of occasions: "Football. Bloody hell." And who are we to argue? When we stake our souls on a 90-minute tightrope, that's about as eloquent as we can get.
So as City begins its bespoke title celebrations -- party in Liam Gallagher's luxury suite! -- I couldn't recap the action without looking at the figures, both marvelous and mystifying, who placed the largest imprints on the destiny of the EPL title.
Final day heroes
Sergio Aguero
Let's begin with the obvious. The Argentine bustled and hustled all afternoon for the Citizens' cause, though it wasn't until he drifted into the box with seconds remaining that he sparkled, meeting Mario Balotelli's pass, slipping past a sprawling defender and smashing a close-range shot past Paddy Kenny to send the Etihad into a tension-releasing frenzy.
With 23 goals in the 2011-12 Prem season, Aguero's contributions will rank highly when trying to pinpoint the Citizens' drought-ending success, though his 94th-and-then-some-minute strike won't be beat.
Paddy Kenny
Look, he let in three goals and QPR lost, but to deal with that Etihad crowd, with that much at stake? Kenny was stunningly stoic between the sticks, facing down 44 shots on goal, making 12-of-15 saves and organizing a 10-man side through 30 agonizing second-half minutes (plus five in stoppages) and 19 corners of relentless, never-say-quit attacking soccer.
It's not often you'd put a Wigan player -- especially the Latics' taciturn right back -- on such a list, but his pair of sublime strikes in a 3-2, dead EPL rubber win against already relegated Wolverhampton Wanderers merits inclusion. Though all eyes were on the Etihad and the Stadium of Light, it was (as the Daily Telegraph phrased it) Boyce's "passable impersonation of Cafu" that marveled.
[+] Enlarge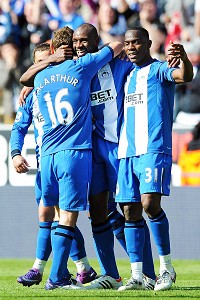 Chris Brunskill/Getty ImagesTwo goals by Emmerson Boyce, the 32-year-old Wigan defender, capped a memorable stretch for Wigan Athletic in which it won seven of its last 10 games.
Thumping in a header and snapping a sweet second-half half-volley to seal Wigan's win capped a superlative couple of months for Roberto Martinez and his squad: seven victories in its past 10 games not only confirmed the Latics' tenure in the Prem, but augured at a faint, but potentially bright, future.
Final day villains
In a move every bit as brainless as John Terry's knee in the Champions League semifinal, Barton seemed to try his hardest to sabotage QPR's survival efforts with his red-worthy thuggery early in the second half.
Having been an integral part of the West London side's grace-under-pressure defending, Barton reminded Man City fans that despite the talk of pacifism on Twitter, Barton's still the powder keg he always was.
It wasn't enough for him to land an elbow on Carlos Tevez near the Rangers' box -- though Tevez did milk the contact a touch -- and get his marching orders from referee Mike Dean. Barton also followed through by kicking Aguero and then aiming a head-butt at Vincent Kompany during his ignominious exit.
That QPR defended just as well without him was beside the point; more troubling to Mark Hughes will be the fact his club captain's recklessness could have doomed his side to relegation were it not for Bolton's inability to defeat Stoke. Hardly a sound definition of leadership.
West Brom's player of the season award had been given to keeper Ben Foster, the stalwart between the posts who hadn't missed a Prem game all season. Yet, following a muscle pull in training, in came backup Fulop at short notice to ruin Roy Hodgson's farewell party before the Baggies boss takes up the England reins.
Fulop was directly responsible for two Arsenal goals -- allowing Yossi Benayoun to pounce on a soft Robin van Persie shot and then muffing a simple save from an Andres Santos shot -- but didn't stop there. In the 55th minute, the Baggies' reserve punched a harmless RvP corner toward his own net, where Laurent Koscielny gratefully slotted it home from six yards out.
Three gaffes, none you'd expect Foster to make had he been available, and a good home performance gave a sloppy Gunners side three points and a third-place finish at Tottenham's expense -- plus another season of Champions League footy.
[+] Enlarge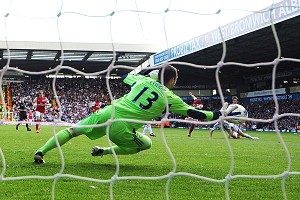 Stuart MacFarlane/Arsenal FC/Getty ImagesMarton Fulop's trio of goalkeeping gaffes gifted Arsenal a 3-2 win at West Brom and sealed the Gunners' Champions League spot for 2012-13.
Poor Spurs, finishing below Arsenal again. Dodgy lasagna scuppers them one season; in 2011-12, it's a dodgy goalie. Though Harry Redknapp's side had a CL spot of its own having finished fourth, it's far from guaranteed. Should Chelsea win next Saturday in Munich in the Champions League final, Spurs would drop to the Europa League. I'm guessing Fulop doesn't get a Christmas card for his role in it all.
Jon Walters
Shame on you, Jon. With Stoke City comfortably buttressed in mid-table and with little to play for, his muscular act as the Potters' frontman gave Tony Pulis' side a 2-2 draw and contributed to visiting Bolton's relegation heartbreak.
His double was too much for Wanderers and the Davies Duo (Mark and Kevin), who both scored in the first half to give Bolton head coach Owen Coyle faint hope of survival. That QPR eventually lost made Walters' act all the more crushing; his first goal, nodding it in as Adam Bogdan held it, seemed to be a foul, while his second was a simple penalty conversion after Peter Crouch was capsized by the Bolton keeper as the pair lunged for a long ball.
Bolton couldn't find a third in the remaining 15 minutes, and so when Stuart Holden returns from his latest injury layoff, he'll join fellow American Tim Ream as the squad adjusts to life in England's second soccer tier.