Few surprises for the England squad
May, 16, 2012
05/16/12
9:05
AM ET
[+] Enlarge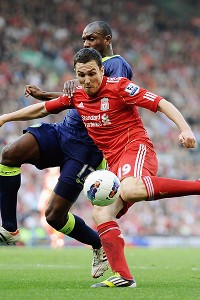 Laurence Griffiths/Getty ImagesStewart Downing was one of Roy Hodgson's more curious inclusions in the England squad.
To paraphrase Sir Alex Ferguson for a moment, "The England squad. Bloody hell."
In the 15 or so days since Roy Hodgson agreed to take the most volatile (and most scrutinized) managerial position since Steve Carell left "The Office," it appears that Hodgson hasn't shaken the foundations of English soccer in selecting a squad rich in youth, verve and potency. If anything, England's 23-man roster has a bizarre sameness to it that, being honest, we should have expected all along.
You see, despite cries for revolution and outside-the-box thinking, England managers are united in their sustained desire not to upset too much of the status quo. (John Ruddy will be thrilled with the call-up, though as third keeper, it's merely an acknowledgment of his excellence this season than a shot at a full-time Three Lions gig.)
Ultimately, in dropping Rio Ferdinand on Tuesday, we were proffered the biggest shock a full 24 hours ahead of time. Clearly, the tension of the John Terry incident versus QPR forced Hodgson and the England brain trust toward a delicate game of brinkmanship in getting Rio and the Chelsea captain to play nice; however, in backing away and backing the better defender/worse man, that brain trust has weakened one of the more reliable components on the England squad.
But back to stunners for a moment. Stewart Downing made the cut. Stewart Downing! You know, he of zero goals and zero assists (and 72 shots, in 36 Premier League appearances for Liverpool this season) made it into Hodgson's inaugural squad. Downing's expensive failures at Anfield have already seen one man, Damien Comolli, succumb to the guillotine -- Kenny Dalglish could well follow -- but now Hodgson has aligned his own precarious public opinion ratings on the former Middlesbrough winger's efforts, as well. Downing does bang in a fair few decent crosses for club and country, perhaps unlucky at the profligacy of Andy Carroll (who also made it in) and Luis Suarez around goal, but that doesn't justify his spot on a squad screaming for bright ideas.
I'm guessing Alex Oxlade-Chamberlain was picked to mentor Mr. Downing.
(To dilute the mockery slightly, there is a very Opta stats-heavy justification for Downing in the eyes of some -- namely, his "assists for England since August 2010" -- but it remains a narrow window of analysis.)
Carroll's inclusion is surely the byproduct of the adage, "what have you done for me lately?" Though he's still far from being what Liverpool paid handsomely for, his performances over the past two months have shown the confidence and strength (both in possession and in the air) that were highly coveted during his Newcastle days. But to sneak in over the likes of Grant Holt, perhaps an over-optimistic pick given Norwich's impressive season, is still puzzling. It perhaps speaks to Hodgson's nascent game plan: Carroll as lightning rod for long balls, while the likes of Theo Walcott, Wayne Rooney (after his suspension) and Jermain Defoe scamper on to his every knockdown. With European soccer now firmly focused on style and speed, Carroll's analog muscularity will pose problems for many defenses -- assuming England gets far enough in the tournament to meet them.
In other words, Carroll is likely a Plan B until Rooney returns. Surrounded by short players with pace, Andy's head will become the focal point of England's hoof and hope.
There are other stunners, too: the absence of Michael Carrick and Paul Scholes, both superb in United's shaky midfield for long stretches of the season, and Jordan Henderson's making the stand-by list. (If Scott Parker's late-season injury struggles persist, the young Reds midfielder would get called up. Think about that for a moment.)
In hiring Gary Neville to his managerial team, Hodgson has shown that he isn't immune to new ideas. Neville himself has spoken at length about the need to refresh the England system, its squad, its tactics and its general composition. Yet, in picking under pressure with Euro 2012 less than a month away, outside-the-box has given way to more of the same. Hodgson feels he can succeed with this squad, and in less than a month, we'll find out.
Meet the new boss, same as the old boss.
Meet the new squad, same as the old squad.