[+] Enlarge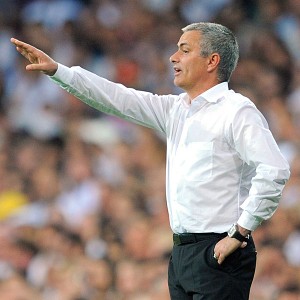 Denis Doyle/Getty ImagesIs Mourinho's enhanced contract a case of putting down roots or opportunism in the wake of Barca's wane?
In signing a contract extension to stick with Real Madrid through 2016 -- an extra two years beyond his current deal -- are we seeing a new and improved Jose Mourinho at work?
We all know the particulars of his career: Following early success with Porto, Mou quit/was forced out at Chelsea over a perceived power struggle and then practically rented himself to Internazionale for a short time (worth noting that the Serie A club hasn't yet recovered from his two-season stint) to win everything in sight. So is Tuesday's much-lauded pen-to-paper move a sign that the Special One is settling down for the first time in his career?
One senses that Pep Guardiola's choice to step away from management played a part. Pep's hiatus, fatigued and emotionally frayed as he was from the exhausting spiritual battle between Barcelona and Real Madrid, coincides with the fact that there are more questions surrounding the Blaugrana than ever before. In that vein, the opportunity exists for Real Madrid to construct its latest dynasty.
Mourinho has always been a prickly, elusive character, never one to take the game or its peripheral distractions -- the media, the pundits, the fear of failure -- too seriously. Of course, all his suave soundbites were ditched whenever Real Madrid lost a big game, but in finally surpassing Barca as Spain's top team, the chance to settle down was too great to pass up.
It feels so unlike the man who left Chelsea in ignominious circumstances to take on greater challenges around Europe -- namely, being the first manager to win league titles in Spain, England and Italy -- especially now that his goal has been resoundingly fulfilled. Stick around at one club for six years? After wandering the continent and managing four different clubs to seven domestic league titles, two Champions Leagues and a UEFA Cup in eight seasons? Seemed inconceivable at one time, but now, having fended off advances from every major club to ditch the Bernabeu, he appears set to settle.
Evolution is an essential part of life. Change or die. Switch up or fade away. Mourinho's shift is no different. Having long been known as the rakish, nomadic trophy magnet, Mourinho perhaps realized that Real Madrid represents his best chance since Chelsea to create something far bigger than anything on his impressive individual résumé. Something that satisfies an entity far more wide-reaching and powerful than his own ego.
Then again, it could be opportunism of a different kind. Perhaps Mourinho was unimpressed with the overtures of possible suitors, none of whom could boast the spending power and/or unyielding support that Real Madrid provides. (Given that Mourinho is the best-paid manager in world soccer, it's unclear how much more club president Florentino Perez could have offered him in wages, though the added years do mean that Real Madrid has much more leverage if another mega-club ever comes knocking.)
Whatever Mourinho's reason for sticking around -- Barca's apparent downward trend, his job security in Madrid or the lack of tantalizing next steps -- it's clear that his decision to double-down with Los Blancos makes some kind of sense. To him, it's a step closer to managerial carte blanche. To Perez, it's an obvious investment. To us, it's a chance for Real to grip soccer and its obvious spoils by the throat. To Barcelona, it's an ominous portent of a potential lean spell yet to come, and perhaps a sea change of its own.
Though if things go awry for Real next season, don't be surprised if we get bombarded by leaked reports, rumor mills and signs that Mourinho's flighty spirit isn't dead, but just dormant.