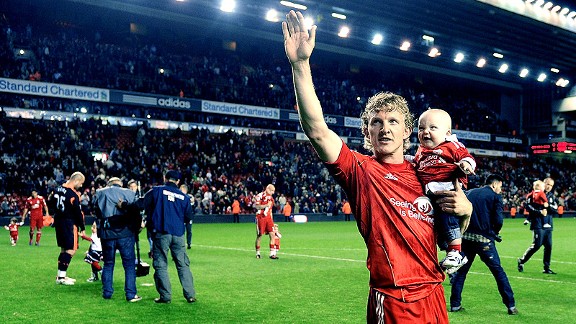 Andrew Powell/Liverpool FC/Getty ImagesDirk Kuyt's tireless service to Liverpool made him a beloved figure at Anfield.
These days, few events in the soccer world surprise me -- a player said he didn't want a transfer and then leaves for way more money! Mario Balotelli acts out! Cristiano Ronaldo scores physics-defying goal! -- but Sunday morning saw the most stunning news of all. Dirk Kuyt is leaving Liverpool.
Now, the event in and of itself isn't shocking. The past season saw his touch and influence decline to the point that his play in sporadic deployments was as ugly and occasionally terrifying as the man himself, and with new manager Brendan Rodgers rapidly ushering in a new style of play, the 31-year-old Dutchman was clearly surplus to requirements. One look at his lingering valedictory lap around Anfield, newborn baby Aidan in his arms, after Liverpool's meaningless 4-1 league win over Chelsea told you that he was heading for the door.
What makes his departure stunning is that I'm forced to say goodbye to one of my all-time favorites.
Dirk Kuyt was never a glamorous player. Referring to him as "hardworking" was an endless praise, yet endless slander, considering his value to Liverpool over six-plus seasons. He never commanded the spotlight as soccer stars do, never boasted or bragged for the cameras, never slandered opponents and rarely broached the decorum of the game while he played. No matter if shuffled between striker understudy, either flank or inconsequential substitute, Kuyt never complained. He and his family embraced the culture, warmed to its occasionally ramshackle charm and did whatever he could for managers Rafa Benitez, Roy Hodgson and Kenny Dalglish since joining the club in 2006.
And the goals. To acknowledge one of my favorite LFC blogs, Oh You Beauty, the list is plentiful: a scene-stealing hat trick against Manchester United last season. Five goals (two game-winners) against Everton. The 102nd-minute penalty against Arsenal last April, an equalizer that still stands as the latest goal in EPL history. Then there's a deeper stat still (from the same source): "By my count, 24 of Kuyt's 71 goals were game-winners, including 10 after the 80th minute. 24 of his goals were scored after the 75th minute, that desperate period as the clock ticks closer to midnight."
Yet despite these heroics, Kuyt never rose to the level of strikers who came and went after him. He remained firmly, grittily entrenched in that most honored of labels: cult hero.
Every team has a guy for whom irrational and unrelenting love eclipses any perceived on-field paucity or inconsistency in skill. I'd argue that Ji-Sung Park, United's Kuytian figure, is one of them. But dig deeper, as the 1990s were full of such icons: Man United's Ole Gunnar Solskjaer, Man City's Georgi Kinkladze, Paulo Wanchope and Shaun Goater, Chelsea's Jimmy Floyd Hasselbaink, Everton's Duncan Ferguson, Thomas Gravesen and Neville Southall, Newcastle's Nolberto "Nobby" Solano, Arsenal's Ray Parlour and Swindon's Jan Aage Fjortoft.
In the modern era, still more examples abound. Yossi Benayoun, Emmanuel Eboue, Gennaro Gattuso and Luis Garcia. In the MLS, Mike Fucito (when with Seattle), Brian Ching, Chris Wondolowski, Nate Jaqua, and DC's player-turned-coach Ben Olsen.
Dirk Kuyt's time served at LFC will always be fondly remembered among Reds fans as a player who ignored the maelstrom around the game and always worked tirelessly even when his own skills let him down. A man who could run for days and then run some more. Sure, he didn't score as mechanically as some of his peers, but he never let the failures impede him.
When watching Dirk play, one sensed that soccer was something he really had to work hard to master, not a genetically embedded reflex that could be casually recalled by the likes of Lionel Messi. Nothing was automatic. Nothing was taken for granted. Yet, those moments when it clicked -- his crucial goal against Cardiff in the Carling Cup final -- brought indisputable joy. His celebrations were like your own as you watched from the stands on on TV: natural, genuine and pure.
May you thrive at Fenerbahce, Dirk. You'll be missed at Anfield.