May, 11, 2012
05/11/12
3:19
PM ET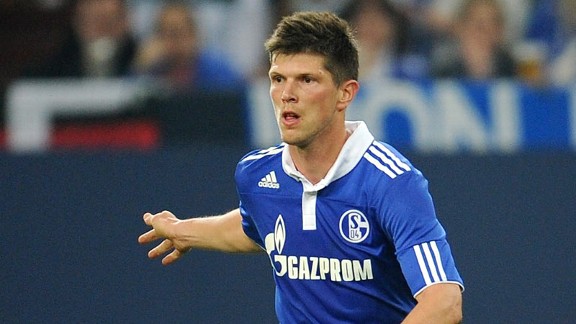 Dennis Grombkowski/Bongarts/Getty ImagesThe Netherlands deck is stacked again heading to Euro 2012, and hopefully Klaas-Jan Huntelaar -- who suffered a concussion this past week -- will be healthy.
Philadelphia seems an unlikely setting for a tense Euro 2012 moment. Yet on Wednesday night, in Rocky Balboa's hometown, Dutch hopes of a first Euro title since 1988 suffered a big jolt -- quite literally. The sight of wobbly Netherlands goal ace Klaas-Jan Huntelaar leaving the PPL Park pitch after taking an accidental blow to the head has left Oranje fans shaken. The reason: "The Hunter" is a player set to make a big impact at Euro 2012.
Why Huntelaar would be playing in a meaningless exhibition game for his German side Schalke 04 against the Philadelphia Union at the end of a long Bundesliga season and on the eve of Euro 2012 boggles the mind. But such is the quenchless thirst for money in football these days. Taken to a local hospital, Huntelaar was reportedly diagnosed with a concussion. That would be his second in three months -- the first coming on a clash of heads with Chris Smalling in the England-Netherlands friendly at Wembley in February.
Attitudes toward sports-related concussions, at least in the United States, have changed dramatically in recent years. After a spate of horror stories outlining the impact of concussions of NFL players, new procedures and rules are in place throughout the American sports landscape, from grade school to the pros. It's to be hoped that Huntelaar, Schalke 04 and Dutch national team officials will put the striker's health before any other ambitions.
It's also to be hoped that Huntelaar recovers in time for Euro 2012, because he could be the big story of the finals. At 28 years old, Huntelaar has sat in the shadows of Ruud Van Nistelrooy and Robin van Persie for some time. As far back as August 2006, he scored two goals for the Netherlands on his debut against Ireland. But after a prolific goal-scoring career in the Eredivisiem, first with Heerenveen then Ajax, The Hunter's career misfired in stints with Real Madrid and AC Milan.
Since moving to Schalke 04 after the 2010 World Cup, Huntelaar's career has kicked back into high-scoring gear. He scored 29 goals to lead the Bundesliga this season and help Schalke 04 gain a Champions League spot for next season. His goals were also big factors in the Netherlands' impressive Euro qualifying performance.
Huntelaar had one start at Euro 2008, scoring in a meaningless third group game against Romania. At the 2010 World Cup, he was again limited to cameo appearances, coming off the bench three times (scoring one goal). But at the beginning of the Euro 2012 campaign, Huntelaar finally got another run in the Dutch starting XI and took his opportunity -- along with plenty of goal-scoring opportunities.
He scored 12 goals in eight games to lead not only the Dutch scoring charts but the entire Euro 2012 campaign. Yet even with health permitting, his starting spot isn't assured for the Netherlands' opening game with Denmark on June 9. Dutch coach Bert Van Marwijk prefers to play a 4-2-3-1, and fitting both van Persie and Huntelaar into that formation isn't easy. The pair has played together in the past four Euro qualifying games, with Huntelaar scoring in three of those games, while van Persie only scored in the 11-0 drubbing of San Marino.
Trying to figure out how to fit the Bundesliga Golden Boot winner and the Premier League's leading goal scorer into the lineup is a problem that most coaches would love to have (just ask Cesare Prandelli and Roy Hodgson), but great players don't always make great tandems. The Steven Gerrard-Frank Lampard debate still lingers in England, while Jurgen Klinsmann now faces the challenge of finding the best way to get Landon Donovan and Clint Dempsey firing on all cylinders at the same time as the U.S. heads into World Cup qualifying.
Unlike van Persie, Huntelaar is a pure center forward. And Van Marwijk will likely use him in that role. It will be the most important decision any coach makes at Euro 2012. Huntelaar does nothing but score goals when given the opportunity, and Van Marwijk would be wise to give him that opportunity.
Back in 1988, when the Dutch won their only major title, the Oranje were stacked with talent, including all-time greats Ruud Gullit, Arnold Muhren, Ronald Koeman and Frank Rijkaard, but it took Marco Van Basten's goals to finally put them over the top.
The Netherlands' deck is stacked again heading to Euro 2012, and hopefully Huntelaar will be healthy. If so, it will be the Hunter's goals dealing the knockout blows at Euro 2012.