May, 11, 2012
05/11/12
3:19
PM ET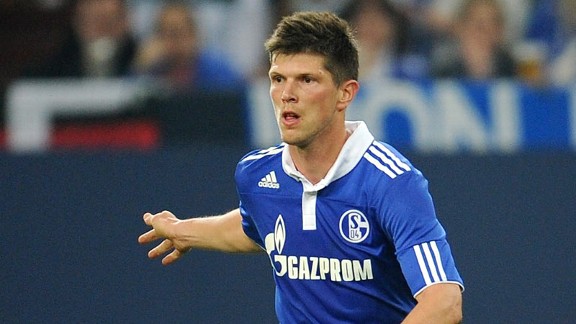 Dennis Grombkowski/Bongarts/Getty ImagesThe Netherlands deck is stacked again heading to Euro 2012, and hopefully Klaas-Jan Huntelaar -- who suffered a concussion this past week -- will be healthy.
Philadelphia seems an unlikely setting for a tense Euro 2012 moment. Yet on Wednesday night, in Rocky Balboa's hometown, Dutch hopes of a first Euro title since 1988 suffered a big jolt -- quite literally. The sight of wobbly Netherlands goal ace Klaas-Jan Huntelaar leaving the PPL Park pitch after taking an accidental blow to the head has left Oranje fans shaken. The reason: "The Hunter" is a player set to make a big impact at Euro 2012.
Why Huntelaar would be playing in a meaningless exhibition game for his German side Schalke 04 against the Philadelphia Union at the end of a long Bundesliga season and on the eve of Euro 2012 boggles the mind. But such is the quenchless thirst for money in football these days. Taken to a local hospital, Huntelaar was reportedly diagnosed with a concussion. That would be his second in three months -- the first coming on a clash of heads with Chris Smalling in the England-Netherlands friendly at Wembley in February.
Attitudes toward sports-related concussions, at least in the United States, have changed dramatically in recent years. After a spate of horror stories outlining the impact of concussions of NFL players, new procedures and rules are in place throughout the American sports landscape, from grade school to the pros. It's to be hoped that Huntelaar, Schalke 04 and Dutch national team officials will put the striker's health before any other ambitions.
It's also to be hoped that Huntelaar recovers in time for Euro 2012, because he could be the big story of the finals. At 28 years old, Huntelaar has sat in the shadows of Ruud Van Nistelrooy and Robin van Persie for some time. As far back as August 2006, he scored two goals for the Netherlands on his debut against Ireland. But after a prolific goal-scoring career in the Eredivisiem, first with Heerenveen then Ajax, The Hunter's career misfired in stints with Real Madrid and AC Milan.
Since moving to Schalke 04 after the 2010 World Cup, Huntelaar's career has kicked back into high-scoring gear. He scored 29 goals to lead the Bundesliga this season and help Schalke 04 gain a Champions League spot for next season. His goals were also big factors in the Netherlands' impressive Euro qualifying performance.
Huntelaar had one start at Euro 2008, scoring in a meaningless third group game against Romania. At the 2010 World Cup, he was again limited to cameo appearances, coming off the bench three times (scoring one goal). But at the beginning of the Euro 2012 campaign, Huntelaar finally got another run in the Dutch starting XI and took his opportunity -- along with plenty of goal-scoring opportunities.
He scored 12 goals in eight games to lead not only the Dutch scoring charts but the entire Euro 2012 campaign. Yet even with health permitting, his starting spot isn't assured for the Netherlands' opening game with Denmark on June 9. Dutch coach Bert Van Marwijk prefers to play a 4-2-3-1, and fitting both van Persie and Huntelaar into that formation isn't easy. The pair has played together in the past four Euro qualifying games, with Huntelaar scoring in three of those games, while van Persie only scored in the 11-0 drubbing of San Marino.
Trying to figure out how to fit the Bundesliga Golden Boot winner and the Premier League's leading goal scorer into the lineup is a problem that most coaches would love to have (just ask Cesare Prandelli and Roy Hodgson), but great players don't always make great tandems. The Steven Gerrard-Frank Lampard debate still lingers in England, while Jurgen Klinsmann now faces the challenge of finding the best way to get Landon Donovan and Clint Dempsey firing on all cylinders at the same time as the U.S. heads into World Cup qualifying.
Unlike van Persie, Huntelaar is a pure center forward. And Van Marwijk will likely use him in that role. It will be the most important decision any coach makes at Euro 2012. Huntelaar does nothing but score goals when given the opportunity, and Van Marwijk would be wise to give him that opportunity.
Back in 1988, when the Dutch won their only major title, the Oranje were stacked with talent, including all-time greats Ruud Gullit, Arnold Muhren, Ronald Koeman and Frank Rijkaard, but it took Marco Van Basten's goals to finally put them over the top.
The Netherlands' deck is stacked again heading to Euro 2012, and hopefully Huntelaar will be healthy. If so, it will be the Hunter's goals dealing the knockout blows at Euro 2012.
April, 20, 2012
04/20/12
12:46
PM ET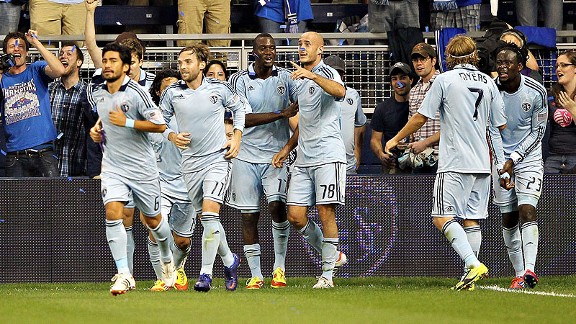 Jamie Squire/Getty ImagesSporting KC's perfect 7-0 start and their sparkling stadium is the talk of MLS.
With the European season hitting the home stretch, it's understandable if most soccer fans aren't paying too much attention to MLS. This is a pity, because there is a great story brewing in the American heartland, and it's a classic example of everything that MLS has been doing right for several years. And all concerned deserve tremendous credit and a lot more exposure.
This great story is Sporting Kansas City's perfect 7-0 start to the season. This time last year, SKC was in the midst of a 10-game road stretch while waiting for LiveStrong Sporting Park to be ready for its MLS grand opening in June 2011.
LiveStrong has clearly breathed new life into the organization, the players and its fans. That was the SKC ownership's plan, and that's been the plan of MLS all along: from the opening of Columbus Crew Stadium in 1999 to next month's latest MLS stadium addition in Houston, and beyond. Nothing says long-term planning and stability quite like a stadium to fans, sponsors, the media and prospective new players. But few teams have executed the plan as flawlessly as SKC.
As an ESPN colleague who's a Kansas City native told me this week, "The stadium is a microcosm of what they've done well. It looks great, has a great location, and is as completely thought through as any stadium I've seen."
As he notes with pride, the locals have responded.
"Five years ago, I couldn't pay anyone to go to games with me, and the biggest reason was the complete lack of atmosphere at a nearly-empty Arrowhead or a disorienting minor league baseball park," my colleague said. "When I was home for Christmas, I had three friends that had season-ticket packages. The marketing has been stellar, going hard after the rabid 20-and-30-something fan base that populates much of the KC area."
Yet the rebirth of the soccer sporting life in Kansas City doesn't serve just as the latest symbol of the league's new stadium business growth model; it's also symbolic of something just as important -- long-term faith in the "Made in America" soccer label. Real Salt Lake won a championship after building a new stadium and handing the coaching reigns to former MLS star Jason Kreis. And many folks are already talking up SKC as 2012 MLS Cup champion-elect under the guidance of another stalwart of U.S. soccer and MLS, Peter Vermes.
Like Kreis, Vermes believes in developing young, American talent. In particular, Vermes seems to have faith in the much-maligned American college system. C.J. Sapong and Graham Zusi are just two college soccer products who have come a long way in a short time under Vermes' guidance. And while Vermes has kept faith with American talent, SKC ownership has kept faith in Vermes.
Vermes hardly experienced a perfect beginning to his head-coaching career in Kansas City when he moved from the team's front office to the dugout hot seat in August 2009. He posted a 3-7-2 record as the then-Kansas City Wizards stumbled to the finish line with the league's worst home record.
Things have changed since then: the team name, the stadium and the won-loss record. Vermes' philosophy has stayed consistent, though. He insists on a high-pressing 4-3-3 formation. Along with Sapong and Zusi, Teal Bunbury is another young player who is attracting attention as he develops rapidly under Vermes.
Bringing in such MLS-savvy veterans as Kei Kamara in late 2009 and Bobby Convey this season were solid moves, as well. Kamara, in particular, is a player known to keep the mood light in the locker room, and fans, as well as teammates, relate and respond to his infectious spirit.
The long-running designated player argument also comes into play with SKC. Last season Jeferson was a bust, while Omar Bravo had some moments. This is a fairly typical MLS scenario. SKC management hasn't ruled out signing a DP this season, but so far they are doing fine without one.
It's hard to top perfection. It's even harder to keep it going. Just ask Manchester City. For the next few weeks, at least, many American eyes will be cast across the pond at such things as City's late bid to derail archrival United atop the EPL, or the Barcelona-Real Madrid duel in Spain and possibly the Champions League, maybe even Sporting Lisbon's Europa League tilt.
In many ways, that's the biggest obstacle to MLS growth: the massive competition from the big shows overseas for everything from media ink, to replica jersey dollars, to TV viewing time and, of course, to star power on the field. But dismissing MLS isn't such a popular media parlor game anymore. That's because the league's long-term plan keeps working. Sporting Kansas City is just the latest franchise model of taking advantage of the sporting chance given to American soccer by Major League Soccer.
April, 13, 2012
04/13/12
1:38
PM ET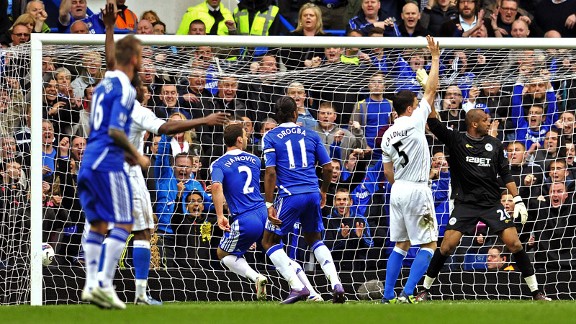 Glyn Kirk/AFP/Getty ImagesBranislav Ivanovic (2) looks toward the linesman to see if his clearly offside goal against Wigan would be disallowed. It wasn't -- and is yet another reason the sport should use video replay.
Amazingly, my beloved Baggies rolling over against Manchester City like a puppy at a dog-treat convention Wednesday night is only the second greatest travesty of the soccer week. The inept officials ruining the Chelsea-Wigan game Saturday still stand atop the Travesty of the Week podium.
The "to err is human" crowd, no doubt, think that poetic justice was served by Wigan having a "historic moment" with a 1-0 victory over Manchester United on Wednesday, when the Latics benefited from a couple of calls. Nonsense. The gilded blazers running FIFA, UEFA and every other can of alphabet soup masquerading as guardians of the game should be ordering their flunkies to order their flunkies to order their flunkies to rip up every "Fair Play" banner that's ever been paraded before a game and replace it with one that declares: "Video Review Is Available On Demand."
That's the most infuriating thing about the non-offside calls in the Blues 2-1 win over Wigan: Video review was available on demand. It was right there at the push of a button from the production truck broadcasting the game, but the powers that be don't want to use it. The NFL uses it, the NCAA basketball tournament uses it, tennis, cricket and, as I was told this week, even Arena Football uses it. But not football. Why would the world's most popular sport want to enter the 21st century?
Not because it's difficult to implement. This week, as a gesture of goodwill to Sepp and the Blazers, I canvassed a distinguished panel of American and English soccer producers that I've worked with over the years. They have enough Emmy Awards among them to fill Tiffany's showroom on Fifth Avenue. I asked each of them how difficult, from a technical perspective, it would be to offer video review to a monitor at the fourth official's station at any EPL, MLS, Champions League or World Cup stadium.
"Easy. Very easy. Criminally easy," says a producer I've worked with at the past two World Cups. "A monitor is simple to set up at midfield. The replay would be ready for the official to see by the time he gets to the monitor."
"It would take no longer than a minute -- in some cases no more than 30 seconds," says an English television veteran who has directed games all over the world.
"[The replay] can be available 20 seconds after the shot has taken place, so the fourth official could see it after 30 seconds," another longtime English resident of the television control room front bench says.
"The fourth official can see a real-time replay from TV within seconds and could make the call without affecting the 'flow' of the game," says a World Cup veteran from the West Coast.
In other words, while referee Mike Jones was listening to the legitimate pleas of the entire Wigan team that Branislav Ivanovic was offside when he slotted home Chelsea's first goal, the fourth official could have watched a video replay. In such a scenario, before Jones even approached the new poster boy for offside call incompetence, his assistant referee Dave Bryan, the fourth official could have informed Jones that the goal shouldn't stand.
This debate is not new. The Frank Lampard over-the-goal-line shot that was seen by everyone except any of the officials in charge of the England-Germany World Cup game in South Africa will ultimately be the tipping point in the goal-line technology discussion. Not even Sepp and the Blazers can ride out that particular storm forever. Expect goal-line technology to be in use at the 2014 World Cup, if not before.
But what of offside calls? For me, Chelsea-Wigan is the tipping point for offside review.
This past season, the NFL instituted video review on every touchdown. Soccer should do something similar. Review the play for offside every time the ball goes into the back of the net. It doesn't happen that often, and more and more in the modern game, the stakes are too high not to use every available avenue to make sure that a goal is, in fact, a goal. With Chelsea fighting for a Champions League spot and Wigan in the midst of a relegation battle, the fate of literally millions of dollars -- and, no doubt, jobs -- will be influenced by the Jones' and Bryan's not-so-funny comedy of errors, and by Jones not having video technology at his disposal to correct a mistake.
I asked one of the most prominent American soccer producers of the past 25 years what he thought about video review.
"With all due respect to the tradition of the game, there is no excuse for allowing a wrong call to stand whether a ref overrules a linesman because, in his judgment, he was in a better position to make a call or if technology puts the fourth official in a better position to make the correct call," he says.
I couldn't agree more with that sentiment.
After seeing the television replay while calling the game, an incredulous John Motson, the legendary BBC announcer, asked of the Ivanovic goal: "Where's the flag?"
With all due respect to the beloved Mottie, the question that needs to be asked is "Where's the video review?"
April, 6, 2012
04/06/12
12:34
PM ET
[+] Enlarge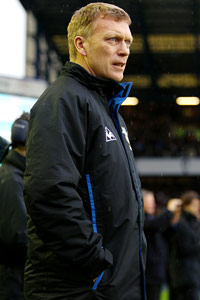 Clive Brunskill/Getty ImagesForget Harry Redknapp. The England national team would do well to hire Everton's David Moyes.
I saw "Salmon Fishing in the Yemen" last Sunday night. It's the type of movie that's a pleasant distraction on a long-haul flight, but doesn't really need to be seen on the big screen. Yet it got me thinking about absurd notions such as this: Could a Scot be the next manager of the England football team?
Sir Alex Ferguson has the credentials. But the Good Knight striding out purposefully along the Wembley Stadium sideline in a blue blazer with the Three Lions crest emblazoned on his breast pocket is about as unlikely a sight as Ewan McGregor playing an ugly duckling scientist with a fish obsession.
A short distance across Lancashire from the Theatre of Dreams, King Kenny is holding court again at Anfield. Scotland's greatest player certainly knows his way around the manager's dugout, but it's as probable that he'll don the Three Lions tracksuit as (spoiler alert) an obsessed ugly duckling scientist foiling an assassination attempt with a fishing rod.
Stranger things have happened -- for instance, a fan attending the Barcelona-AC Milan game on Tuesday night was wearing a West Bromwich Albion replica jersey. That was my sister, who called me from the stadium. I shudder to think what the roaming charges from Camp Nou to New York are, but hey, as the MasterCard commercial says, and my sister can now happily attest, watching this Barca team is priceless.
But I digress …: What price another Lancashire-based Scotsman getting a call from the blazers at Lancaster Gate? That would be Everton's outstanding manager David Moyes. His stature in the game doesn't match that of his countrymen Ferguson and Dalglish, but I'm sure those two Scottish legends wouldn't hesitate to vouch for his managerial talent.
Harry Redknapp remains the popular choice for the vacant England job, but Moyes has recently gained prominence as a contender. I've hailed Moyes' skills in this space before. Who has done more with less in the EPL in recent years? No one. The EPL is a rich man's playground, yet the penny-pinching Toffees remain perennial contenders for a Europa League spot, and are in the midst of another deep FA Cup run.
Moyes believes in defense, no nonsense and has a fine eye for potential where others see pessimism (Brian McBride, Tim Howard, and Landon Donovan to name just a few.) England's dysfunctional dressing room could use a good dose of the Moyes philosophy.
This week a Manchester City-loving colleague took a brief timeout from banging his head against his padded cell wall ala Robert De Niro in "Raging Bull" to describe the Everton boss as follows: "Has the respect of every player who has ever played for him. Including Rooney. Heart. Fire and passion. Balls." I want that guy managing my national team.
Will it happen? Unlikely. The FA is no one's idea of salmon swimming against the tide to achieve great things. And even if he were asked, would Moyes want the aggravation that would undoubtedly come from his piqued countrymen, let alone the usual tabloid assault that comes with the job? Again, unlikely.
But after watching "Salmon Fishing in the Yemen," I've learned a couple of things that I want to pass along. Emily Blunt has a real shot at becoming the next Meg Ryan, and great things can happen if you have the faith to cast your line in Scottish waters.
[+] Enlarge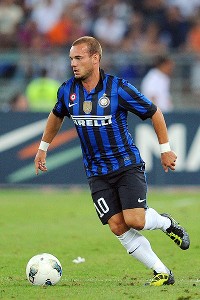 Giuseppe Bellini/Getty ImagesInter's Wesley Sneijder would fit in perfectly at Old Trafford.
It's been a lost season for Inter Milan. And the same can be said for their stylish Dutch playmaker, Wesley Sneijder. Plagued by injuries all season, he has been nowhere near the force he was during Inter's 2010 treble-winning season. But unlike his team, Sneijder can reverse his fortunes pretty quickly with a change of scenery -- and Old Trafford would be the perfect place for him.
Last summer, Sneijder was reportedly on top of Sir Alex Ferguson's summertime shopping list. Negotiations crashed on the jagged rocks of salary demands, and the Good Knight was not best pleased. As any United legend from Lee Sharpe to Jaap Stam can tell you, it's not wise to get on the wrong side of the Manchester United manager, but even the canny Scot might make an exception for the Dutch master.
It's not like Ferguson hasn't signed temperamental, demanding characters before. Granted, temperamental doesn't really do justice to Eric Cantona, but the Frenchman fired up the Theatre of Dreams like few others. And Sneijder could be sensational in United red, as well.
It's possible Paul Scholes could play forever, but with a fit, motivated Sneijder pulling the strings for the 19-time English champions, maybe Scholes wouldn't have to. Health and motivation always seem to be question marks with Sneijder, but when he's on his game, he makes everyone around him better. That's always the sign of a legitimately great player.
For United, unlike Inter, all is not completely lost yet this season. The Good Knight is doing his level best to make Roberto Mancini the new Kevin Keegan. But it's the rare season when Ferguson has to go all "Hunger Games" on his nearest rival for the EPL title. I doubt he would be in this position if the Glazer purse strings didn't stretch so thinly from Lancashire to Florida. A hefty investment in Sneijder last summer might be paying big dividends this spring. That's conjecture, but the facts are that United was dumped out of the Champions League long before anyone anticipated, there have been no domestic cup runs to speak of, and the Europa League, while hardly a priority, was a humiliating experience.
Not even United can afford that scenario playing out again next season. Ferguson dislikes when his transfer negotiations become common knowledge, but the rumor mill already has Belgian sensation Eden Hazard, Spurs midfield maestro Luka Modric and Athletic Bilbao's Iker Muniain penciled in on the latest United help wanted list.
All solid additions, with great potential to help turn United back into a serious Champions League contender again. But Ferguson's first instincts should still hold. Sneijder has exquisite technique, game-changing vision, and the ability to control and change a game's tempo; furthermore, he is a free-kick specialist and a fierce competitor. And perhaps the latter is what this United team needs most of all. The embers seem a bit low with the current squad, and Ferguson needs an on-field general to keep them stoked. His great teams have always had that, and Sneijder can be that man.
Chelsea, Manchester City and quite possibly Anzhi Makhachkala will all have something to say about Sneijder's next port of call. And the Dutchman has already made it clear to United that he plays for money. No one can blame him for that. But he also plays with an ability to break open defenses like few others. Sir Alex Ferguson already knows that Sneijder is the answer to his creative midfield problems. The question remains: Can Ferguson afford to make the move? It's possible he can't afford not to.
March, 23, 2012
03/23/12
11:58
AM ET
As a neutral, it's not easy to root for Chelsea. The odious oligarch, the crass captain and a long-running parade of pouting players too numerous to mention have turned the Blues into an English Premier League pantomime villain. Whenever you see them, you have the urge to boo. But lately, I've been cheering for Chelsea. The reason: Roberto Di Matteo.
[+] Enlarge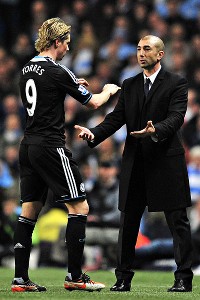 Glyn Kirk/Getty ImagesRoberto Di Matteo has done an exceptional job since taking over at Chelsea, even coaxing some goals from Fernando Torres.
I might have mentioned in this space before that I am a lifelong West Bromwich Albion fan. And as one wise Black Country native told me this week: "Di Matteo was the man who gave West Brom its belief back that they belonged in the Premiership." It's not many managers who get fired in midseason and retain such affection with the fan base.
Long before patrolling the technical area of the green rectangle of heaven better known as the Hawthorns, Di Matteo was a beloved figure at Chelsea. He was part of the early Stamford Bridge renaissance in the mid-1990s. In 1997, before the arrival of Roman Abramovich and his bottomless bucket of rubles, Di Matteo famously scored the then-fastest goal in FA Cup final history, when striking at 42 seconds to set Chelsea on its way to a 2-0 win over Middlesbrough.
It only seems that the average lifespan of a Chelsea manager under Abramovich is 42 seconds, but the odds are against Di Matteo shedding his caretaker status as the Blues' boss. At a minimum, he needs to guide Chelsea to an EPL top-four Champions League qualification spot, and even that probably won't be enough. The FA Cup looks nice in a team photo, but its small beans these days to a club of Chelsea's mega-ambition. Winning the Champions League would be a game-changer for sure, but it would be a massive upset if anybody other than Barcelona or Real Madrid landed the giant, jugged-eared, silver Holy Grail in May.
So where does that leave Di Matteo? According to the British redtop rags, overwhelmed by the player power of John Terry. Really? Did Terry tell Di Matteo to switch from the 4-3-3 formation of his short-lived predecessor Andre Villas-Boas to the 4-2-3-1 that seems to have pumped new life into old Chelsea legs? Maybe he did. But unlike AVB, Di Matteo has been around the English game long enough to roll with the hyper-inflated, dysfunctional egos of players who command attention in the locker room and channel that combustible energy into a positive force on the field. That's a skill that every successful manager at the highest levels possesses.
A lot has been made of Terry seeming to coach from the bench after coming out of the epic Champions League comeback against Napoli. Again: Really? That night, Chelsea did something very few teams have done over the years. It rallied from a two-goal first-leg deficit to win a tie and advance. I'm more than tired of the off-field John Terry act, but give credit where it's due -- he's a competitive guy who bleeds Chelsea blue and didn't sit quietly on the sidelines with a season-defining victory at hand. For me, there's nothing wrong with that. And Di Matteo clearly feels the same way.
Di Matteo also seems to feel that Fernando Torres still has something to offer. A John Carter-size mega-flop so far at Chelsea, Torres' brace against Leicester City in a 5-2 FA Cup win demonstrates that all is not lost on the Spanish ace front. If Di Matteo can get Torres back on track, he might not be Chelsea boss next season, but he'll have a list of suitors this summer, and the grateful thanks of all of Spain heading to Euro 2012.
Di Matteo will always have the grateful thanks of West Brom fans like me. We loved his commitment to playing a passing game, his dedication to an unfashionable club and his dignity in the wake of an unfair dismissal. Roy Hodgson has done a magnificent job at the Albion, building on the foundation Di Matteo started, and sitting here before Easter not having to worry about a relegation battle shows what a fine appointment he's been. West Brom chairman Jeremy Peace can feel vindicated at his decision to replace Di Matteo, but I dare say, like anyone who loves my beloved Baggies, he's delighted to see his ex-manager back in the shop window and with an opportunity to demonstrate his talents.
Chelsea is in the business of hiring managers to fire them. So perhaps it wouldn't be the worst thing in the world for Di Matteo if he secured a Champions League spot for next season and moved on. But it may not be the best thing for Chelsea. With Spurs and Benfica on the docket this week, Di Matteo has another chance to state his case as one of the best young managers in the English game. I, for one, will be rooting for Roberto.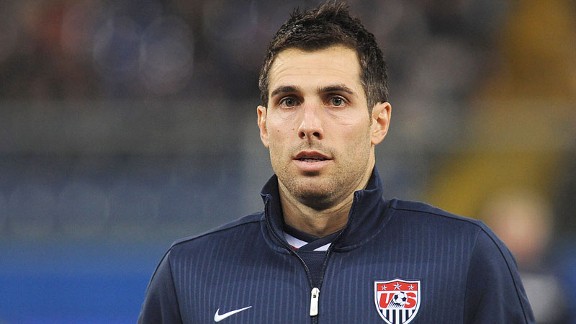 Valerio Pennicino/Getty ImagesIf Carlos Bocanegra leaves Rangers, which is in financial ruin, he should head to the Premier League where he could offer a team experience and skill at the back.
I shouldn't have been surprised when I read a few weeks back that Glasgow Rangers had entered administration. The Ibrox giants have been inching toward the bankruptcy precipice for some time. Yet it was still stunning when the news broke. But there is one silver lining for American fans in this latest setback for Scottish football: Carlos Bocanegra could soon be on the open market. And any EPL manager needing leadership, smarts and solid tackling on his backline would be wise to give him a call.
When I first visited the United States many, many moons ago, I flew on TWA from London to New York City, and the Pan Am Building stood proudly above Grand Central Station in midtown Manhattan. Those two iconic airlines are no more. Still, it's hard to conceive that Rangers would nose-dive into oblivion as well. Hopefully that fate can be avoided. Surely not even the most ardent Celtic fan would think that Scottish soccer has anything to gain from the catastrophic fall of their archrival. In the meantime, the bean counters must go about their business.
A good portion of the Rangers roster will be leaving at the end of the season, and some will leave before. It's already been reported that various Rangers players have agreed to pay cuts ranging from 25 to 75 percent. If this situation isn't a wakeup call to soccer, I don't know what is. I'm old enough to remember Rangers being a force in Europe, let alone Scotland. And the passion of Rangers fans for their team is second to none.
In the mid-1970s, my beloved Baggies signed Willie Johnston from Rangers. "We've got Willie, Willie Johnston on the wing, on the wing" rang out from the Brummie Road End at the Hawthorns for many a season. Bocanegra might not thrill fans in the manner of the brilliant, feisty former Rangers legend, but I'd be very happy to see Captain America plying his trade in the middle of the Albion backline next season.
[+] Enlarge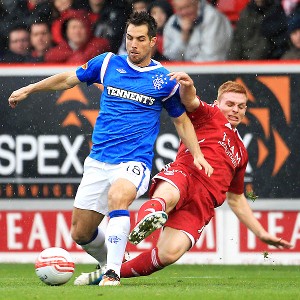 AP PhotoSince the 2010 World Cup, Bocanegra's game has matured. He's more patient on the ball, leads the backline with greater authority and his reading of the game gets better with age.
There are reports that the former Chicago Fire defender might head back to MLS in the summer. Under league rules, the Vancouver Whitecaps would have the first crack at signing him, but Bocanegra would be best served to stay in Europe. His game has matured enormously since the 2010 World Cup. He seems to have learned a lot from his South Africa experience: He's more patient on the ball, leads the backline with greater authority and his reading of the game gets better with age.
After another commanding performance for the U.S. national team in the recent friendly win over Italy, Bocanegra seems set for far bigger things than the backwaters of a second-year MLS expansion team.
Jurgen Klinsmann knows a thing or two about leadership, and he quickly confirmed that Bocanegra would continue as the U.S. captain shortly after taking over the team's head coaching reigns. Against Italy, Bocanegra personified the new poise that Klinsmann has instilled on the U.S. defense. How many times under Bob Bradley did the U.S. defense in tight games simply boot the ball out of the danger zone, only to see it come straight back at them because they had kicked the ball to the opposition. It was a panic problem that Bradley never seemed quite able to solve. It still flickered around the edges for the U.S. against Italy, but it never caught fire. A lot of that can be attributed to Klinsmann, but Bocanegra deserves credit as well. He was a real leader on the field in Genoa and his efforts went a long way to preserving the shutout and gaining a historic win.
Along with Tim Howard in goal, Bocanegra has been a constant for Klinsmann, while the rest of the defense has been a revolving door. There's been a lot of criticism aimed at the U.S. offense under Klinsmann, with not enough credit being given for the work achieved at the back. With Bocanegra's future at Rangers in doubt, Klinsmann will want his captain to stay in Europe and keep developing at the highest level.
That highest level should be a short trip south from Glasgow to the EPL. Seriously, is there not a team in the English top flight that couldn't use an experienced veteran, who rarely puts a foot wrong and helps those around him play better? The ideal destination would be in front of Tim Howard at Everton, but the Toffees' finances may not be up to it. Bocanegra has already played for Fulham, and teaming up with Clint Dempsey would be fun for U.S. fans as well as the Cottagers faithful. But blue might still be the color for Bocanegra. Chelsea needs some real pros in the romper room that passes for their locker room.
Even with so much on their minds, ask any Rangers fan and they'll tell you Captain America is the consummate professional. And soon, he'll be available to play for a team near you. I hope my team gives him a call.
Arjen Robben was the toast of Wembley on Wednesday night, scoring twice in a 3-2 Netherlands win over England, but it's his Dutch teammate Robin van Persie that is the toast of the EPL this season. RVP is surely a boot-in for EPL MVP honors, but will he still be playing for Arsenal next season? It's hard to imagine the Gunners being legitimate title contenders anytime soon without him.
Granted, there is no actual MVP trophy awarded to the Premier League's finest; "Player of the Year" is the preferred designation on the other side of the pond, but if ever the MVP tag belonged in English football, no player would ever be more deserving than van Persie. Currently the Premiership's leading goal scorer, his 25 goals have kept the Gunners' hope very much alive for another spot in the Champions League next season.
However, it's far from guaranteed; Arsenal's berth is still very much in the balance, and Arsene Wenger will need the often-fragile Dutchmen to stay on the field and be at his brilliant best for Arsenal to keep its long-running Champions League streak alive. Quite rightly, Arsene Wenger is furious that his star played 45 minutes for the Netherlands on Wednesday after sustaining a groin injury -- he was still fit enough to play at Anfield on Saturday and score two majestic goals, including the injury-time game-winning volley from Alex Song's lofted pass -- but that's the way things have been going of late for the North London giants.
[+] Enlarge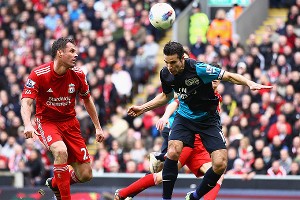 Clive Mason/Getty ImagesRobin van Persie's double at Anfield on Saturday takes him to 25 league goals in 27 games.
All told, it's been another strange season at the Emirates. Like the recent Oscars television broadcast, the Gunners' brass seem trapped in a time warp of past glory. Arsenal have moments of inspiration -- not to mention massive talent and sizable resources at their disposal -- but don't quite seem ready to change their age-old formula, even though it's misfiring and testing the patience of their fans.
While a silent movie winning the Oscar for Best Picture may have confused some moviegoers, the very thought of Arsenal's great Dutch artist leaving for pastures new has Gunners fans pulling their hair out. I enjoyed "The Artist," but watching van Persie play for Arsenal this season has been a real thrill.
Last Sunday he turned in another masterpiece as Arsenal rallied from two goals down to beat archrivals Spurs 5-2. Like Superman, RvP demonstrated again that he knows how to maneuver in a phone booth. His tying goal was a showcase of balance, technique and pure power -- performed within a space about the size of an average golf divot.
Then on Saturday, with his Gunners teammates looking uninspired and nervy against an aggressive Liverpool side, he lifted Arsenal to a crucial 2-1 away win with two sweetly-taken goals; the first, a predatory near-post header, the second an elegant first-time volley.
I'm no Arsenal fan, but I love great players and van Persie is close to joining the rarified air of Lionel Messi and Cristiano Ronaldo this season, and everyone knows it. But therein lies the rub. Arsenal's recent track record of hanging onto its best players is not good. If you get a chance, try to catch a replay of the recent Barcelona game against Valencia. Messi was sublime that night, scoring four majestic goals in a 5-1 win, but Cesc Fabregas was pretty ridiculous as well. Like Ronaldo leaving Manchester United for Real Madrid, there was an air of inevitability about Fabregas heading home to Catalonia at some point, but it must still rankle with Gunners fans that Samir Nasri left to ply his trade with Manchester City.
No doubt, money was the driving force in that move (perhaps for both sides) but Nasri is also a super-competitive guy who wanted to play on a serious contender for big prizes. Arsenal, of course, used to be a perennially serious contender for all the big prizes, but not lately.
And it's that perception that must change around the Emirates. The fire burning in van Persie's eyes is almost as ferocious as his stunning top corner blasts. There have been games this season where the Gunners captain seemed to will his team to fight for victory. Just last week, RvP's grit and leadership was a major factor in the remarkable rally against Spurs. The same could be said of his performance against Liverpool, further proving that the Dutchman is no superstar wallflower. He badly wants Arsenal to win and is doing everything he can to make that happen. But the club needs to help him.
From Madrid to Milan, the very biggest teams in world soccer will be lining up to talk to van Persie's agent this summer -- if they aren't already. Arsenal knows that better than anybody, hence the low-hanging clouds of negativity hovering over the Emirates. Signing van Persie to a new contract will go a long, long way to shifting the gloom of pessimism, but the Dutchman seems in no rush to make a decision himself.
In the Spurs' matchday program on Sunday, van Persie wrote that all contract talks with Arsenal would be put on hold until the end of the season. So, the story is going to hang around for a while. Gunners fans will be hoping their MVP ace stays around Arsenal even longer.
February, 19, 2012
02/19/12
12:11
AM ET
Don't worry, Spurs fans; if Harry Redknapp takes the England manager's job in the next few weeks, it won't be the end of the world. After all, he'll leave behind a team brimming with talent, confidence and ambition. Plus, Spurs chairman Daniel Levy won't have to look far for a manager who can keep the good times rolling at White Hart Lane: Paul Lambert is just up the road at Norwich.
Leading the Canaries from the basement of League One to the EPL promised land in consecutive seasons is pretty remarkable, but having Norwich more than holding its own in the top flight this season makes Lambert a rising star in the British game. Spurs would be well advised to put him at the top of their shopping list should Redknapp leave for the hot, hot seat at Lancaster Gate.
The Redknapp decision could be a few weeks away, but Spurs will have competition for Lambert's services very soon as plenty of big teams will be casting an envious eye toward East Anglia as the season winds down. Wolves already need a manager, and the likes of Arsenal, Chelsea and Liverpool might all be giving their management situation some thought before too long as well.
Martin O'Neill has proved again at Sunderland what an intelligent man-manager with an ability to develop talent that others don't see can do for a team with big expectations. And Lambert seems to come from the O'Neill mold: His Norwich team is built on youth, players plucked from obscurity, and hard-working veterans relishing a crack at glory.
And like O'Neill, Lambert knows what it's like to play and win at the very highest level. That will be crucial, should he be handed the managerial reins at Spurs in the coming months. Lambert could place his Champions League winning medal on the desk for all his superstars to see. And not only did he win a Champions League title in 1997 with Borussia Dortmund, he also managed to shut out Zinedine Zidane in the final against Juventus when he wasn't too busy setting up BVB's opening goal.
Of course, the biggest hurdle to Spurs' big European ambitions is not the possible departure of Redknapp, but that of Gareth Bale. He's a massive talent who gives Spurs a dimension that few teams have: big power, big speed, big engine and a big shot. Now, Spurs could use any compensation from England for Redknapp to lure Jose Mourinho back to the EPL from Real Madrid, but they'd be better served using the windfall to secure Bale for the foreseeable future.
A special case can certainly be made for enticing "The Special One" to swap the white jersey of Madrid for the white one of Spurs, but Mourinho's price tag might just be outside Spurs' range -- even with a subsidy from the FA. A triumphant return to Chelsea might be more to Mourinho's liking anyway, and in a lot of ways, it's better to have a manager on the rise rather than one looking for new horizons from his plateau.
And Lambert is certainly riding the up elevator this season. Though his side was dumped from the FA Cup by Leicester City on Saturday -- Lambert fielded a squad heavy with reserves -- the Canaries are firmly in the Prem's top half and have lost just once in their past six league games, achievements I'm sure Daniel Levy is fully aware of in North London.
I was in Indianapolis last week. The weather was mild, and lots and lots of families were out and about, enjoying the Super Bowl Village and riding the zip line. The name Manning seemed to be on everyone's lips and replica jerseys. But Egypt was on my mind.
I'd intended to write about Michael Bradley this week, and still will. But the contrast between the riots at the game between El Masry and Al Ahly in Port Said stand in such startling contrast to the football fun fair that went on around me in downtown Indianapolis that I'm having trouble thinking that soccer is important.
But soccer is important. It's always been important to me, providing common cause with disparate and unlikely souls, thrills and despair galore, an appreciation of art, athleticism and drive, and ultimately a chance to linger as a big kid in a righteous adult world that's lost its ability to laugh at itself.
There is nothing funny about what's happening in Egypt. I came of age in the 1970s during the weekly nihilism of English football hooliganism. I never understood it as a kid, and I don't understand it now. But skinheads looking for a punch up with the police and visa versa is not what's happening in the land of the ancient pharaohs. Something much bigger is playing out across history and the 24-7 news channels before our eyes.
In a short while, I'll revert back to business as usual. I'll continue to be impressed by Bradley's completely unanticipated sterling Serie A season with Chievo Verona and ponder its portends for USA national team success. I'll also keep wondering when the mass of U.S. soccer fans who denigrated his selection on the national team during his father Bob's tenure as nepotism will give him the credit he deserves.
Yet, more than anything right now, I hope that Egypt's turbulence settles. That soccer in that country is just the same life accessory of dreams, diversion and delight that it's always been for me.