According to Thomas Wolfe, you can never go home again. And once more that is the case with the World Cup, as England's bid for the 2018 hosting duties failed in Zurich on Thursday. While sports' grandest circus plots its Russian parade route (and its Qatari parade route in 2022), the brand-managing bumpkins running the England 2018 bid should heed Wolfe's maxim: Do the home of football a favor and stay in Switzerland.
The reason England's bid came up short has nothing to do with muckraking journalism or, if you prefer, investigative reporting. It's not breaking news that FIFA is rife with corruption. The Dewey Decimal system can't keep up with all of the books written on the topic. No, the England bid team shouldn't be pointing the finger of blame at the media, but at itself. Why would FIFA want to do business with a soccer nation where for years now, everywhere you look, all you can see is a panorama of administrative incompetence?
[+] Enlarge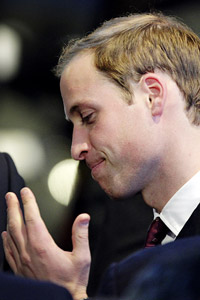 Sebastian Derungs/AFP/Getty ImagesPrince William reacted after FIFA president Sepp Blatter announced that Russia will host the 2018 World Cup.
Take the new Wembley Stadium -- if only someone would. The old stadium was to soccer what Carnegie Hall is to music. Not only did all the very best dream of playing there, but they considered it a privilege. Yes, the stadium needed renovation, but no one at the Football Association (FA) could figure out how to do that without demolishing the stadium -- and with it, the air of history and majesty that permeated its every nook and cranny. Would the guardians of Churchill Downs ever consider replacing their racetrack's iconic steeples? Not a chance. They probably wouldn't run up cost overruns at levels to make Charles Ponzi blush, either. And then there is the little matter of the pitch, which apparently will be fixed before England ever actually hosts another World Cup. But don't hold your breath.
The FA and several members of the England bid team bask in the glory of their role in the success of the EPL. The league in which fewer and fewer English players get a chance to ply their trade is indeed a commercial juggernaut. But what the FA and bid bureaucrats were doing when the likes of the Glazer family and Tom Hicks and George Gillett were loading debt onto England's two most successful franchises is anybody's guess.
Presumably, while spanning the globe to land the World Cup, the bumbling blazers gave some thought to last season's Portsmouth debacle and what would happen if Roman Abramovich or Manchester City's Petro-Prince decided to leave town in a hurry. There's bound to be a PowerPoint presentation somewhere.
And very sad to say, while the EPL reaches new heights, the once-magical FA Cup has become a tarnished silver relic of a golden age, thanks in large part to the FA insisting that Manchester United not defend the trophy in order to attend the 2000 FIFA Club World Cup in Brazil. That controversial move was part of the failed English bid to land the 2006 FIFA World Cup.
That event, of course, went to Germany -- the country that has reached the final eight at every World Cup since 1954, has three stars on its national team jersey, produced a plethora of world-class players for decades, boasts a league with the highest average attendance in Europe and organized a World Cup four years ago that was the best in living memory. That's what a professionally run organization does.
But no one is ever likely to confuse the FA or assorted England World Cup bid teams with the DFB (Deutscher Fussball-Bund), and that's the rub. The English gnomes in Zurich branded the BBC as "unpatriotic" for airing FIFA's dirty laundry in public so close to the World Cup vote. What a shame they didn't have the patriotism to declare how great it is to live in a country with a free press.
Of course, it might have helped if they could actually produce a World Cup promotional video to show the voters in Zurich that didn't feature a still photo of Javier Mascherano in his Liverpool days as an example of overseas players in the EPL. Note to the committee: Mascherano signed with Barcelona in August.
I know this is the age of faux celebrity, but what made this English bid team think that anyone still cares about David Beckham and his 2002 FIFA World Cup berth-clinching goal against Greece is beyond me. FIFA's shady Pooh-Bahs didn't care about that in 2001 when it happened. Soccer's ruling class has other things on its mind, and it's time someone in England started to try figuring that out. Having great stadiums and unrivaled passion for the game hasn't been enough to land the World Cup for a very long time.
So, it's good luck to Russia in 2018 and Qatar in 2022. And to the arrogant, shallow characters that ran up a massive bid budget and blamed everyone but themselves for coming home to England's green and pleasant land empty-handed again: Please, I'm begging you, shut up and go away … and don't let the Lancaster Gate hit you on the way out.