Plug the American talent drain
January, 7, 2011
01/07/11
12:42
PM ET
The January transfer window has opened. The whooshing sound is the rush of young U.S. Major League Soccer stars trying to head right through it.
I understand that ambitious players want to try their luck in Europe or elsewhere, but I don't understand why MLS isn't trying much, much harder to plug its American talent drain.
The U.S. squad at the 2010 World Cup contained a dozen players who had competed in the league and four others who were on active MLS rosters: Landon Donovan, Edson Buddle, Robbie Findley, and Jonathan Bornstein. Of that quartet, Bornstein has since joined Tigres in Mexico, Findley has signed with Nottingham Forest of England's second tier, the Championship, and Buddle had a trial with EPL outfit Birmingham City in December.
[+] Enlarge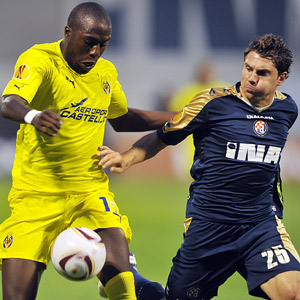 Hrvoje Polan/AFP/Getty ImagesJozy Altidore hasn't seen much first-team action with Villarreal. Would he have been better served staying in MLS?
Findley and Bornstein follow the well-worn path taken in recent seasons by such MLS nurtured players as Jozy Altidore, Maurice Edu, Ricardo Clark, Stuart Holden and Sacha Kljestan. Add veterans Clint Dempsey and Michael Bradley to that list and you have a promotional pool that could be used to sell an awful lot of MLS tickets. And, guess what? None of them are goalkeepers.
That old chestnut about American soccer only producing goalkeepers is complete nonsense. As is the constant drumbeat of criticism from far too many quarters that MLS is a second-rate league. Is MLS as good as the EPL or La Liga or the Bundesliga or Serie A? Of course not, and no one has ever said that it is. But it is an extremely competitive league that is increasingly becoming a destination and showcase for young talent from Africa, the Caribbean, Latin America and the U.S.
The problem for MLS is the perception that it's a destination for players past their prime looking to top off their pension funds. In truth, that is the lingering residue of the long-defunct North American Soccer League, but the trials and tribulations of Youri Djorkaeff with the Red Bulls and Freddie Ljungberg in Seattle and Chicago (to name just two players) didn't do much to dispel that notion to the casual observer.
The way for MLS to change perception is to start treating all the raw diamonds in the wide swath of the American soccer rough the way the league has treated Donovan. The best on-field investment ever made by MLS is not David Beckham (although he put the spotlight on the league like no one else) but his L.A. Galaxy teammate. Donovan is the face of MLS, and that face was beamed around the world this summer after scoring that last-minute dramatic goal to beat Algeria at the World Cup. It was one of U.S. soccer's greatest moments and the MLS was able to capitalize on it when Donovan returned stateside.
It would have been even better if a few other stalwarts of the U.S. team could have joined him on the late-night talk show circuit and the year-end magazine roundups. But Dempsey and Bradley are too busy building their résumés at Fulham and Borussia Monchengladbach, respectively, and Altidore is adjusting to life back on the Villarreal bench.
Would it have served Altidore better to stay in MLS through at least the 2010 World Cup rather than head to Spain in 2008? He certainly would have got a lot more playing time in the U.S. But the question is: How much effort did MLS make to keep a burgeoning star? One minute Altidore was draped across billboards in Manhattan for the MetroStars (now the Red Bulls), the next he was heading across the Atlantic.
Commissioner Don Garber is aware of the problem, and yet his most marketable players keep moving on. American sports fans want to see Americans, whatever the sport. And MLS should be doing everything it can to keep its best U.S. players stateside. That means a big financial investment. The league did it with Donovan, and it should be doing it with the likes of Findley, Altidore and Buddle as well.