[+] Enlarge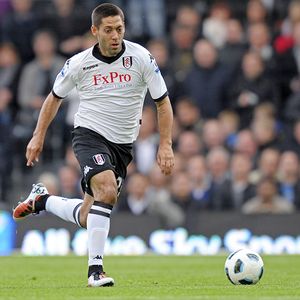 Olly Greenwood/AFP/Getty ImagesIt's time for Bob Bradley to make the fiery Texan the fulcrum around which he builds the U.S. national team.
Since the 1990s, aspiring young American soccer players have looked to the likes of John Harkes, Claudio Reyna and Brian McBride as their non-goalkeeping role models. Now, it's Clint Dempsey's time. And based on his performances with Fulham, it's time for Bob Bradley to make the fiery Texan the fulcrum around which he builds the U.S. national team.
That process might have begun this week, but with Egypt preoccupied with much more important matters than football, Wednesday's scheduled U.S. national team friendly against the African champions in Cairo was canceled.
Judging by his performances for Fulham since the turn of the year, Dempsey is ready to take on a leadership mantle for Bradley.
The Nacogdoches native has led the recent Fulham revival and Cottagers fans would like nothing more than for their leading scorer to add to his nine-goal EPL tally against archrival Chelsea on Monday. The West London derby is always a big occasion for Fulham fans, and as the Craven Cottage faithful well know, Dempsey is a player who relishes the big stage.
In May 2007, it was Dempsey's goal in a 1-0 home win over Liverpool that preserved Fulham's status in the EPL. The last time an obscure American import sent trendy West London into such frenzy was Jimi Hendrix after his first appearance at the Bag O'Nails nightclub in the 1960s. And frenzy hardly does justice to the reaction to Dempsey's Europa League wonder goal against Juventus this past season. As long as there are highlights reels, that goal will be on them.
For the U.S., Dempsey has scored big goals as well. He's found the net in the last two World Cups and scored three goals and earned Bronze Ball honors at the 2009 FIFA Confederation Cup in South Africa. That trio of strikes powered the U.S. to its historic runner-up finish.
Yet despite his clear prime-time appetite, Dempsey has often been accused of being something of an enigma for the national team. Then again, he's not alone in having to parry such criticism. Players such as Eric Wynalda and Landon Donovan have also been branded with the enigma tag at some stage in their careers.
But few American players have made the impact overseas that Dempsey is making with Fulham. Perhaps Bradley will acknowledge that and build his offense around Dempsey's preferred role: a deep-lying threat able to run into space and play off strikers with speed. And although he's not the biggest guy in the world, he's very good in the air on set pieces.
Granted, Donovan is also a big-time talent that can run into space from the withdrawn striker position. But the Galaxy star is more versatile than Dempsey and can adapt to a system that favors the Fulham man's skills rather than vice versa. Donovan isn't likely to lose a step and the entire team would benefit greatly.
The first chance to test the theory comes in March against Argentina, another team reformatting its game plan since this past summer's World Cup. In South Africa, Diego Maradona put on quite a show, but his tactics didn't play to the strengths of his team's (and the world's) best player, Lionel Messi. No Argentina coach is ever likely to make that mistake again.
It'll be interesting to see if Bradley has learned that lesson as well and gives Dempsey his due, his preferred role and his time to shine.