The Jermaine Jones conundrum
February, 25, 2011
02/25/11
10:16
AM ET
Can Blackburn Rovers afford to pay Jermaine Jones' asking price this summer? That's a question few U.S. fans thought they'd be pondering this bleak mid-winter. But while Rovers boss Steve Kean reportedly laments his plight, here's another question to ponder: Can Bob Bradley afford to leave Jones off the U.S. national team?
I say Bradley can, but I'd love to be proved wrong.
[+] Enlarge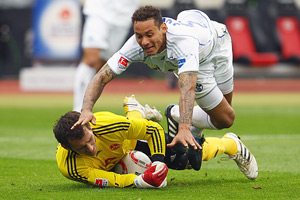 Alexander Hassenstein/Bongarts/Getty ImagesCan the U.S. national team rely on Jermaine Jones, whose aggressive style too often has kept him off the pitch?
Back in June 2009, when Jones switched his soccer allegiance from Germany to the United States, there was a lot of excitement about the prospect of a German international being added to the U.S. 2010 World Cup effort. But a spate of injuries derailed the Jones experiment and Bradley's team continued to give up an alarming number of goals as a direct result of sloppy midfield turnovers.
Those are the types of mistakes coaches are paid to fix. The quick fix, in the minds of many, still appears to be Jones. And he does have the air of central casting about him: He's a big, strong combative character who takes care of business at the back and has the engine to get forward quickly and support the front men. His distribution is German-precise, as are his technical skills.
So what could go wrong?
Well ... Jones has already shown he's an injury waiting to happen. That's a function of his playing style and competitive nature -- admirable traits for a midfield anchor. But at 29 years old, he's unlikely to change his game, and more injuries are likely to come his way because of it. More troubling is his disciplinary record. His rap sheet is long, including a combined nine yellow cards and one red card in just 18 games this season for Schalke 04 and Blackburn (two yellows in four games for Rovers). Keeping Jones on the field is a real problem. Managers at club level allot a certain number of games for injuries and suspension to their players, but national team head coaches have far fewer games to spare and much greater roster restrictions.
Jones is well known for committing to his tackles, but recently there have been question marks concerning his commitment to team. It has been widely reported that Jones was benched by Schalke boss Felix Magath for a lack of effort. Magath is no one's idea of a cuddly player's coach, but he knows how to win and if he was willing to discard Jones so quickly, then that has to raise a red flag.
Being a rent-a-player for the World Cup is one thing; committing to the U.S. cause for the long haul is something else entirely. The travel demands alone are enormous for European-based American players. Team chemistry is a critical component of any successful national team, and nothing disrupts it more quickly than a malcontent in the ranks. Jones certainly wanted a fresh shot at international football, but U.S. fans must hope he hasn't underestimated the demands of the task.
And his biggest task might be living up to his billing. Not since Freddy Adu have there been such high expectations surrounding an American player. Unlike Adu, Jones does have serious credentials, none more so than his three caps for Germany. Jones isn't the next Michael Ballack, but only seriously talented players get a German national team call-up, especially for a home game with England.
But having said that, Jones hasn't played in that many more Bundesliga games than Michael Bradley. There's a good chance the two will face each other when Blackburn plays Aston Villa in the West Midlands on Saturday. And although some pundits see Bradley and Jones competing for the same position on the U.S. team, defensive chores are not Bradley's forte. He and the team would be better served if he had license to roam forward. And Jones could allow that to happen. But so could Maurice Edu or even Jonathan Spector, who has shown promise with his forays in the West Ham midfield this season.
There is no shortage of talent in the U.S. midfield: Clint Dempsey and Landon Donovan are established international players, while Stuart Holden, Benny Feilhaber and Sacha Klejstan are pushing hard to join them at that level. Throw youngsters such as Alejandro Bedoya and Tim Chandler into the mix and competition for midfield spots is going to get pretty interesting on the Road to Brazil.
Jones will be 32 by the time the 2014 World Cup is played. It's a long way off, and I'll be surprised if he stays healthy from now until then -- which is the reason Bradley can't view Jones as a building block. The coach needs to make sure he has another, more reliable defensive midfield option long before Brazil comes around.
Again, I hope Jones proves me wrong.