Why Giuseppe Rossi may leave La Liga
April, 15, 2011
04/15/11
12:46
PM ET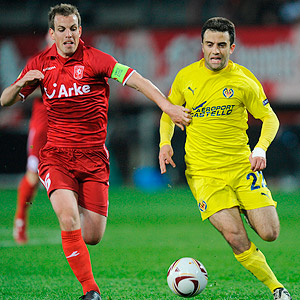 John Thys/AFP/Getty ImagesWould Giuseppe Rossi get more chances to play for Italy if he moved to a Serie A club?
I'm tired of Wayne Rooney and his boorish behavior. But I remain intrigued by the remarkable story of his former Manchester United teammate Giuseppe Rossi. As a youngster, the New Jersey native declined to play for the U.S. and chased one of soccer's hardest dreams: donning the Azzurri for Italy. This summer, he may face a hard choice: stay in La Liga or head to Serie A.
In January, Rossi signed a new deal with Spain's Villarreal that keeps him at El Madrigal through 2016. But seemingly before the ink was dry on his new contract, Rossi was being linked with a potential move to Barcelona or Juventus. And who wouldn't want him? At 24, Rossi is in the midst of an outstanding season. Only Lionel Messi, Cristiano Ronaldo and David Villa stand above him in the Pichichi race -- the trophy awarded to La Liga's top goal scorer each season. And following Thursday night's Europa League elimination of Twente, Rossi sits second in that competition's scoring charts with 10 goals.
Impressive stuff. And the kudos are starting to come Rossi's way. This week Barcelona defender Gerard Pique took time out from his Clasico preparations to wax lyrical about his friend and ex-Red Devils teammate, reportedly saying: "He knows how to do everything well. He has an assassin-like left-foot and a lot of goals in his feet."
The new man in Shakira's life also claimed that Rossi is more difficult to mark than Didier Drogba.
It's too bad Marcello Lippi didn't share Pique's opinion of Rossi. Last summer, Italy's then-head coach deemed Rossi surplus to requirements for the country's 2010 World Cup campaign. Lippi wasn't only loyal to his 2006 World Cup winning old guard, he stuck with Serie A, too -- only Italy-based players made the trip to South Africa for the Azzurri.
As Giorgio Chinaglia, another prolific Italian striker with strong ties to Bruce Springsteen country, discovered more than 30 years ago, it's hard to play for Italy if you are not playing in Italy. And although times have changed, they might not have changed that much. There is a strong school of thought that Rossi's cherished dream of holding down a regular spot in the Azzurri starting XI will not be achieved until he is scoring goals regularly in Serie A rather than elsewhere.
The leading goal scorer at the 2008 Beijing Games (essentially a U-23 tournament), Rossi did wear the captain's armband for Italy in a friendly against Romania last year. But the Italian captaincy traditionally goes to the player with the most caps in the side on the night and in a young, experimental starting XI, Rossi's 18th cap made him the veteran that evening.
But a veteran who rarely gets an extended run from the beginning of the game for Italy. If Exhibit A in the argument that Rossi doesn't get the same opportunities afforded to Serie A-based players with the Azzurri is his exclusion from Lippi's World Cup squad (even after he had made such a big impression at the 2009 FIFA Confederations Cup), Exhibit B in the past few months is Italy's Euro 2012 qualifier at Slovenia.
Despite coming off the bench to score Italy's equalizer in the 1-1 draw at Germany in February, Rossi was left riding the pine again by Lippi's successor, Cesare Prandelli, for the visit to Ljubljana in favor of Antonio Cassano and Giampaolo Pazzini. Neither of them have exactly set Serie A alight this season. Rossi was in the starting XI for the friendly at Ukraine a few days later. He scored the opening goal in Italy's 2-0 win, but will that performance put him in the frame for a long run as a starter for Prandelli and a potential return visit to Kiev at Euro 2012?
It might require scoring goals for Juventus on a regular basis rather than Villarreal for that to happen. Banging in the goals for Barcelona would be hard for Prandelli to ignore, but how much playing time could Rossi expect to get at Camp Nou with Lionel Messi and David Villa around?
By all accounts, Rossi is happy at Villarreal. He's formed a prolific partnership with Nilmar and the Yellow Submarine looks set to dive into Champions League waters again next season (Villarreal currently sits fourth in La Liga and plays several teams in the bottom half of the table down the home stretch). It's also still in the hunt for Europa League honors this season.
So why wouldn't Rossi stay in a seemingly perfect situation? Because he loves playing for Italy. And clearly staying in Spain doesn't help him with that.