I think everyone should spend time living in different country from the one in which they grew up. I've lived in the U.S. for a long time now, and love doing so. My lifelong soccer obsession was born and bred in England, but if there is one thing I know to be true after living stateside lo these many years, it's that Americans don't need Englishmen to teach them football anymore.
In a week in which Portland Timbers fans became YouTube sensations for their rendition of "The Star-Spangled Banner" and Real Salt Lake produced a thoroughly professional performance to gain a marvelous 2-2 tie in the first leg of the CONCACAF Champions League final in Monterrey, Mexico, it was jarring to read an article about Paul Kemsley's plans to revive the New York Cosmos.
In last Sunday's The New York Times Magazine, the English entrepreneur was said to have ambitions to make his Cosmos "the No. 1 soccer franchise in the world." No doubt plenty of folks have been left with egg on their faces for doubting the ambitious grand plans of mega-billionaires such as Bill Gates, Larry Ellison and Mark Zuckerberg. But I'll risk being a naysayer on Kemsley's world domination prospectus for the Cosmos.
[+] Enlarge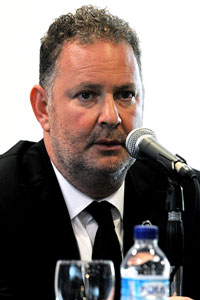 Roslan Rahman/AFP/Getty ImagesPaul Kemsley has big plans for the New York Cosmos.
MLS needs the New York Cosmos like the NBA needs the Harlem Globetrotters. A lot has changed in American soccer since the short, heyday fad of the Cosmos in the late 1970s. The tales of Giants Stadium sold-out notices and Studio 54 revelry evoke an endearing nostalgia, but so do rotary telephones and typewriters -- and nobody's lining up to buy those anymore.
It's been a little over 25 years since the original Cosmos folded, and now Kemsley is hoping MLS will buy into his new Cosmos plans and grant him a franchise in the Big Apple. For that to happen, he has to play by MLS rules: Come up with the expansion fee (reported to be in the $100 million range) and build a stadium in the New York area. Between the challenging economic climate and the massive political and legal headaches involved in building stadiums in New York, that's a pretty big ask of anyone. Kemsley will need friends in high places. And he didn't help himself when he told The New York Times Magazine, "We intend to meet the requirements of the MLS. We intend to play nicely." There is an air of condescension about that last line that is still all too common among my English peers when assessing soccer in the Colonies.
When the Cosmos won their last North American Soccer League title in 1982, the U.S. national team hadn't played in a World Cup in 32 years and Prince William, the soon-to-be 2011 Bridegroom of the Year, was a babe in arms. Times change: the U.S. national team has played in seven straight World Cup finals since 1990; Americans bought more tickets to the 2010 World Cup than any country except the host, South Africa; and Royal Weddings have been reduced to yet another Posh & Becks photo opportunity.
MLS knows plenty about Posh & Becks photo opportunities. David Beckham has sold a lot of L.A. Galaxy replica jerseys, put a spotlight on the league like no other player and won precisely nothing on the field since landing in Los Angeles in 2007. And once again he'll be reportedly making a side trip to England next week for the trust-fund kids' nuptials while his teammates are preparing for an MLS game (at FC Dallas on May 1). I don't think it would be out of line for Galaxy fans (and coaches and players) to once again be questioning their main attraction's commitment to the team.
With Beckham there has always been the air that MLS was a little bit beneath him. And that aura lingers around Kemsley's Cosmos plan. It takes a lot more than nostalgia to build a competitive MLS franchise in 2011. It takes a real understanding of the league, its unique challenges (including salary caps and massive travel) and very deep pockets and an appreciation for the soccer sophistication of American fans. The fashion-conscious among them will buy trendy throwback jerseys at reasonable prices, but they'll be even more conscious of being sold a false bill of goods.
Great things are happening around MLS. In recent years, we've seen new stadiums, new teams, new competitiveness and news fans. It would be nice to see rising American stars paid to stay in MLS, and at some point that will come.
If the new Cosmos owner really wants to land the next MLS New York franchise, he needs to understand that the league is forward thinking. After all these years, "Let's do the time warp again" still works in the "Rocky Horror Picture Show," but it's not going to work for the Cosmos in MLS.