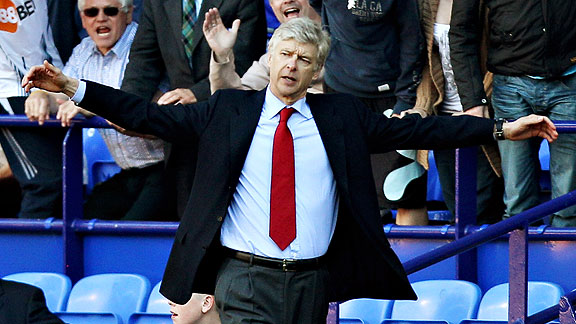 Michael Steele/Getty ImagesDisgruntled Gunners fans should stop firing broadsides at Wenger.
Central London has been brimming with royal pomp and circumstance this week, but in North London palace intrigue is suddenly the order of the day. Is Arsene Wenger the new George III, losing the plot as his red-clad men suffer defeat at the hands of precocious upstarts? The man who led the revolution that transformed "Boring Arsenal" into "The Glorious Gunners" is one of the finest managers in the history of the game. It would be crazy to dethrone him.
In my blue and white outpost of the English soccer realm, silverware is something you keep in the kitchen drawer. A six-year trophy drought is a mere drop in an ocean of empty display cabinets for my beloved Baggies. But it's different at Arsenal.
Not so long ago, the Gunners were the "Invincibles." Now they are Champions League also-rans. Is that a reason to run Wenger out of town? Not a chance.
It has been a bizarre season down at the Emirates, what with blowing a four-goal lead at Newcastle, imploding at home to Spurs and gifting the league cup to Birmingham City. And once Wenger had done his Don Quixote imitation at Barcelona in the Champions League, the windmill sails of the rumor mill started turning more rapidly than Robin van Persie picks up injuries playing for Holland.
It's time for impatient Arsenal fans to chill. Panic should be the name of a Croatian defender, not a state of mind at the Clock End. Why would anyone consider calling time on a manager who has won three EPL titles and four FA Cups? It's been widely reported that since former Gunners vice chairman David Dein parted ways with the club there has been no one who could take Wenger to one side and walk him back from potentially boneheaded decisions in the transfer market. That may be true, but the elegant Wenger is no Brian Clough. He's not dogged by off-field demons that could reduce to rubble the marvelous soccer edifice he's built.
Wenger doesn't need a pink slip or even a new assistant to inject new blood, he pretty much needs to take a page from his nemesis-turned-unflinching-advocate, Sir Alex Ferguson. Manchester United visit the Emirates on Sunday, with one hand already on the EPL title. As the Scottish maestro has proved yet again this season, what a team of young, precocious talents needs are a few old hands for guidance, a sturdy presence in the backline and a safe pair of hands manning the net.
Goalkeeper is the most underestimated position on the field. There's a reason Ferguson went out his way to shake Schalke keeper Manuel Neuer's hand after his brilliant performance against United in this week's Champions League semifinal. In a sport in which it's so hard to score a goal, teams with serious title ambitions need a keeper the caliber of Neuer -- or Edwin van der Sar. As the Dutchman demonstrated against Everton last Saturday, he may be lonely for long periods during a game but when he has to come up with a full-stretch, fingertip save to keep the opponent at bay in a scoreless game, he can still do it even at 40 years old. Arsenal have been missing that kind of player for a while.
Ferguson, of course, struggled to replace Peter Schmeichel for quite a while. And he knows it won't be easy replacing his retiring Dutch star; hence the Neuer salute. He doesn't want to replace Ryan Giggs or Paul Scholes, either. And it's those types of veterans that Arsenal are missing in the current setup. Has Wenger placed too much faith in young stars? Perhaps, but he's also had more than his fair share of injuries to the likes of Thomas Vermaelen, Van Persie, Cesc Fabregas and Theo Walcott, among others.
Those players can bring the Emirates to a fever pitch if they can stay on the field. In Wenger, they have a manager who will stand by them -- and yes, eventually lead them to the promised land of silverware.
Wenger blamed himself this week for Arsenal's perceived failures. But failure is a relative term. Discontented Gunners fans should stop firing broadsides at their boss. He has built a stadium, a perennial contender and an enduring legacy in North London. Precious few folks can do that job.