Although Oprah Winfrey didn't name me as one of her all-time favorite guests, my biggest disappointment of the past few days is that the Goddess of All Media never interviewed Chelsea owner Roman Abramovich before the curtain came down on her 25-year TV talk-show run this week. The first question the Great O could have asked the Russian oligarch: Why not David Moyes as the Blues' manager?
[+] Enlarge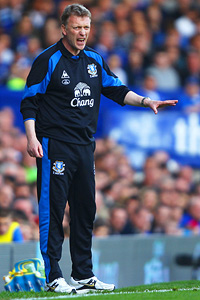 Clive Brunskill/Getty ImagesAt Everton since 2002, David Moyes has kept the Toffees competitive with the EPL's best teams despite having a much smaller transfer budget than the league's big spenders.
I did actually appear (briefly) once on Oprah's show in late 1998 (a very long story, I assure you, but it was a truly memorable experience that was more old-style revival meeting than television-show taping), yet I have no idea whether the great lady is a soccer fan. But I am. One who would love to know what's going on at Stamford Bridge.
On the surface it all seems very Steinbrenneran: Instead of a New York state of mind and "Win the World Series or else," it is nouveau-who-knows-how-ruble-rich and "Win the Champions League" instead.
Nothing wrong with ambition, and certainly nothing wrong with having a chat with your old Dutch mate Guus Hiddink or the latest newly minted great Portuguese navigator of soccer's choppy waters, FC Porto boss André Villas-Boas. Reportedly, Rafael Benitez, Manuel Pellegrini and even Marcello Lippi are in the frame to be the next manager to leave the Bridge in the not-too-distant future without a Champions League trophy and presumably a descent parachute payment.
Everton's Moyes doesn't appear to be on anyone's shopping list at the moment except Aston Villa's (and possibly that of Manchester United in the distant future of Sir Alex Ferguson's eventual retirement). This is a missed opportunity on many levels for the Chelsea czar. Abramovich could beat United to the punch in signing Moyes but, even more importantly, get the best Glasgow-born boss in the country outside of the good knight.
While few Englishmen since Sir Alf Ramsey seem to know their way around tactical innovation, there always seems to be a wellspring of savvy managers gushing from north of the border. And from 1998 with Preston and then 2002 with the Toffees, Moyes has proved he's certainly one of them.
While one Everton fanatic scolded me this week for suggesting the notion that Moyes leave the friendly confines of Merseyside, he did note that the former journeyman defender is not everyone's cup of tea at Goodison: "Many fans yearning for the 1980s are tired of mid-table and believe he has gotten us as far as he can." Alas, nostalgia doesn't live in the real world, where Moyes has been doing yeoman's work to keep Everton nibbling at the toes of the big spenders on a relative EPL shoestring.
Granted, a quick peek across Stanley Park at the beginning of the just-concluded season demonstrates that a stellar record of Premiership mid-table water-treading and the odd, stirring Europa League run don't necessarily make a prime-time manager (happily, Roy Hodgson is a perfect fit for my beloved Baggies, though), but Moyes is ready to move up to the big boys' table.
He believes in defense, no nonsense and has a fine eye for potential where others see pessimism (Brian McBride, Tim Howard and Landon Donovan, to name just a few). And along with stability, that's what Chelsea needs most at the moment. There's plenty of money, plenty of talent and plenty of nonsense. Jose Mourinho knew how to turn that potent cocktail into championship champagne. And with a pile of rubles at his disposal, so would Moyes.
Abramovich, though, seems to prefer Hiddink, the David Beckham of managers -- his halo shines far brighter than his actual résumé. That's too bad, because as the lady with her own network might say, for Chelsea, Moyes could be that "aha!" moment.