Luis Suarez leads the EPL's Latin beat
August, 5, 2011
08/05/11
8:56
AM ET
[+] Enlarge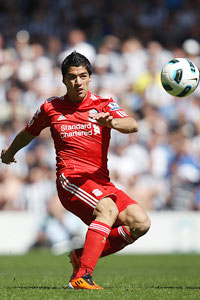 Clive Brunskill/Getty ImagesLuis Suarez has four goals and three assists for Liverpool in the EPL since his arrival in January.
Paris famously has its Latin Quarter, and this upcoming English Premier League season a quartet of Latino players based in the decidedly less cosmopolitan confines of Lancashire could well decide the destination of the Premiership title.
The influence of Javier "Chicharito" Hernandez, Luis Suarez, Sergio "Kun" Aguero and Carlos Tevez on the fates of Manchester United, Liverpool and Manchester City, respectively, can't be underestimated on the eve of the new season.
Last season, Mexico's goal-scoring sensation Chicharito made a big impact in his first season on the red side of Manchester. He is to soccer what Rory McIlroy is to golf: the new prodigy on the block with the competitive instincts and charisma to match his great talent. But unlike last year, Chicharito will now face high expectations, opponents who will have spent more time planning how to stop him and bigger demands from sponsors and the media. That's a potent cocktail for any 23-year-old to handle, but I'd be very surprised if "sophomore slump" was in his bilingual vocabulary. He also has the advantage of playing for Sir Alex Ferguson. No one knows better than the good knight how to nurture precocious youngsters into bona fide long-term superstars.
Across town, Roberto Mancini is still doing the Tangled Up in Blue(s) tango with Tevez. The Manchester City want-away talisman will miss the Community Shield season curtain raiser Sunday, and there's a strong chance he won't play for City ever again. But that doesn't mean he won't have an enormous impact on the fortunes of the team this year. Bad attitudes can be replaced, but 21 EPL goals are harder to come by. Hello, Aguero.
If Tevez leaves, his countryman will have the biggest boots in the EPL to fill. But at this summer's Copa America, Aguero demonstrated pretty ably that he can handle the pressure of replacing Tevez in the starting XI. Impressive off the bench early on, Aguero's goals against Bolivia (a volley for the ages) and Costa Rica saw him move ahead of El Apache on the Argentina depth chart during the tournament. Copa America wasn't Argentina's finest hour, but it could well prove a springboard for Aguero on the international stage. And his career could take a similar leap forward this season in the EPL.
There has been a lot of talk about the so-called failure of Aguero's former Atletico Madrid teammate, Diego Forlan, in Manchester during his stint with United a few years back, foreshadowing problems for City's new striker. But similar things were written when another free-scoring Atletico Madrid striker moved to another Lancashire hot spot a few seasons back -- and Fernando Torres soon proved all his skeptics wrong at nearby Anfield. The only thing that could prevent Aguero settling in quickly in the EPL is the antics of Tevez. If City's leading scorer the past two seasons is forced to stay with the team, Aguero could find himself caught up in the dysfunctional carnage that is sure to follow.
The player to follow in the EPL this season can be found a few miles down the road from Manchester in Liverpool -- Suarez. El Pistolero has played a lot of football in the last 12 months, but the Copa America MVP seems to have an insatiable passion for the game, and he's only going to get better this season.
Liverpool is an intriguing team this season. With Kenny Dalglish at the helm from the get go, new ownership clamoring for a Champions League spot and some serious money being spent on new recruits, expectations are high on the red side of Merseyside. And with no European football to distract it, Liverpool can focus exclusively on domestic concerns. Defense will still be a problem for Liverpool, but offense will not. The main reason is Suarez. The signing of the January transfer window, Suarez is already well on his way to Kop legend status.
The big question for Dalglish is how much better Suarez can make the players around him. That's what truly great players do, and it will be fascinating to see if Andy Carroll can feast on Suarez's superb crosses, and how many assists the Uruguay star will pile up. Maxi Rodriguez, Dirk Kuyt and Steven Gerrard will boost their goal tallies this season as Suarez creates opportunities for them with his passing prowess, off-the-ball running and dribbling technique. The Suarez hype machine will kick into high gear this season, and it will be well-earned. Come Brazil and the 2014 World Cup, Suarez will be mentioned in the same breath as Lionel Messi and Cristiano Ronaldo.
This season in England, it will be the Latin beat that will make the most noise. It will pulse throughout this season and very likely decide where the title-winning carnival will take place next May.