Big egos and small legends
September, 30, 2011
09/30/11
8:13
AM ET
I've always thought that expecting professional athletes to be society's role models is asking too much. But I don't think it's too much to ask professional soccer players to honor their job description: Give maxim effort, put the team first and leave dirty laundry on the locker room floor. Silly me.
[+] Enlarge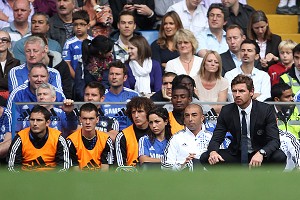 Marc Atkins/Icon SMIFrank Lampard is having to adjust to life on the bench. Can his ego handle it?
Take a bow, Rafael Marquez, Frank Lampard and Carlos Tevez. It seems from their recent actions that this trio of talented veteran internationals follows only the ancient code of "all for one," preferring to skip the "one for all" part.
Their handlers are quick to billow smoke screens replete with explanations of misunderstandings and blessed reassurances that the players know there is no "I" in team. Yet for too many players, there is a "me" in team. And that seems to be the case for these so-called legends.
Pundits love to proclaim local heroes as legends, and it's hard to question that status for Marquez in Mexico. El Tri's long-time captain, Marquez has had a distinguished career. The only other Mexican star to have anywhere near his success in Europe is Hugo Sanchez. Although a prolific goal scorer with Real Madrid, Sanchez wasn't able to win a Champions League title during his spell in Spain, something that Marquez did achieve with Barcelona.
But like a lot of players who come to MLS for the big paycheck, the 32-year-old Marquez has never seemed happy in his new American surroundings. He's been a big part of the U.S.-Mexico rivalry for years (Cobi Jones still probably bears the stud marks from their 2002 World Cup encounter), and like a lot of folks south of the border, Marquez has often seemed to carry an air of disdain for soccer American-style. That perception spilled into reality when Marquez blasted defender Tim Ream, his young New York Red Bulls teammate, for "infantile" errors after last week's 3-1 home loss to Real Salt Lake.
It's hard to question the accuracy of that Marquez scouting report, but even in the age of Twitter, some things shouldn't leave the locker room. Trashing a promising, hardworking youngster who is trying to learn his trade is probably at the top of that list. Red Bulls management suspended Marquez for Saturday's critical win over the Portland Timbers. And the Red Bulls would be well-served to quickly cut a deal with Marquez for an amicable separation of ways. Marquez is far from indispensable to the team, as demonstrated by the Red Bulls' recent wins over FC Dallas and Portland without him. I've said it before in this space: If a player doesn't want to pull on the team jersey, then regardless of reputation, skill or salary, it's time for both parties to move on.
In fact, Carlos Tevez was the original catalyst for that comment. His latest outburst of petulance (from the Manchester City bench in Munich this week) was about as surprising as Alec Baldwin's doing a brilliant job hosting "Saturday Night Live." Some things are part of the immutable laws of the universe.
Lampard's leaving his perch on the Chelsea bench before the end of the Swansea game last week was much more surprising. He's an intelligent guy who was born into the game. He claims that he had permission to skip garbage time and head down the tunnel, but why do such a thing? The week before at Old Trafford, his new boss, Andre Villas-Boas, had substituted for Lampard at halftime in one of the most important games of any EPL season. Lampard had to know that his Swansea swan song would raise eyebrows among the fourth estate, at a bare minimum, not to mention among fans and teammates.
At best, it wasn't a cool move, and at worst, it adds lots of fuel to what many perceive as an aging arrogant player ultimately putting himself before the team and its new manager. That scenario is nothing new in sports, but it's much harder to cover it up in this information age.
And that's where most problems arise. Fans see through the narcissism and nonsense. While the agents and brand managers continue to hype the feet that feed them, everyone would be better-served if instead they quietly told their clients that big egos often make for much smaller legends.