Why always the yellow card?
October, 28, 2011
10/28/11
9:26
AM ET
[+] Enlarge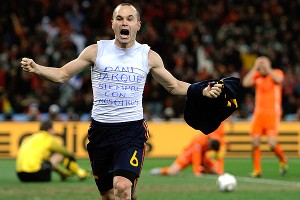 AP Photo/Manu FernandezAndres Iniesta's tribute to his friend Dani Jarque, who died in 2009, at the World Cup was deemed a yellow-card offense.
The Internet is weighed down with words about the epic smackdown Manchester City put on archrivals Manchester United on Sunday. But the game will most be remembered for just three words: "Why always me?"
Mario Balotelli channeling his inner George Costanza will be the iconic image of this EPL season. But the young Italian's gesture leaves me asking a question: Why always the yellow card?
Please, stop the madness. Let the players celebrate a goal.
Andres Iniesta honors a fallen Spanish player after scoring the winning goal in the World Cup final. What does the referee do? Gives him a yellow card. FIFA should thank its lucky stars that men such as Iniesta play this game. Before the biggest match of his life, the Barcelona legend took the time to make a shirt that read: "Dani Jarque: Always With Us." Jarque, the captain of Barcelona's crosstown rival Espanyol, had died at age 26 in August 2009. And after scoring the dramatic overtime goal that gave Spain its first World Cup triumph, Iniesta did not forget his friend. His tribute is the very definition of sportsmanship, yet the Gnomes of Fair Play called it out of bounds.
And while Das Blat and his cronies have subsequently been fending off charges of corruption, allotting World Cups to new bizarre frontiers and making the usual pronouncements about transparency and honorable intentions that few people believe, they have not found time to review this yellow-card stupidity.
Sure, the players know the rule. Keep your shirt on at all times or face the consequences. Aberdeen's Ryan Jack probably knew the rule as the Dons kicked off against Celtic on Sunday. But I daresay he didn't expect to score the goal of his career in that game. With Aberdeen trailing 1-0 at Celtic Park, Jack made like Alberto Tomba, slalomed around several stationary gates better known as Celtic defenders, got a few lucky bounces along the way and, at the critical moment, kept his cool and fired home the equalizing goal. Jack and his teammates were understandably a little jacked up and dashed to their fans in the corner behind the goal. It was a spontaneous celebration that no one would have confused with the Lambeau Leap, yet out came the yellow card.
Even worse, later in the game, with Celtic leading 2-1, Jack picked up a legitimate yellow and got tossed from the game. And that's the biggest problem with this rule. A salute to a friend, a moment with the fans or a commentary on a head-spinning life is considered the same transgression as a late tackle on the halfway line.
I have no issue with the notion that players should not be allowed to incite the crowd. But to brand every spontaneous goal celebration like it's a listeria outbreak is a ridiculous overreaction. Soccer is a passion play; let players be passionate.
These days, soccer authorities in most countries often review tape after a game and hand out suspensions and fines based on infractions that the referee missed. Why can't rulings on goal celebrations be taken away from the referee's purview and passed along to officials for later review if widely deemed as outrageous?
On Sunday, Balotelli scored an exquisite goal and celebrated it in such a unique, double-take fashion that it's already an indelible part of EPL folklore. It also probably caused his long-suffering manager, Roberto Mancini, to substitute his enfant terrible in the 70th minute because he didn't want his compatriot to get sent off for a second yellow-card offense.
That's absurd. FIFA needs to review this rule. It's time to get back to celebrating the game's wonderful moments like a visitor to any tourist trap: been there, done that and got the T-shirt.