Shellshocked United pays the penalty
November, 26, 2011
11/26/11
11:19
AM ET
Rain and controversy swept down on Old Trafford, but it couldn't wash away the hangover that still lingers in the Manchester United air from the seminal 6-1 hammering inflicted by Manchester City last month. It's hard to play football with one eye on your neighbor's next game, which probably explains why Chicharito scored the Red Devils' only goal while he wasn't looking, in the 1-1 draw with Newcastle United.
It may also explain why United missed so many golden chances throughout the game.
[+] Enlarge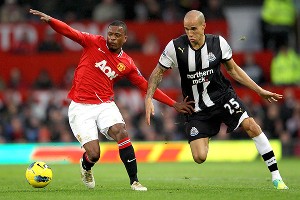 Alex Livesey/Getty ImagesFormer Red Devil Gabriel Obertan was dangerous on the right flank of Newcastle's attack in the first half.
No doubt, the headlines will be about referee Michael Jones awarding Newcastle a penalty after consulting with assistant referee John Flynn. Television replays indicated that Rio Ferdinand had made a legitimate tackle, but the questions from this game should be about the reigning champions being legitimate title contenders this season, and not about one poor call.
After being held 2-2 at home in midweek by Benfica in the Champions League, Sir Alex Ferguson seemed to be taking no chances with Newcastle by fielding Wayne Rooney, Chicharito and Nani in the starting lineup. But in a pulsating game that felt more like an old-fashioned FA Cup tie than an EPL encounter, United's big three couldn't help their team get the three points they badly needed to keep pressure on their archrivals from across town.
Like many, before the game I dismissed the Magpies as the Cincinnati Bengals of the EPL: a team that defied its long-standing history of dysfunction to produce a surprisingly sprightly start to the season, only to crash to earth when finally facing the big boys of the division. But after losing last week to Manchester City, Alan Pardew's team demonstrated great resilience (and, yes, rode their luck) to gain a valiant point.
And let's give Pardew a lot of credit here. He came to Old Trafford with a plan and a positive attitude. His players never looked intimidated by the occasion and were quick to counterattack at every opportunity. More importantly, when United broke their defensive resistance with something of a freaky goal, they bent for a while but did not break, even when they went down to 10 men with the red-card dismissal of Jonas Gutierrez.
Surprisingly, it was United that lost its composure, not Newcastle. And that's the intriguing lesson of this game. Rooney, Chicharito, Ashley Young, and Nemanja Vidic all had gilt-edged chances to win the game in the second half but didn't have the poise to put the ball away. That happens with tight teams, and that's what the Red Devils are at the moment.
Other lessons here: Newcastle don't have the fixture congestion of the champions, but Pardew has started the same back five in every EPL game this season, and that was a huge factor at the death. When the Old Trafford faithful were screaming "Attack, attack, attack" in the later stages, the cohesion of the Magpies' back line somehow held. The two Taylors -- Ryan and Steven -- threw themselves at everything, and Fabricio Coloccini not only looks like Barcelona legend Carles Puyol but he played like him today, even forcing a remarkable save from David De Gea in the second half. And speaking of remarkable saves, Newcastle goalkeeper Tim Krul was the man of the match. Rest assured: If you are going to come away with anything from Old Trafford, then your goalie has to be immense. And Krul proved that point again today to help Newcastle gain a point.
But the ultimate lesson here: The good knight needs to get his team looking at themselves and not their noisy neighbors. I'm not one to doubt Sir Alex Ferguson, but he needs to make some moves in January, because this team is too young and too shellshocked to take on Manchester City at the moment.