Galaxy should deal for Drogba
December, 30, 2011
12/30/11
10:48
AM ET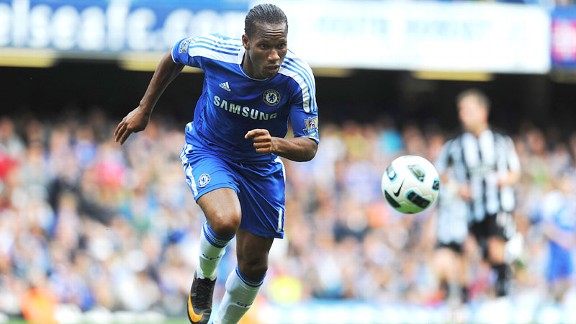 Mike Hewitt/Getty ImagesWith Chelsea reportedly willing to offer Didier Drogba a one-year extension only, the Galaxy should swoop in for the striker.
The New Year is a time for fresh starts, and nothing says fresh start quite like the January transfer window. Plenty of players will be looking for a refreshing change of scenery next month, but it's the transfer speculation surrounding a player who doesn't want to leave his club that I find most intriguing. That would be Chelsea superstar Didier Drogba.
The Ivory Coast striker turns 34 in March. He's had his share of injuries and illness in recent seasons, and a concussion and elbow surgery sidelined him for part of the current campaign. But he's been in imperious form of late and, according to reports, Chelsea is prepared to offer him just a one-year extension to his contract.
The dysfunction at Stamford Bridge has a late-1970s New York Yankees Bronx Zoo feel to it -- impatient deep-pockets owner, revolving door on the manager's office and a locker room that's a tabloid headline writer's dream. Apparently the Blues brass will support John Terry to the end of time but not so much when it comes to two of their other silverware winning stalwarts, Frank Lampard and Drogba.
Lampard has spent a surprising amount of time on the Chelsea bench of late and just doesn't seem to fit with the plans of new manager Andre Villas-Boas. Speculative reports have Lampard following in David Beckham's footsteps to the Los Angeles Galaxy. The better deal for the Galaxy would be Drogba.
Drogba is a leader and a goal scorer, and he clearly loves playing on the big stage. In MLS, the Galaxy is the biggest stage. Plus, whoever succeeds Beckham as the Galaxy's next designated superstar will need a big personality and broad shoulders. Drogba has brokered peace negotiations in his war-torn homeland, so stepping into the spotlight that Beckham will most likely vacate next month for pastures new in Paris won't be difficult for the Ivorian.
In fairness, Lampard could probably handle that task as well, but I'm guessing his heart is in London and that he isn't ready to jump across the Atlantic just yet. Drogba might not be either. AC Milan, Marseilles, Tottenham Hotspur and seemingly every team in China have been linked to Drogba in recent weeks. But no one thought the Galaxy would land Beckham either.
Could Galaxy ownership spring another January surprise? Let's hope so. Drogba has a compelling backstory, is a superstar with a personality to match and is a world-class striker with gas still left in his tank. Above all, he's a winner.
As MLS proved with Beckham, Thierry Henry and Landon Donovan, the league will make whatever concessions are needed in order to keep their superstars happy, be it money, skipping games on non-grass fields, midwinter loan deals and so on. Because of Beckham, Los Angeles is the new London: an attractive place for soccer superstars to hang their boots for a while and expand their off-field brand.
Drogba in L.A. is a tantalizing prospect for any MLS fan. That would be a win-win move for all concerned but Chelsea. Yet, strangely enough, it seems to be the only team that doesn't want to make a deal for Drogba. It's a funny old game, football -- on and off the pitch.
Have a Happy New Year.