Hope for the U.S.'s back line
January, 27, 2012
01/27/12
11:51
AM ET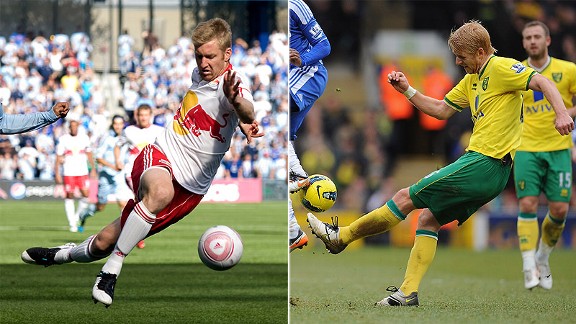 Getty ImagesThe likes of Tim Ream and Zak Whitbread will provide Jurgen Klinsmann with solid options for the U.S.'s aging defense.
With Clint Dempsey sparking EPL headlines, Landon Donovan making another impressive cameo at Everton, and the U.S. national team reserves winning back-to-back games, it's been a very good week for American soccer. But perhaps the best news is buried in the small print of the sports reports: There is hope for U.S. coach Jurgen Klinsmann's backline.
There is a lot of talk about the advancing ages of back-four stalwarts Carlos Bocanegra and Steve Cherundolo, and the seeming lack of depth among the next generation of American defenders. But based on this past week's moves and performances, Klinsmann may finally be able to hit the autobahn exit ramp and not focus so much on finding German countrymen with U.S. passport eligibility to shore-up his aging defense.
Honeymoon cancelled, work permit approved, Tim Ream completed his move to Bolton Wanderers from the New York Red Bulls this week. It has to be one of the biggest gambles of the January transfer window.
After a spectacular 2010 MLS rookie season, Ream regressed last season with the Red Bulls. The St. Louis native looked overwhelmed at times with the national team during the 2011 Gold Cup and his confidence seemed shot toward the end of last season with the Red Bulls. Sophomore slumps are not usually followed by eyebrow-raising moves to the EPL, yet thanks to Bolton manager Owen Coyle, suddenly Rafa Marquez doesn't have Ream to kick around anymore.
One of Coyle's first signings when he took over at Bolton in January 2010 was Stuart Holden from the Houston Dynamo. A lot of skepticism greeted that MLS-to-EPL move, as well, but except for Holden's bad luck with injuries, it's proved a terrific piece of business for all concerned. If Ream blooms as Holden did at Bolton, Klinsmann will be a big beneficiary.
And Klinsmann, the former world-renowned striker, will not have missed the recent outstanding play of Zak Whitbread for Norwich City. Like Ream, Whitbread is a naturally left-sided player who reads the game well. Unlike the new Bolton man, Whitbread hasn't played for Klinsmann yet. After Whitbread's stellar performance against Chelsea on Jan. 21, it won't be long before the coach brings Whitbread into his squad.
Born in Houston, Texas, Whitbread has spent most of his life in England. A product of the Liverpool youth system, he didn't quite make the high grade at Anfield and moved on to develop his game in the hard-knocks school of lower-division English football, first with Millwall and then Norwich. He helped the Canaries gain EPL promotion last season, and he's been a factor in Norwich's unexpected success on its return to the top flight.
Whitbread turns 28 in March, and some injury-plagued years stymied his hopes of breaking into the U.S. national team. But if he stays healthy and maintains his current form, it won't be just the Canaries that are singing his praises. Klinsmann, and U.S. soccer fans will be joining the chorus, as well.
And let's not forget the efforts of Michael Parkhurst and Geoff Cameron for the U.S. national team against Venezuela and Panama this week. Parkhurst may be better-suited to playing fullback than central defense at the international level, but his impressive form in Denmark carried over into the U.S. games. The former New England Revolution defender calmly distributes the ball well out of the back, a quality that the U.S. defense has been lacking for a long time.
Cameron is another example of how MLS helps develop players. He was outstanding for the Dynamo last season and deservedly got his first U.S. national-team start this past week. His red card against Panama was a touch unlucky, but ultimately he was caught out of position due to his lack of speed and clumsiness. If he can improve his positional play and anticipation, he has the quality to push veterans such as Bocanegra, Oguchi Onyewu and Clarence Goodson for one of Klinsmann's starting shirts.
And at the moment that's what Klinsmann wants most of all: competition for all 11 shirts. For a while, a lot of fans and pundits have worried about the level of competition at the back. After these past two friendlies, we can say that there is a case for the defense.