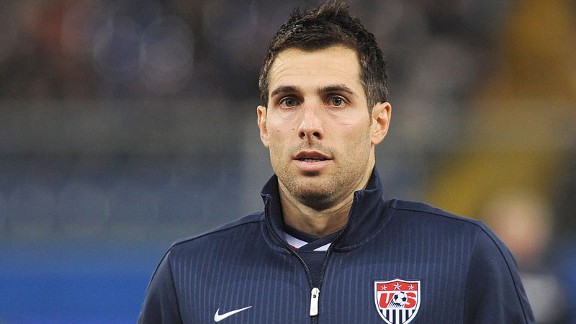 Valerio Pennicino/Getty ImagesIf Carlos Bocanegra leaves Rangers, which is in financial ruin, he should head to the Premier League where he could offer a team experience and skill at the back.
I shouldn't have been surprised when I read a few weeks back that Glasgow Rangers had entered administration. The Ibrox giants have been inching toward the bankruptcy precipice for some time. Yet it was still stunning when the news broke. But there is one silver lining for American fans in this latest setback for Scottish football: Carlos Bocanegra could soon be on the open market. And any EPL manager needing leadership, smarts and solid tackling on his backline would be wise to give him a call.
When I first visited the United States many, many moons ago, I flew on TWA from London to New York City, and the Pan Am Building stood proudly above Grand Central Station in midtown Manhattan. Those two iconic airlines are no more. Still, it's hard to conceive that Rangers would nose-dive into oblivion as well. Hopefully that fate can be avoided. Surely not even the most ardent Celtic fan would think that Scottish soccer has anything to gain from the catastrophic fall of their archrival. In the meantime, the bean counters must go about their business.
A good portion of the Rangers roster will be leaving at the end of the season, and some will leave before. It's already been reported that various Rangers players have agreed to pay cuts ranging from 25 to 75 percent. If this situation isn't a wakeup call to soccer, I don't know what is. I'm old enough to remember Rangers being a force in Europe, let alone Scotland. And the passion of Rangers fans for their team is second to none.
In the mid-1970s, my beloved Baggies signed Willie Johnston from Rangers. "We've got Willie, Willie Johnston on the wing, on the wing" rang out from the Brummie Road End at the Hawthorns for many a season. Bocanegra might not thrill fans in the manner of the brilliant, feisty former Rangers legend, but I'd be very happy to see Captain America plying his trade in the middle of the Albion backline next season.
[+] Enlarge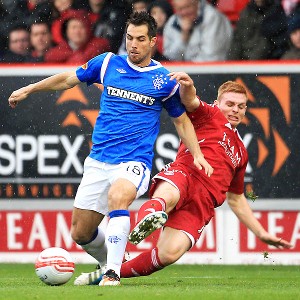 AP PhotoSince the 2010 World Cup, Bocanegra's game has matured. He's more patient on the ball, leads the backline with greater authority and his reading of the game gets better with age.
There are reports that the former Chicago Fire defender might head back to MLS in the summer. Under league rules, the Vancouver Whitecaps would have the first crack at signing him, but Bocanegra would be best served to stay in Europe. His game has matured enormously since the 2010 World Cup. He seems to have learned a lot from his South Africa experience: He's more patient on the ball, leads the backline with greater authority and his reading of the game gets better with age.
After another commanding performance for the U.S. national team in the recent friendly win over Italy, Bocanegra seems set for far bigger things than the backwaters of a second-year MLS expansion team.
Jurgen Klinsmann knows a thing or two about leadership, and he quickly confirmed that Bocanegra would continue as the U.S. captain shortly after taking over the team's head coaching reigns. Against Italy, Bocanegra personified the new poise that Klinsmann has instilled on the U.S. defense. How many times under Bob Bradley did the U.S. defense in tight games simply boot the ball out of the danger zone, only to see it come straight back at them because they had kicked the ball to the opposition. It was a panic problem that Bradley never seemed quite able to solve. It still flickered around the edges for the U.S. against Italy, but it never caught fire. A lot of that can be attributed to Klinsmann, but Bocanegra deserves credit as well. He was a real leader on the field in Genoa and his efforts went a long way to preserving the shutout and gaining a historic win.
Along with Tim Howard in goal, Bocanegra has been a constant for Klinsmann, while the rest of the defense has been a revolving door. There's been a lot of criticism aimed at the U.S. offense under Klinsmann, with not enough credit being given for the work achieved at the back. With Bocanegra's future at Rangers in doubt, Klinsmann will want his captain to stay in Europe and keep developing at the highest level.
That highest level should be a short trip south from Glasgow to the EPL. Seriously, is there not a team in the English top flight that couldn't use an experienced veteran, who rarely puts a foot wrong and helps those around him play better? The ideal destination would be in front of Tim Howard at Everton, but the Toffees' finances may not be up to it. Bocanegra has already played for Fulham, and teaming up with Clint Dempsey would be fun for U.S. fans as well as the Cottagers faithful. But blue might still be the color for Bocanegra. Chelsea needs some real pros in the romper room that passes for their locker room.
Even with so much on their minds, ask any Rangers fan and they'll tell you Captain America is the consummate professional. And soon, he'll be available to play for a team near you. I hope my team gives him a call.