Rooting for Roberto Di Matteo
March, 23, 2012
03/23/12
11:58
AM ET
As a neutral, it's not easy to root for Chelsea. The odious oligarch, the crass captain and a long-running parade of pouting players too numerous to mention have turned the Blues into an English Premier League pantomime villain. Whenever you see them, you have the urge to boo. But lately, I've been cheering for Chelsea. The reason: Roberto Di Matteo.
[+] Enlarge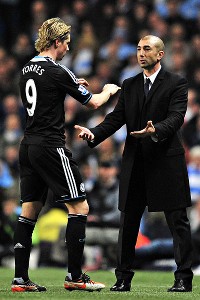 Glyn Kirk/Getty ImagesRoberto Di Matteo has done an exceptional job since taking over at Chelsea, even coaxing some goals from Fernando Torres.
I might have mentioned in this space before that I am a lifelong West Bromwich Albion fan. And as one wise Black Country native told me this week: "Di Matteo was the man who gave West Brom its belief back that they belonged in the Premiership." It's not many managers who get fired in midseason and retain such affection with the fan base.
Long before patrolling the technical area of the green rectangle of heaven better known as the Hawthorns, Di Matteo was a beloved figure at Chelsea. He was part of the early Stamford Bridge renaissance in the mid-1990s. In 1997, before the arrival of Roman Abramovich and his bottomless bucket of rubles, Di Matteo famously scored the then-fastest goal in FA Cup final history, when striking at 42 seconds to set Chelsea on its way to a 2-0 win over Middlesbrough.
It only seems that the average lifespan of a Chelsea manager under Abramovich is 42 seconds, but the odds are against Di Matteo shedding his caretaker status as the Blues' boss. At a minimum, he needs to guide Chelsea to an EPL top-four Champions League qualification spot, and even that probably won't be enough. The FA Cup looks nice in a team photo, but its small beans these days to a club of Chelsea's mega-ambition. Winning the Champions League would be a game-changer for sure, but it would be a massive upset if anybody other than Barcelona or Real Madrid landed the giant, jugged-eared, silver Holy Grail in May.
So where does that leave Di Matteo? According to the British redtop rags, overwhelmed by the player power of John Terry. Really? Did Terry tell Di Matteo to switch from the 4-3-3 formation of his short-lived predecessor Andre Villas-Boas to the 4-2-3-1 that seems to have pumped new life into old Chelsea legs? Maybe he did. But unlike AVB, Di Matteo has been around the English game long enough to roll with the hyper-inflated, dysfunctional egos of players who command attention in the locker room and channel that combustible energy into a positive force on the field. That's a skill that every successful manager at the highest levels possesses.
A lot has been made of Terry seeming to coach from the bench after coming out of the epic Champions League comeback against Napoli. Again: Really? That night, Chelsea did something very few teams have done over the years. It rallied from a two-goal first-leg deficit to win a tie and advance. I'm more than tired of the off-field John Terry act, but give credit where it's due -- he's a competitive guy who bleeds Chelsea blue and didn't sit quietly on the sidelines with a season-defining victory at hand. For me, there's nothing wrong with that. And Di Matteo clearly feels the same way.
Di Matteo also seems to feel that Fernando Torres still has something to offer. A John Carter-size mega-flop so far at Chelsea, Torres' brace against Leicester City in a 5-2 FA Cup win demonstrates that all is not lost on the Spanish ace front. If Di Matteo can get Torres back on track, he might not be Chelsea boss next season, but he'll have a list of suitors this summer, and the grateful thanks of all of Spain heading to Euro 2012.
Di Matteo will always have the grateful thanks of West Brom fans like me. We loved his commitment to playing a passing game, his dedication to an unfashionable club and his dignity in the wake of an unfair dismissal. Roy Hodgson has done a magnificent job at the Albion, building on the foundation Di Matteo started, and sitting here before Easter not having to worry about a relegation battle shows what a fine appointment he's been. West Brom chairman Jeremy Peace can feel vindicated at his decision to replace Di Matteo, but I dare say, like anyone who loves my beloved Baggies, he's delighted to see his ex-manager back in the shop window and with an opportunity to demonstrate his talents.
Chelsea is in the business of hiring managers to fire them. So perhaps it wouldn't be the worst thing in the world for Di Matteo if he secured a Champions League spot for next season and moved on. But it may not be the best thing for Chelsea. With Spurs and Benfica on the docket this week, Di Matteo has another chance to state his case as one of the best young managers in the English game. I, for one, will be rooting for Roberto.