[+] Enlarge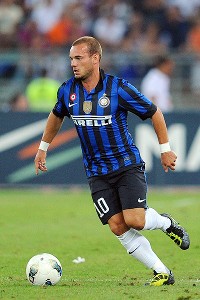 Giuseppe Bellini/Getty ImagesInter's Wesley Sneijder would fit in perfectly at Old Trafford.
It's been a lost season for Inter Milan. And the same can be said for their stylish Dutch playmaker, Wesley Sneijder. Plagued by injuries all season, he has been nowhere near the force he was during Inter's 2010 treble-winning season. But unlike his team, Sneijder can reverse his fortunes pretty quickly with a change of scenery -- and Old Trafford would be the perfect place for him.
Last summer, Sneijder was reportedly on top of Sir Alex Ferguson's summertime shopping list. Negotiations crashed on the jagged rocks of salary demands, and the Good Knight was not best pleased. As any United legend from Lee Sharpe to Jaap Stam can tell you, it's not wise to get on the wrong side of the Manchester United manager, but even the canny Scot might make an exception for the Dutch master.
It's not like Ferguson hasn't signed temperamental, demanding characters before. Granted, temperamental doesn't really do justice to Eric Cantona, but the Frenchman fired up the Theatre of Dreams like few others. And Sneijder could be sensational in United red, as well.
It's possible Paul Scholes could play forever, but with a fit, motivated Sneijder pulling the strings for the 19-time English champions, maybe Scholes wouldn't have to. Health and motivation always seem to be question marks with Sneijder, but when he's on his game, he makes everyone around him better. That's always the sign of a legitimately great player.
For United, unlike Inter, all is not completely lost yet this season. The Good Knight is doing his level best to make Roberto Mancini the new Kevin Keegan. But it's the rare season when Ferguson has to go all "Hunger Games" on his nearest rival for the EPL title. I doubt he would be in this position if the Glazer purse strings didn't stretch so thinly from Lancashire to Florida. A hefty investment in Sneijder last summer might be paying big dividends this spring. That's conjecture, but the facts are that United was dumped out of the Champions League long before anyone anticipated, there have been no domestic cup runs to speak of, and the Europa League, while hardly a priority, was a humiliating experience.
Not even United can afford that scenario playing out again next season. Ferguson dislikes when his transfer negotiations become common knowledge, but the rumor mill already has Belgian sensation Eden Hazard, Spurs midfield maestro Luka Modric and Athletic Bilbao's Iker Muniain penciled in on the latest United help wanted list.
All solid additions, with great potential to help turn United back into a serious Champions League contender again. But Ferguson's first instincts should still hold. Sneijder has exquisite technique, game-changing vision, and the ability to control and change a game's tempo; furthermore, he is a free-kick specialist and a fierce competitor. And perhaps the latter is what this United team needs most of all. The embers seem a bit low with the current squad, and Ferguson needs an on-field general to keep them stoked. His great teams have always had that, and Sneijder can be that man.
Chelsea, Manchester City and quite possibly Anzhi Makhachkala will all have something to say about Sneijder's next port of call. And the Dutchman has already made it clear to United that he plays for money. No one can blame him for that. But he also plays with an ability to break open defenses like few others. Sir Alex Ferguson already knows that Sneijder is the answer to his creative midfield problems. The question remains: Can Ferguson afford to make the move? It's possible he can't afford not to.