David Moyes for England manager
April, 6, 2012
04/06/12
12:34
PM ET
[+] Enlarge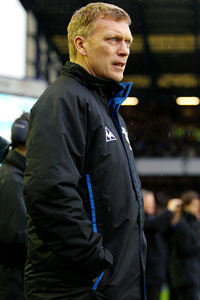 Clive Brunskill/Getty ImagesForget Harry Redknapp. The England national team would do well to hire Everton's David Moyes.
I saw "Salmon Fishing in the Yemen" last Sunday night. It's the type of movie that's a pleasant distraction on a long-haul flight, but doesn't really need to be seen on the big screen. Yet it got me thinking about absurd notions such as this: Could a Scot be the next manager of the England football team?
Sir Alex Ferguson has the credentials. But the Good Knight striding out purposefully along the Wembley Stadium sideline in a blue blazer with the Three Lions crest emblazoned on his breast pocket is about as unlikely a sight as Ewan McGregor playing an ugly duckling scientist with a fish obsession.
A short distance across Lancashire from the Theatre of Dreams, King Kenny is holding court again at Anfield. Scotland's greatest player certainly knows his way around the manager's dugout, but it's as probable that he'll don the Three Lions tracksuit as (spoiler alert) an obsessed ugly duckling scientist foiling an assassination attempt with a fishing rod.
Stranger things have happened -- for instance, a fan attending the Barcelona-AC Milan game on Tuesday night was wearing a West Bromwich Albion replica jersey. That was my sister, who called me from the stadium. I shudder to think what the roaming charges from Camp Nou to New York are, but hey, as the MasterCard commercial says, and my sister can now happily attest, watching this Barca team is priceless.
But I digress …: What price another Lancashire-based Scotsman getting a call from the blazers at Lancaster Gate? That would be Everton's outstanding manager David Moyes. His stature in the game doesn't match that of his countrymen Ferguson and Dalglish, but I'm sure those two Scottish legends wouldn't hesitate to vouch for his managerial talent.
Harry Redknapp remains the popular choice for the vacant England job, but Moyes has recently gained prominence as a contender. I've hailed Moyes' skills in this space before. Who has done more with less in the EPL in recent years? No one. The EPL is a rich man's playground, yet the penny-pinching Toffees remain perennial contenders for a Europa League spot, and are in the midst of another deep FA Cup run.
Moyes believes in defense, no nonsense and has a fine eye for potential where others see pessimism (Brian McBride, Tim Howard, and Landon Donovan to name just a few.) England's dysfunctional dressing room could use a good dose of the Moyes philosophy.
This week a Manchester City-loving colleague took a brief timeout from banging his head against his padded cell wall ala Robert De Niro in "Raging Bull" to describe the Everton boss as follows: "Has the respect of every player who has ever played for him. Including Rooney. Heart. Fire and passion. Balls." I want that guy managing my national team.
Will it happen? Unlikely. The FA is no one's idea of salmon swimming against the tide to achieve great things. And even if he were asked, would Moyes want the aggravation that would undoubtedly come from his piqued countrymen, let alone the usual tabloid assault that comes with the job? Again, unlikely.
But after watching "Salmon Fishing in the Yemen," I've learned a couple of things that I want to pass along. Emily Blunt has a real shot at becoming the next Meg Ryan, and great things can happen if you have the faith to cast your line in Scottish waters.