The Sporting life in Kansas City
April, 20, 2012
04/20/12
12:46
PM ET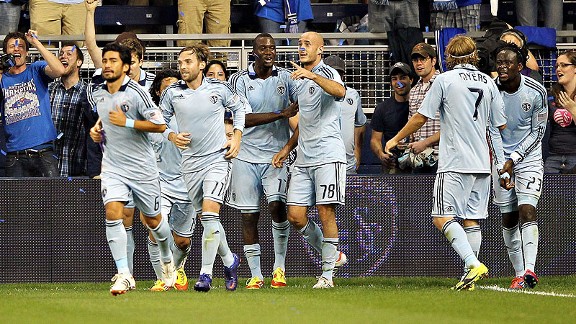 Jamie Squire/Getty ImagesSporting KC's perfect 7-0 start and their sparkling stadium is the talk of MLS.
With the European season hitting the home stretch, it's understandable if most soccer fans aren't paying too much attention to MLS. This is a pity, because there is a great story brewing in the American heartland, and it's a classic example of everything that MLS has been doing right for several years. And all concerned deserve tremendous credit and a lot more exposure.
This great story is Sporting Kansas City's perfect 7-0 start to the season. This time last year, SKC was in the midst of a 10-game road stretch while waiting for LiveStrong Sporting Park to be ready for its MLS grand opening in June 2011.
LiveStrong has clearly breathed new life into the organization, the players and its fans. That was the SKC ownership's plan, and that's been the plan of MLS all along: from the opening of Columbus Crew Stadium in 1999 to next month's latest MLS stadium addition in Houston, and beyond. Nothing says long-term planning and stability quite like a stadium to fans, sponsors, the media and prospective new players. But few teams have executed the plan as flawlessly as SKC.
As an ESPN colleague who's a Kansas City native told me this week, "The stadium is a microcosm of what they've done well. It looks great, has a great location, and is as completely thought through as any stadium I've seen."
As he notes with pride, the locals have responded.
"Five years ago, I couldn't pay anyone to go to games with me, and the biggest reason was the complete lack of atmosphere at a nearly-empty Arrowhead or a disorienting minor league baseball park," my colleague said. "When I was home for Christmas, I had three friends that had season-ticket packages. The marketing has been stellar, going hard after the rabid 20-and-30-something fan base that populates much of the KC area."
Yet the rebirth of the soccer sporting life in Kansas City doesn't serve just as the latest symbol of the league's new stadium business growth model; it's also symbolic of something just as important -- long-term faith in the "Made in America" soccer label. Real Salt Lake won a championship after building a new stadium and handing the coaching reigns to former MLS star Jason Kreis. And many folks are already talking up SKC as 2012 MLS Cup champion-elect under the guidance of another stalwart of U.S. soccer and MLS, Peter Vermes.
Like Kreis, Vermes believes in developing young, American talent. In particular, Vermes seems to have faith in the much-maligned American college system. C.J. Sapong and Graham Zusi are just two college soccer products who have come a long way in a short time under Vermes' guidance. And while Vermes has kept faith with American talent, SKC ownership has kept faith in Vermes.
Vermes hardly experienced a perfect beginning to his head-coaching career in Kansas City when he moved from the team's front office to the dugout hot seat in August 2009. He posted a 3-7-2 record as the then-Kansas City Wizards stumbled to the finish line with the league's worst home record.
Things have changed since then: the team name, the stadium and the won-loss record. Vermes' philosophy has stayed consistent, though. He insists on a high-pressing 4-3-3 formation. Along with Sapong and Zusi, Teal Bunbury is another young player who is attracting attention as he develops rapidly under Vermes.
Bringing in such MLS-savvy veterans as Kei Kamara in late 2009 and Bobby Convey this season were solid moves, as well. Kamara, in particular, is a player known to keep the mood light in the locker room, and fans, as well as teammates, relate and respond to his infectious spirit.
The long-running designated player argument also comes into play with SKC. Last season Jeferson was a bust, while Omar Bravo had some moments. This is a fairly typical MLS scenario. SKC management hasn't ruled out signing a DP this season, but so far they are doing fine without one.
It's hard to top perfection. It's even harder to keep it going. Just ask Manchester City. For the next few weeks, at least, many American eyes will be cast across the pond at such things as City's late bid to derail archrival United atop the EPL, or the Barcelona-Real Madrid duel in Spain and possibly the Champions League, maybe even Sporting Lisbon's Europa League tilt.
In many ways, that's the biggest obstacle to MLS growth: the massive competition from the big shows overseas for everything from media ink, to replica jersey dollars, to TV viewing time and, of course, to star power on the field. But dismissing MLS isn't such a popular media parlor game anymore. That's because the league's long-term plan keeps working. Sporting Kansas City is just the latest franchise model of taking advantage of the sporting chance given to American soccer by Major League Soccer.