Commentary
MLS Re-Entry Draft one wild ride
Updated:
December 16, 2010, 4:43 PM ET
By
Jeff Carlisle
| ESPN.com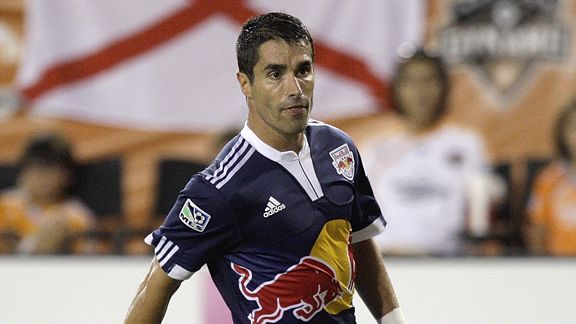 Bob Levey/Getty ImagesThe biggest move of the re-entry draft saw the Galaxy acquire Juan Pablo Angel from the Red Bulls.
Anyone with a weak stomach would have been well advised to stay away from Stage 2 of the MLS re-entry draft Wednesday. The events reached warp speed quickly and took a cozy nine minutes to complete, with enough twists and turns packed into the 11 selections to make a roller-coaster ride seem like a Sunday cruise.
The biggest of these moves saw the Los Angeles Galaxy swoop in and acquire Juan Pablo Angel with the fifth overall selection, which it obtained from the Houston Dynamo for a fourth-round draft pick in the 2014 SuperDraft. Reached by telephone afterward, Dynamo coach Dominic Kinnear explained the move. "We weren't going to pick any of these guys anyway, so why not?" he said.
That left Galaxy coach Bruce Arena in a position to pounce, and pounce he did.
"We wanted to make sure that by being close to the top that we had a chance if [Angel] was going to be available," said Arena on a conference call with reporters. "There was a lot of speculation that he could go before the No. 5 [pick]. I said, 'At the end of the day, if we don't get him, we don't get him. But we're going to give it our best shot.'"
It turned out to be enough, much to the chagrin of some other teams. Several reporters who were present on the re-entry draft call talked of audible groans being heard from other teams when Angel was selected.
Most MLS goals since 2007
| Juan Pablo Angel | 58 |
| --- | --- |
| Landon Donovan | 47 |
| Edson Buddle | 42 |
| Jeff Cunningham | 42 |
| Conor Casey | 42 |
Arena was quick to point out, however, that merely selecting these players doesn't guarantee that the team will end up signing them to contracts. D.C. United took Josh Wolff with the first overall pick and promptly announced that it had signed him to a new deal. But Angel's selection means that a tricky negotiation will ensue. Angel's total compensation last year with the New York Red Bulls was $1.918 million. Just how much of a pay cut Angel will be willing to take is open to question, especially given the very public interest the Galaxy has shown in Brazilian superstar Ronaldinho. Arena conceded that signing Angel may take some creative use of the salary-cap rules.
"I would think there's a chance [Angel] will certainly be a Designated Player, but we haven't gotten into those discussions," said Arena. "There are other mechanisms in the league that allow for a player to not be a Designated Player. But my guess is that if we sign him, he'll likely have that designation."
Arena also added that Angel's signing will have no impact on the future of star midfielder Landon Donovan, who has been linked with a loan move to various English Premier League clubs.
"I fully expect Landon Donovan to be playing for the Los Angeles Galaxy from January to November next year," he said.
But if the Galaxy was one of the clear winners Wednesday, another was the MLS Players Union. When the collective bargaining agreement was hashed out in March, the league made it clear that any form of free agency was off the table. The re-entry draft was hashed out as a compromise so that players whose contracts had expired or who hadn't had their options picked up could have some added freedom, rather than have their rights held by their old team. MLS Players Union executive director Bob Foose feels the system has performed well, with few surprises, although he confessed that there had been something of a learning curve on both sides.
"I think it is working and is doing exactly what it was supposed to do, which is to give veteran players more leverage and more control over the negotiations in the offseason," he said. "And also, keeping guys under contract, or at least reduce the guys who are out of contract.
[+] Enlarge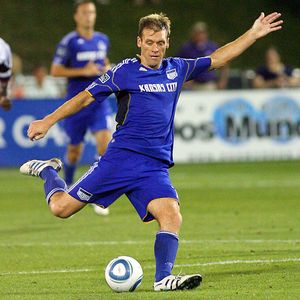 Tim Umphrey/Getty ImagesJimmy Conrad was chosen second overall by Chivas USA.
"The number of options that were exercised is up close to 70 percent, where a couple of years ago that number was well under 50 percent," Foose added. "It's not perfect, and it's not what we would like to see in an ideal world, but it is working."
Foose's sentiments were echoed by an unlikely participant in Wednesday's proceedings. Erstwhile Sporting Kansas City defender Jimmy Conrad remains a member of the MLSPU's executive committee but was among those made available when his contract expired. Conrad was chosen second overall by Chivas USA. Despite the uncertainty of the impending contract negotiation, he is eager to see how the next steps play out, especially since it could see the Southern California native return home.
"I think it's a big positive," he said of the re-entry draft. "I think maybe it hurt some of the guys who went through it just because teams didn't have the flexibility to wheel and deal. Maybe that changes next year -- I don't know. But I think overall it's a good thing. Teams have to take a hard look at their roster and decide who is going to stick around, who they're going to invest their time and money into. Ultimately, I think that's better not only for the player, but for the team as well. It provides some certainty to say, 'These are the guys I trust, and I'm going to do everything I can to develop these guys.'"
Even if there are some twists and turns.
Jeff Carlisle covers MLS and the U.S. national team for ESPN.com. He is also the author of "Soccer's Most Wanted II: The Top 10 Book of More Glorious Goals, Superb Saves and Fantastic Free-Kicks." He can be reached at eljefe1@yahoo.com.
U.S. soccer correspondent
Jeff Carlisle covers MLS and the U.S. national team for ESPN FC.