Commentary
Najar, Mwanga and Tchani on U.S. radar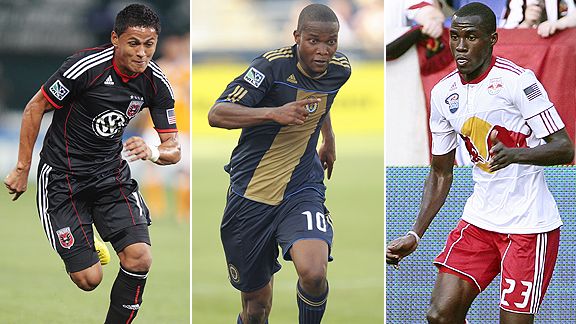 Getty ImagesD.C.'s Andy Najar, Philadelphia's Danny Mwanga and New York's Tony Tchani have experienced success in MLS. But will they become U.S. citizens and play for the national team?
Tom Petty had it right. The waiting is the hardest part. Just ask a trio of MLS players trying to decide whether to represent the country of their birth, or wait several years to acquire U.S. citizenship and then play for their adopted country. Fans of the U.S. national team are just hoping the wait won't be too long.
At present, the Philadelphia Union's Danny Mwanga, the New York Red Bulls' Tony Tchani, and reigning rookie of the year Andy Najar of D.C. United have all experienced varying degrees of success in MLS. As such, they would seem to be a lock to be on the radar of U.S. national team head coach Bob Bradley, especially attacking players such as Mwanga and Najar.
But none of the players are U.S. citizens. Mwanga arrived in the U.S. in 2006 from the Democratic Republic of Congo as a political refugee when his father, Belmond, disappeared and was presumed murdered. Tchani also emigrated to the U.S. under the country's political asylum laws, in his case from Cameroon. Najar arrived in the U.S. from Honduras.
So when will these players -- all of whom have green cards -- become eligible? That requires one to engage in a little Naturalization 101. Simply put, the requirements are much more stringent than they were in the late 1990s, when French-born defender David Regis had is citizenship application fast-tracked in time to play in the 1998 World Cup because he was married to a U.S. citizen. After a player receives a green card -- a process that can take anywhere from a few months to several years -- the timeframe by which that person can become a U.S. citizen is ironclad. A green card holder must wait five years before they can apply for citizenship, although for those granted asylum like Mwanga and Tchani, that wait is reduced to four years. If the applicant is married to a U.S. citizen, the wait time is shortened to three years. This assumes, of course, that the player in question bones up on his English, the U.S. Constitution, and doesn't get into trouble with the law.
During this time, the player must satisfy requirements related to continuous residency and physical presence inside the country. So, for starters, the player cannot leave the U.S. for more than six months in a single trip; otherwise, he risks having to start all over again in terms of meeting the requirement. To satisfy the physical presence requirement, most applicants must spend a minimum of 30 months during the five-year period in the country. If the applicant's spouse is a U.S. citizen, the physical presence clause is shorted to 18 months.
In short, a player can take a bunch of short trips outside the U.S, but not so many that he spends the majority of his time outside the country.
Congress does have the power to pass a bill immediately granting someone U.S. citizenship, assuming the president signs it. It was precisely this mechanism that allowed figure skater Tanith Belbin to obtain U.S. citizenship and thus compete at the 2006 Winter Olympics. But these instances are extremely rare and are usually reserved for military personnel who have died in combat, not for mere athletes with dreams of glory.
The only recourse one hope is for U.S. naturalization law to change, but Rep. Zoe Lofgren, D-Calif., and former chair of the House Subcommittee on Immigration, Citizenship, Refugees, Border Security and International Law, summed up how little appetite there is for greasing the citizenship skids for soccer players.
Lofgren said via a spokesman, "While I am a supporter of soccer in the United States, especially the San Jose Earthquakes, why should soccer players be given preference over doctors, scientists or other worthy individuals?"
A spokesman for Rep. Steve King, R-Iowa, who has taken over the chair from Lofgren in January, declined to comment.
So how does this compare to other countries? Mexico usually requires a five-year waiting period, but allows people from Spain, Portugal, or Latin America to gain citizenship after just two years, which explains how Argentine-born players such as Guillermo Franco and Matias Vuoso gained Mexican citizenship and later represented El Tri. But usually the wait is comparable to that in the U.S. German international Cacau was born in Brazil, but resided in Germany for more than eight years before receiving citizenship. Another Brazilian, Deco, lived in Portugal for six years before gaining his citizenship and representing his adopted country.
Of course, in some countries, if they want a player badly enough, the rules can be bent to the point of breaking. That was the case in 2000, when poland -- through then-president Aleksander Kwasniewski -- granted citizenship to nigerian-born striker Emmanuel Olisadebe, even though the forward had been in Poland only three of the required five years. Olisadebe went on to play a critical role in helping Poland qualify for the 2002 World Cup, scoring eight goals.
Alas, Najar, Tchani and Mwanga are left to play the waiting game. Mwanga obtained his green card in 2007, while Tchani acquired his permanent residency status a year later. It's unclear precisely when Najar received his green card, although he would have needed it to sign with D.C. United in 2010. That will allow Mwanga to apply for citizenship this year, with Tchani able to apply in 2012, although it could be even longer before the wheels of bureaucracy make enough revolutions to allow them to actually reach that goal.
It is precisely that maze of red tape that proved to be too much for former Real Salt Lake forward Yura Movsisyan, who opted to play for Armenia rather than wait to acquire U.S. citizenship. Movsisyan, who found refuge in the U.S. after fleeing his native Azerbaijan as a youth, insists that cultural ties played a significant role in his decision. But it's also just as obvious that the wait -- exacerbated by the fact that Movsisyan was living and playing in Denmark -- was also a factor. The opportunity to participate in qualifying for Euro 2012 was an inducement as well.
"I think it was the right time for me to start playing international games," Movsisyan said. "I thought that it would help me, as a footballer, become a better footballer if I started now rather than start when I was 26, 27. That's why I wanted to start playing for Armenia at the beginning of these Euro 2012 qualifiers.
"My agent was in dialog with [U.S. manager] Bob Bradley and U.S. Soccer from the beginning," Movsisya added. "In the U.S., becoming a citizen may take a long time. It differs from case to case. My case unfortunately was one of those that would have taken a while to go through."
For some players, the obstacles mean they'll never be in a position to choose. Mwanga's Philadelphia teammate, Sebastien Le Toux, just received his green card this year. The five-year wait means the earliest he can become a U.S. citizen is in 2015. When the World Cup hits Russia three years later, Le Toux will be 34, making it unlikely that he'll ever suit up for the U.S. national team.
For the present, Najar, Mwanga and Tchani each insist they are taking their time in making such a difficult decision. But the temptation to start their international careers now rather than later is there. And the other contenders for their services have not been idle. Honduras tried to call up Najar to its U-20 team earlier this year, although it was rebuffed, at least for the moment. Mwanga has been contacted by the DRC.
"I grew up there and a lot of people saw me play when I was a little boy," said Mwanga, who indicated that the circumstances under which he fled the country wouldn't prevent him from representing the DRC. "Now they know that I'm starting my professional career, so they are expecting me to come back and just see you wearing the national team colors and representing the country. It's going to be a very tough decision and hopefully it's going to be the right one for my career."
Tchani indicated that he has talked to Cameroon soccer officials "one or two times" before stating, "Once I get my U.S. citizenship, then I'll make a decision."
Throughout all these gyrations, Bradley insists he is very much aware of those players who aren't citizens but may be in a position to help the program down the road.
"Those kinds of discussions are always ongoing," he said in an interview in October. "Our awareness of players across the board and their situations is important. We're constantly watching the games and aware of different situations."
If all goes well, perhaps this is one waiting game in which the U.S. will come out on top.
Jeff Carlisle covers MLS and the U.S. national team for ESPN.com. He is also the author of "Soccer's Most Wanted II: The Top 10 Book of More Glorious Goals, Superb Saves and Fantastic Free-Kicks." He can be reached at eljefe1@yahoo.com.
U.S. soccer correspondent
Jeff Carlisle covers MLS and the U.S. national team for ESPN FC.