Commentary
Fraser will have his hands full at Chivas
Updated:
January 6, 2011, 12:22 PM ET
By
Jeff Carlisle
| ESPN.com
With the appointment of Robin Fraser as head coach of Chivas USA, Los Angeles' second MLS club has just dumb-lucked its way into hiring a highly capable manager. Alas, for the Goats, it likely will take more than mere competency on the part of Fraser to turn around their fortunes both on and off the field.
Replacing Martin Vasquez, who failed to reach the postseason in his only year in charge, Fraser, 44, certainly has the pedigree to get Chivas USA back to winning ways. His stellar playing career -- he's a former U.S. international -- not to mention his 3½ year stint as an assistant coach with Real Salt Lake, in which he helped turn the team into the stingiest defensive outfit in the league, speaks to that.
"We did our due diligence; it was a long process," said interim general manager Jose Domene during Wednesday's news conference. "We did a lot of interviews, we talked to a lot of coaches, did a lot of reading, and we're sure that [Fraser] is the right choice. He's got excellent coaching skills. We know he's a proven winner. He's an excellent person, and we're sure that he's going to take this franchise to the next level and that we'll win a championship with him."
[+] Enlarge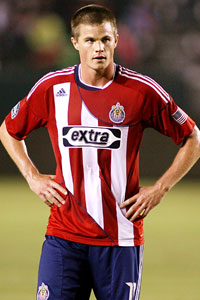 Jeff Golden/Getty ImagesIt's been tough going for Justin Braun and Chivas USA.
High praise indeed, but Fraser wasn't the team's first choice. Chivas nearly ended up with Juan Carlos Osorio. He reportedly turned down an offer to manage the club, opting to stay in his native Colombia with Once Caldas instead. Goats fans should be counting their blessings. After all, this is the same Osorio whose obsessive tinkering turned the New York Red Bulls into the worst team in MLS. And for those who point to his taking the Red Bulls to their first MLS Cup in 2008, that was the very definition of the word "fluke." With a playoff berth at stake, New York stumbled to a 1-4-1 finish that season and only backed into the playoffs when neither D.C. United nor the Colorado Rapids could take advantage of the Red Bulls' charity. Osorio's brief stint with the Chicago Fire notwithstanding, he doesn't have the most glittering of MLS résumés.
That said, it's a distinct possibility that Osorio took one look at the Chivas USA organization, which has been shedding executives faster than Enron at its nadir, and said, "No thanks." With the resignation of general manager Stephen Hamilton in December, Domene has assumed those duties, even though his background is on the business side. That has resulted in a four-man committee consisting of owner and president Antonio Cue, Cue's brother Lorenzo, Domene and Fraser to make key decisions. Not exactly the kind of control most coaches demand, although Fraser insisted he doesn't think it will be an issue.
"[I think that] myself and the owners are in line philosophically, and I expect that we'll come to very logical and rational conclusions together," he said.
Fraser later added, "I think I'll have a fair amount of latitude. People want to watch players who are dedicated and committed, and I think if we find those players, then we'll pay what we have to pay to get them, within the limitations obviously of this league."
It will be interesting to see just how frustrating such a setup will be, especially if management ends up vetoing many of the new manager's ideas. But even if Fraser is successful on the field, will it really be enough to move the needle in terms of the team's attendance and overall profile?
Chivas USA has long struggled to make a dent in the L.A. sports marketplace, a position not helped by the fact that it shares operating space with the Los Angeles Galaxy. This was a problem even when the team was winning under Vasquez's predecessor, Preki. It also explains why the candidacy of former U.S. international Eric Wynalda was so intriguing. Wynalda's blunt personality, not to mention his plan to bring in Chivas icons Claudio Suarez and Ramon Ramirez as assistants, would have brought an increased level of attention to the club and galvanized the team's core fans whose primary allegiance is to parent club C.D. Guadalajara. Wynalda's career as a former U.S. international would have created an opportunity to expand the team's fan base beyond this constituency as well.
But in the end, it appears that a lack of experience doomed Wynalda's candidacy, with the team ultimately turning to Fraser. That still may turn out to be an inspired choice, but with so much turmoil surrounding the organization, Fraser might not be the lucky one after all.
Jeff Carlisle covers MLS and the U.S. national team for ESPN.com. He is also the author of "Soccer's Most Wanted II: The Top 10 Book of More Glorious Goals, Superb Saves and Fantastic Free-Kicks." He can be reached at eljefe1@yahoo.com.
Soccer
Jeff Carlisle covers MLS and the U.S. national team for ESPN FC.