Commentary
Bradley in mad scientist mode at camp
Updated:
January 20, 2011, 3:46 PM ET
By
Jeff Carlisle
| ESPN.com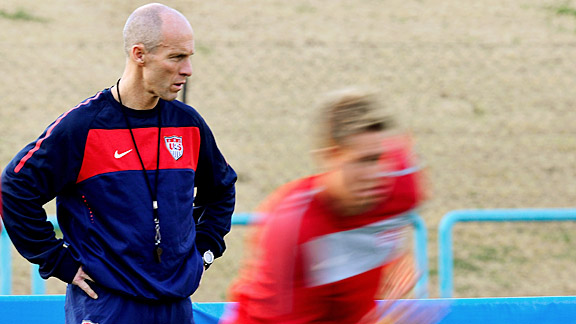 Kevork Djansezian/Getty ImagesWith the Gold Cup five months away, now is the time for U.S. men's national coach Bob Bradley to see how much of the Americans' future should rest with the next generation.
CARSON, Calif. -- Bob Bradley's intensity meter may go to 11, but when it comes to putting a team together, the manager of the U.S. men's national team isn't one to go to extremes. Balance is usually the operative word, with young players brought into the mix under the most carefully controlled conditions.
At times, such an approach has put Bradley at odds with the more rabid elements of the U.S. fan base, which often insists that he hand a player his debut the moment the performer shows any promise. Yet take one look at the team currently going through its paces at the now-annual January training camp, and it's clear that Bradley has jumped headlong into mad scientist mode. The total number of caps in the squad, 26, barely exceeds the number of players, 23. Twelve of those performers have never appeared for the U.S., while eight of them have never been invited to a full national team camp.
Yet there is a method to Bradley's madness. Among the players assembled are jaw-dropping attacking talents such as Mikkel Diskerud and Juan Agudelo as well as defenders Omar Gonzalez and Tim Ream. Given the advancing age of some U.S. veteran players, and with the Gold Cup still five months away, now is the time to see how much of the Americans' future should rest with the next generation. So Bradley and the rest of the coaching staff have had to tweak their approach in a bid to drive home the team's philosophy ahead of Saturday's friendly against Chile.
"I've been to January camps where it's been all-out with crazy fitness, and some that have been mellow," said goalkeeper Nick Rimando, who at age 31 and with four caps counts as one of the camp's grizzled veterans. "This one has been pretty mellow, but obviously everyone is trying to get their foot in the door."
That's not to say that the players assembled are on some glorified vacation. Far from it. But the decreased emphasis on the physical side of the game has allowed for more time working with the ball as well as focusing on the subtleties of moving without it.
"The sessions are very high-paced, and [Bradley] has been sending home messages -- movement off the ball, once you give it, you keep moving to find new angles," Gonzalez said. "And he relates a lot back to Barcelona, just watching them play, how their midfield is always moving around and they always find ways out of pressure. I think that's been one of the main things."
[+] Enlarge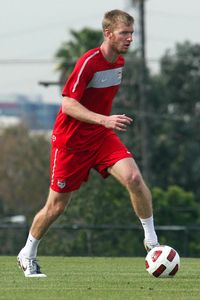 Courtesy ussoccer.comTim Ream is among the talented players trying to prove himself at the U.S. camp.
The U.S. players also have been focusing on the details of touches, body position when receiving the ball and the timing of their movements off one another. Granted, these might seem like basic concepts, but the faster pace of the international game, especially when compared to MLS, puts a premium on performing these skills with a higher degree of precision and speed.
"Literally, you can almost see the wheels spinning, the lightbulb going on," U.S. assistant coach Jesse Marsch said. "At the beginning of the week, what looked like a bunch of guys running around, now it starts to look a little more like soccer in terms of the movements and connections and ideas. They're starting to grasp it, and now it's just every day reinforcing it, raising the level, making it a little bit more intense, trying to simulate what Saturday will look like, because we know Chile will bring a good team and they'll be extremely active."
There are other challenges as well. Players new to the national team program often will find themselves fighting a battle between trying to do too much and being too passive. "You certainly have to strike a balance," midfielder Dax McCarty said. "You always want to make sure you're being noticed, and the coaches are trying to see you. But at the same time, you have to realize that you're here for a reason. I think I've learned that the simpler you play, the less you try to do, the more it actually benefits you and helps you, because guys who are taking too many touches and are just trying too hard usually don't play as well as they are capable of."
Then there is the difficulty that comes with players returning to their clubs and perhaps forgetting some of the concepts that they've worked on with the national team. Although this is something that veterans on the U.S. team have managed, it's certainly harder for younger players.
But as Marsch was keen to mention, the concepts that have been reinforced with the U.S. team are not necessarily at odds with what takes place at club level. Gonzalez, for one, talked about how some problems with his footwork were identified at last year's camp, and his continued diligence in trying to address the issue led him to feeling more confident and prepared heading into this camp.
"They're still building blocks and foundations of things that are important at both levels that can help [the players] get better," Marsch said.
And the U.S. staff will have no problem if the players take that advice to extremes.
Jeff Carlisle covers MLS and the U.S. national team for ESPN.com. He is also the author of "Soccer's Most Wanted II: The Top 10 Book of More Glorious Goals, Superb Saves and Fantastic Free-Kicks." He can be reached at eljefe1@yahoo.com.
Soccer
Jeff Carlisle covers MLS and the U.S. national team for ESPN FC.