Commentary
Opportunity knocks for young players
Updated:
January 21, 2011, 12:42 PM ET
By
Jeff Carlisle
| ESPN.com
CARSON, Calif. -- The U.S. national team's future has been on display for the last three weeks here in Southern California, but precisely how much of that future will make the transition from camp to the full team is open to debate. Saturday's friendly against Chile should lend some perspective on that question.
Clearly, for some elements of the 23-man roster, this is as close to the international spotlight as they'll get. Granted, the U.S. squad is in a state of transition, but there still remains a core of players -- one that includes Landon Donovan, Clint Dempsey and Michael Bradley -- that isn't going anywhere. For that reason, the number of open spots on a hypothetical Gold Cup roster remains scarce.
[+] Enlarge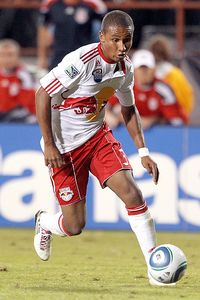 Ezra Shaw/Getty ImagesWhen the U.S. faces Chile on Saturday night, players such as Juan Agudelo will have a chance to prove their worth.
But trying to read the tea leaves and divine which players will make the jump into the full team remains notoriously difficult. Jonathan Bornstein parlayed a January call-up four years ago into a solid World Cup, but there are numerous others who don't take the next step. For that reason, it behooves U.S. manager Bob Bradley to look at as many players as possible.
"It gives us a greater sense of what our pool looks like," said Bradley about the camp as well as Saturday's match. "When you think about the last cycle, there are different times when you dip into your pool on different days. The game against South Africa was still an example of guys that at one point or another had maybe been around ... but still were guys that on a night like that we could call on and did well. So I think this camp just gives us a starting point on where we're at with a lot of these guys and then over time you start to see how they progress."
With that in mind, the two positions on the field that will bear the most scrutiny will be center back and forward. In the back, it's no secret that age is creeping up on Carlos Bocanegra and Jay DeMerit, and while Oguchi Onyewu has at last escaped the purgatory that is AC Milan in favor of a loan to Dutch side FC Twente, his future international prospects aren't clear cut.
So Saturday's match represents a huge opportunity for the likely central duo of Tim Ream and Omar Gonzalez. Both players have just a solitary cap and in both instances experienced good and bad moments. Yet they make for an interesting tandem. Ream's defending is solid and his distribution out of the back makes for a potent weapon when the team transitions from defense to attack, a trait the U.S. hasn't always had in abundance. Gonzalez's 6-foot-5 frame provides an imposing physical presence in the back as well as on set pieces.
The question is can they cope with a Chilean side that despite being shorn of all but one player from its World Cup contingent is still plenty capable. Manager Marcelo Bielsa, who last November resigned amid political upheaval at the Chilean FA only to later return, has built a reputation as a highly attack-minded coach, often using an unorthodox 3-3-1-3 formation.
"Chile comes out and presses and is a team that can really fly -- fly forward, fly back -- so our ability to handle that kind of tempo and that kind of pressure will be very important," said Bradley.
Ream and Gonzalez won't be alone, of course, with the likely midfield pairing of Jeff Larentowicz and Dax McCarty doing plenty to blunt Chile's attacking forays. Yet it's the type of offense that should provide a tough challenge.
"[Chile is] going to play at a high pace and they're technical at that pace," said Ream. "We're just going to have to focus on getting in passing lanes, keeping our team shape and really just play as a team. As long we do that we'll be fine."
There is also plenty of interest surrounding the forward line, where Chris Wondolowski will be aiming to defy the skeptics again and show off his potent finishing ability. But fans will be most eager to see young forwards like Juan Agudelo and Teal Bunbury, as well as attacking midfielder Mikkel Diskerud. This trio came on as substitutes in last November's 1-0 win against South Africa, with Bunbury helping the team with his holdup play while Diskerud set up Agudelo for the game's only goal.
"That was a new experience where you had to learn fast," said Bunbury. "When I got into the game it was a lot faster pace than I was used to, but after a couple of minutes you adjust quickly."
The test now is to see if these players can adapt once again, and sustain their impact over longer periods. If that happens, the payoff will be an invite to one of three friendlies set to take place over the next two months against Egypt, Argentina and Paraguay. The Egypt game is Feb. 9, and Bradley didn't rule out including a few players from the current roster for that match.
"It won't be that easy for us to have MLS players in for the Egypt game who have been off," he said. "The timing of getting them ready for that game probably doesn't fit. And so we'll balance out decisions in that time with what we see going on in Europe with different guys and, in particular, how it looks on Saturday with certain guys, to see if it makes sense for some of them to be with us in Egypt."
Either way, the players who take the field Saturday will be hoping that the future is now.
Jeff Carlisle covers MLS and the U.S. national team for ESPN.com. He is also the author of "Soccer's Most Wanted II: The Top 10 Book of More Glorious Goals, Superb Saves and Fantastic Free-Kicks." He can be reached at eljefe1@yahoo.com.
Soccer
Jeff Carlisle covers MLS and the U.S. national team for ESPN FC.