Commentary
Diskerud is in the Mixx
Updated:
January 26, 2011, 9:38 AM ET
By
Jeff Carlisle
| ESPN.com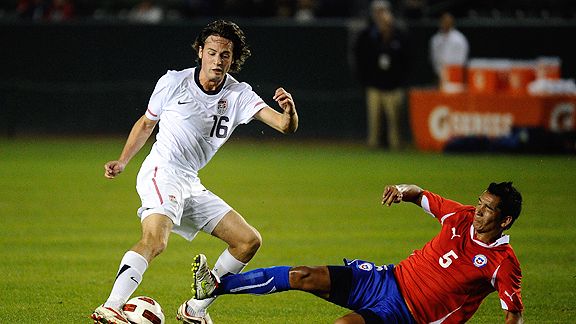 Kevork Djansezian/Getty ImagesMixx Diskerud is one of the young players who should get more looks at the international level.
When it comes to U.S. soccer, about the only thing more overhyped than young forwards are young attacking midfielders, and for good reason. Historically, the U.S. has tended to produce players who were more athletic than skillful. So when a player makes a few laser-guided passes and demonstrates a clever touch or two, the soccer cognoscenti reach for their defibrillators.
This explains why heading into this past Saturday's friendly against Chile plenty of eyes were fixed on U.S. international Mikkel "Mixx" Diskerud. The 20-year-old midfielder, born to a Norwegian father and an American mother, gave a glimpse of his skill in last November's friendly against South Africa, when his clever pass split two defenders and set up Juan Agudelo's game-winner. Now was the chance to show off his ability from the opening whistle.
That he did, but not in the way that most observers predicted. Diskerud revealed his close control and willingness to take on defenders while playing as a withdrawn striker in support of Chris Wondolowski. But Chile's unique 3-3-1-3 formation did plenty to throw him off balance.
"[Chile has] a weird style of playing soccer," he said. "I haven't been through a system like that, so it takes some time to get used to that. They had people all over the place almost."
Yet on a night in which his attacking game was short of its peak, Diskerud still managed to impress with his prodigious work rate on both sides of the ball. Not only did the Norwegian-American do plenty of willful running from wing to wing, but he could also be seen tracking back to nick the ball off unsuspecting opponents as they ventured up field.
When forwards Teal Bunbury and Agudelo entered the match, Diskerud moved to left midfield, but there was no drop-off in his energy level, and the Americans deservedly equalized through a Bunbury penalty.
"[A high work rate] is something the coaches want me to work on, so I wanted to show I could do that as well," said Diskerud. "Maybe it was a little bit more working than flair today, but that's no problem when we get the result; maybe not the one we were hoping for, but it was OK."
It is this attention to defensive detail and willingness to work even when his attacking game isn't clicking that has Diskerud ahead of the curve. In the past, U.S. manager Bob Bradley has kept defensively suspect players like Jose Torres on a very short leash. The fact that Diskerud seems more aware of his defensive responsibilities should see him get additional opportunities.
But Diskerud's skill on the ball remains his biggest asset, one that was honed growing up on the streets of Oslo.
"We played almost every day after school, because in Norway, school and sports are not combined," Diskerud said. "Almost every day with my friends, we played on the asphalt."
Were there slide tackles?
"No, no slide tackles. Well, some of the players did. But always, I loved playing with my friends, two hours after school until my mom and dad didn't let me."
Yet the streets weren't the only arena in which Diskerud's creativity was nurtured.
"We've always been encouraged [to take risks], at least by the coaches I've had in Norway," he said. "We've always been encouraged to try different things and just be yourself. In the beginning of my career there wasn't a lot of structure. We were just playing to have fun, you know? It's been like that for a long time, and that's how we do it in Norway.
"As a professional, you still play your own game, but you're part of a team, so that comes first. But every team has 11 players who have their own style of play."
Put it all together, and Diskerud is poised to be this cycle's Stuart Holden. Holden, you'll recall, wasn't even on the fringes of the full team when the 2010 World Cup cycle started, but used a solid performance in the 2008 Olympics to help kick-start his international career. Diskerud has similar designs. And although the Stabaek midfielder is more likely to look for quick touches and combinations, he, too, can occupy several different positions in attack, and he's capable of delivering the unexpected from anywhere.
"Diskerud is the kind of guy who floats through a game, and then he comes up with a decisive pass or an incisive pass that changes the game," said former U.S. international Brian Quinn, who in his current position as an assistant at the University of San Diego tried to recruit Diskerud to the school. "That's where the national team program needs to be going. Our coaches are very good at our X's and O's and we're all good at understanding the game technically and getting our guys ready. But at the very, very top, you need someone to make a difference."
Diskerud's ability and versatility should serve him well given the logjam that exists in the U.S. midfield, one that Bradley was quick to point out before Saturday's encounter.
"We can look in our whole pool and we can see always some players that have maybe a little different way, that creativity to make a final pass, a little bit of flair in certain situations, so [Diskerud] would fit into that category," said Bradley. "But Benny Feilhaber is in that category. Sacha Kljestan has some of those qualities. At a different level, Clint [Dempsey] is a player who's got some different qualities, but obviously his [skill set] has been developed by being in harder, better games.
"But Mixx ... now it's just a matter of seeing what it's like when the games get a little bit harder, and seeing how he adjusts to everything that goes on in those games."
Agudelo and Bunbury deservedly grabbed most of the headlines from Saturday's match, and when combined with the U.S. depth in midfield, this should allow Diskerud the chance to develop in relative peace. Then again, given Diskerud's ability, it may not take much for the spotlight to shine on him again.
Jeff Carlisle covers MLS and the U.S. national team for ESPN.com. He is also the author of "Soccer's Most Wanted II: The Top 10 Book of More Glorious Goals, Superb Saves and Fantastic Free-Kicks." He can be reached at eljefe1@yahoo.com.
U.S. soccer correspondent
Jeff Carlisle covers MLS and the U.S. national team for ESPN FC.