Commentary
Bradley's career gets a big-time boost
Updated:
January 30, 2011, 4:23 AM ET
By
Jeff Carlisle
| ESPN.com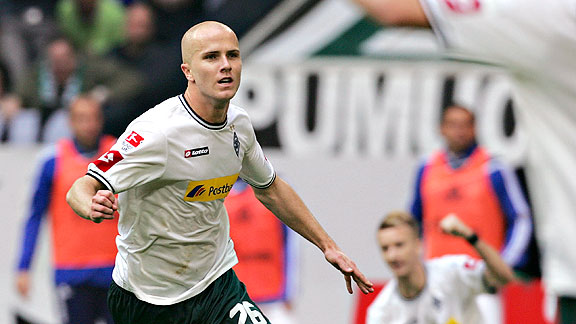 AP PhotoMichael Bradley's move to Aston Villa should also help his standing on the U.S. national team.
When you track the career trajectory of U.S. international Michael Bradley, it's clear that he's been one of those rare players who has made consistently steady progress, ticking off the boxes at every step. With the news that Bradley has been loaned out to EPL side Aston Villa from Borussia Moenchengladbach until the end of the season, the young midfielder has taken yet another positive step in his development.
Practically from the moment Bradley turned professional in 2004 with Major League Soccer side MetroStars, his career has enjoyed an inexorable rise. After a two-year stint in MLS, he excelled for Dutch side Heerenveen, where, according to the U.S. Soccer Federation he netted 21 times in all competitions during the 2007-08 campaign, a record for the most goals in a season by an American playing abroad. He then moved to Germany with Gladbach, where he became a linchpin in the side, helping them to narrowly avoid relegation in 2009.
Bradley has enjoyed steady progress on the U.S. national team, where he's been an ever-present force in the center of midfield since 2007. He was also widely hailed for his performance at the 2010 World Cup, scoring a critical equalizer against Slovenia that ultimately helped the Americans reach the second round.
Now, for the next five months at least, Bradley will call the EPL home, and it's a move that comes at an opportune time for the U.S. midfielder. The relegation struggles of Gladbach are now someone else's problem, although why the club would sell one of its most important players in the midst of such a battle is baffling. Of course, it's no more puzzling than why manager Michael Frontzeck chose to bench Bradley in the first place, given the player's importance to the side. The public explanation by Frontzeck is that he didn't want to be accused of "not trying everything" in his bid to avoid the drop, but given the fact that the manager and Bradley have clashed in the past, it leads one to wonder whether their relationship had deteriorated further.
No matter, because Bradley gets a virtual promotion to the most-watched league in the world, something that wouldn't have been the case had his long-rumored move to Turkish side Galatasaray come to fruition. And he joins a team that is in need of some strengthening in the center of midfield. Manager Gerard Houllier has already brought in Cameroonian international Jean Makoun from French side Lyon. And although holdovers Stiliyan Petrov and Nigel Reo-Coker will provide some competition, it seems likely that Makoun and Bradley could be partnered in the center of midfield sooner rather than later.
If this scenario comes to pass, Bradley's already impressive development should accelerate even further. The move could go a long way in fending off calls for his spot in the U.S. lineup to be taken by someone else.
Rare have been the moments in key international matches when U.S. manager Bob Bradley has not had son Michael on the field, and with good reason. There has been no U.S. central midfielder who has been more effective and consistent than Michael Bradley over the past four years.
But lately, an interesting competitive dynamic has emerged. Bolton Wanderers midfielder Stuart Holden has earned rave reviews for his performances in a central role, while Rangers' Maurice Edu has made improvements as well. Throw in Jermaine Jones, who's now playing on loan at Blackburn, and there's significantly more competition for places on the U.S. team than there was six months ago.
As a result, there have been some rumblings for the U.S. manager to trot out a central midfield pairing that didn't include Michael, especially in the wake of his benching by Frontzeck. The odds that those calls will become louder are reduced somewhat now that Bradley has improved his club situation.
In the meantime, all that's left to do is to observe the new Aston Villa midfielder and see if the steady progress that has marked his career will continue.
Jeff Carlisle covers MLS and the U.S. national team for ESPN.com. He is also the author of "Soccer's Most Wanted II: The Top 10 Book of More Glorious Goals, Superb Saves and Fantastic Free-Kicks." He can be reached at eljefe1@yahoo.com.
U.S. soccer correspondent
Jeff Carlisle covers MLS and the U.S. national team for ESPN FC.