Commentary
Now comes the hard part
Updated:
February 10, 2011, 10:58 AM ET
By
Jeff Carlisle
| ESPN.com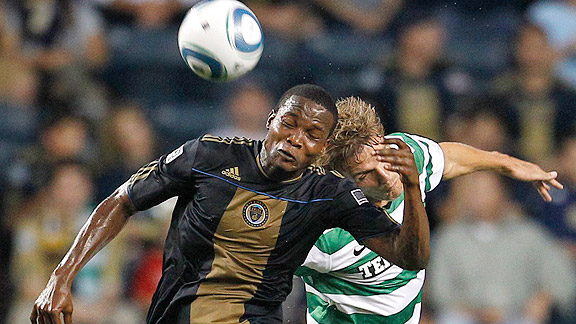 AP Photo/Matt SlocumDanny Mwanga knows all about high expectations. But after a rookie campaign that both teased and delivered, the Philadelphia Union striker will be expected to raise his game in 2011.
Danny Mwanga knows all about high expectations. After all, we're talking about a player who was the No. 1 overall pick in the 2010 MLS SuperDraft. But after a rookie campaign that teased and delivered in equal measure, the Philadelphia Union striker will be expected to shoulder an increased load in 2011.
Mwanga clearly has the talent, as evidenced by his seven goals and four assists. And those numbers are even more impressive when you consider he was hampered by a shoulder injury over the last six weeks of the season. His ability to run at defenses and finish off plays showed he was ready for the professional ranks. Yet like many rookies, Mwanga could exasperate as easily as he could dazzle.
"[Mwanga] had brilliant moments at times, and then he would disappear for big stretches of the game," said former teammate Alejandro Moreno, who now plays for Chivas USA. "I think he's had a good start to his career. But it's important that his consistency -- not only game in and game out, but also within the game -- improves.
"He can't have lapses, he can't take shortcuts," added Moreno. "This is a league that demands the utmost work, attitude and commitment. And sometimes, he's going to be in a position where he's going to have to sacrifice and get out of the middle a little bit more, and make those diagonal runs from inside out. It's important that he recognizes that that's also got to be a part of his game. It's not going to be just picking up crosses in the middle of the box and scoring and celebrating and having fun."
Smoothing out those peaks and valleys, as well as doing more of the dirty work, will go a long way toward accelerating Mwanga's development. Moreno indicated that he and the Union's coaches had broached the subject with Mwanga during the 2010 season, and the 19-year-old forward appears to have taken the message to heart.
"Guys like Cristiano Ronaldo, you watch them play, the things that they do, and that makes you realize you have a lot of things to learn in order to be at that level," said Mwanga. "Obviously, you know you're doing good things for yourself as well as people telling you positive things, but when you look at those guys, that gives me motivation to work even harder. That tells you that you have a long way to go to get to where they are."
For Mwanga, that means working on his weaknesses in a bid to accentuate his strengths. He admitted that by the end of this past season, opposition defenses had made some considerable adjustments to stifle his game. Defenders marked him tighter when his back was to goal in a bid to prevent Mwanga from turning on them and utilizing his speed. If Mwanga did face up to goal, defenders dropped off in an effort to keep the Union forward in front of them.
To counteract these tendencies, Mwanga talked of finding better spots on the field to receive the ball as well as making cleaner passes to his teammates when his back is to goal. He has also bulked up a bit in an effort to absorb the inevitable blows that opponents will deliver. All of this has convinced head coach Peter Nowak that Mwanga is ready to take the next step.
"I think we need to explore more options with Danny, soccer-wise, which means giving him even more information than we did last season," Nowak said. "I think he [absorbed] the information very fast. He put them to work during the games and in practice. Now, there are still a couple of things to consider. The play of the forwards, for example. He's one of those guys who constantly needs to be reminded that the whole defense starts with the forwards, with the first line of defense … also cooperating with Sebastien [Le Toux], Justin Mapp, or the other midfielders. I think that this part of his game needs to be improved. [The staff] said he's prepared very well. He's working very hard. … I believe that right now, we can push his game forward and be even more dangerous than he was last year."
Nowak won't be the only one pushing Mwanga. The tug-of-war going on over the forward's international future looks set to continue as well, with the U.S. vying with the Democratic Republic of Congo for his services. Mwanga has insisted that he won't make any decision until he receives his U.S. citizenship, which he'll likely apply for sometime this year. That hasn't stopped the Congolese from repeatedly making their pitch.
"Whenever there is a game [the DR Congo] talk to me," said Mwanga. "The last time I talked to them was [in November] when there was a game in France against Mali. There was another meeting with all the players that they wanted me to be a part of. I told them what I was trying to do and they respect what I'm doing in trying to focus on my professional career first and I'll think about my international career later. But anytime there is a friendly game that is not FIFA sanctioned, they always ask me to be a part of it. I'm still not quite sure what my decision will be. I'm just going to use the time that I have right now to focus on the Union."
And if he heeds the lessons of his inaugural MLS campaign, a spot among the league's elite forwards beckons.
Notebook
Mac survives the knife: When we last saw Mac Kandji, he was crumpled on the BMO Field turf, having torn the ACL in his left knee after orchestrating the game-winning goal for the Colorado Rapids in the 2010 MLS Cup final. This explained why afterward Kandji was laid out on the trainer's table while his teammates celebrated.
Just over two months removed from surgery, Kandji's rehab is progressing, and his target of returning in late May/early June remains intact. The Senegalese forward expects to be jogging again in three weeks. In a bid to improve his balance, he has begun touching the ball again, albeit under highly supervised conditions. That has softened the blow somewhat of watching his Colorado teammates start training camp without him.
"I think it's easier [watching] now because I'm able to juggle the ball and get some touches just standing in one place," he said. "While they are playing, I'm usually just watching and then juggling. If I couldn't juggle or touch the ball it would be harder. So far, it's going well. But I'm sure it's going to be really, really hard once the season starts. Thank God I won't be out long after the season starts."
The support of his teammates and coaches has also helped carry Kandji through the dog days of rehab. "Everybody's telling me, 'Keep working hard, keep your head up,'" he said. "Inside of me, I tell myself it was the team that won the championship, but some of my teammates tell me, 'Because of you, we won the championship.' They're just trying to say anything they can to motivate me and give support. They've been great."
[+] Enlarge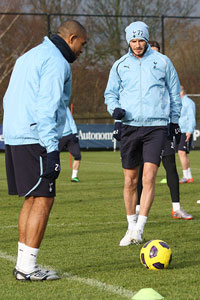 Getty ImagesImagine the outrage if an EPL player preferred to be training with a club back in his home country instead of England. But this is David Beckham's world -- we're just living in it.
Beckham's European stay-cation: So David Beckham has let it be known to his employers -- the L.A. Galaxy, in case you've forgotten -- that his training stint with EPL side Tottenham will be extended by two weeks. He will now grace manager Bruce Arena with his presence on Feb. 24. And according to a report in The Times, his explanation for the extension is that since he has been training with Spurs for the past five weeks, he is "out of sync" with his Galaxy teammates, who have only been back at it since Jan. 24.
Funny, being at a different level of fitness than his training partners wasn't much of an impediment when he joined up with Tottenham in the first place, yet now we are led to believe that it is.
No doubt, the Galaxy will muddle along without the Englishman, with Arena telling the Los Angeles Times earlier this week that the extension was agreed upon "weeks ago." And Beckham will likely put in an honest shift once he arrives stateside, even as he plots his next move when his contract expires in November. But imagine the hue and cry if an EPL player preferred to be training with a club back in his home country instead of England. Whatever. About the only excuse left in Beckham's arsenal is "The dog ate my passport." Then again, two weeks is plenty of time to come up with a new and creative way to avoid joining his Galaxy teammates.
Jeff Carlisle covers MLS and the U.S. national team for ESPN.com. He is also the author of "Soccer's Most Wanted II: The Top 10 Book of More Glorious Goals, Superb Saves and Fantastic Free-Kicks." He can be reached at eljefe1@yahoo.com.
Soccer
Jeff Carlisle covers MLS and the U.S. national team for ESPN FC.