Commentary
Regrets, he's had a few
Updated:
February 16, 2011, 2:31 PM ET
By
Jeff Carlisle
| ESPN.com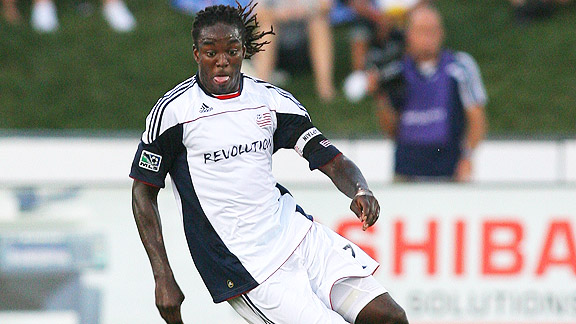 Tim Umphrey/Getty ImagesShalrie Joseph hopes he can put a tumultuous 2009-10 campaign -- which included a hip injury and positive drug test -- behind him.
One of life's oddities is that the experiences we would most like to forget tend to be burned into the memory. So it is for New England Revolution midfielder Shalrie Joseph, who is looking to put a tumultuous 2010 campaign behind him and resurrect his team's fortunes, as well as his own.
Last season began like many others in Joseph's career, full of hope, but New England's roster had seen a steady erosion in quality over the years. Players including Clint Dempsey and Michael Parkhurst left for Europe. Others such as Jay Heaps, Steve Ralston and Jeff Larentowicz either retired or moved to different U.S.-based clubs. And then there were the injuries to the likes of Matt Reis and Taylor Twellman. The result was a roster too reliant on youthful exuberance, and it was left largely to Joseph to try to keep things together.
"I definitely felt like a lot was put on my shoulders," Joseph said via telephone. "I looked forward to the challenge, having all these guys gone. I wanted to step up and be what the team needed me to be, being a bigger focal point in the offense and the defense. I was able to do it sometimes throughout the season. Some games I played well and some games I struggled."
And then there were the times when he wasn't there at all. A hip injury caused Joseph to miss three games early in the season, and in April an embarrassing positive drug test for marijuana resulted in a league-mandated stint in rehab that caused him to miss five games. The suspension came at the worst possible time.
"There was a lot going on last year in terms of my contract situation, in terms of my family, in terms of the team," he said. "It was just frustrating, and I made a bad decision in not relying on my family or my friends."
Joseph also indicated that he let his frustrations get the better of him in his interactions with his teammates, castigating himself for handling his disappointments "in the wrong way. I wasn't mature enough or man enough to tell the guys what they should be doing."
He is intent on not repeating such mistakes this season. And to be fair, he did show glimpses of his old dominating self upon his return last year. There was even a time when it looked like Joseph might will his side back into the playoff race, with his ability to link up with Marko Perovic proving to be highly effective. But it proved to be too big a challenge, and the Revs missed the postseason for the first time since 2001.
"Shalrie being Shalrie, he takes things upon himself anyway, no matter who is standing beside him," Revs manager Steve Nicol said. "He wants to do well, and he wants everybody to do well. The fact is we just didn't have the quality, all around, in the team."
To that end, Nicol has attempted to add more experienced players to the squad. Defender Didier Domi and another Frenchman, midfielder Ousmane Dabo, have been signed. Dabo's arrival, in particular, is expected to ease some of the burden normally placed on Joseph, especially in terms of keeping possession. Of course, it remains to be seen whether theory will translate into reality.
"When Shalrie played with Daniel Hernandez a few years back they played side by side and were both possession guys and I think they got in each other's way a little bit," said Heaps, who now works as an analyst on the Revs' television broadcasts. "You hope that doesn't happen here and that Shalrie can find that spot further ahead. If Dabo can play [deeper] like Larentowicz did, Shalrie can link up with Perovic a little higher up the field."
Joseph is also taking it upon himself to handle whatever is asked of him. The four-time Best XI selection made a renewed effort in the offseason to work on his fitness and monitor his diet. Heaps was among those who observed some of Joseph's sessions and feels that the midfielder is ready to get back to his best. Alarm bells did go off when Joseph was absent from the first day of training, but Nicol appeared satisfied with his explanation and has characterized it as a personal matter.
Granted, Joseph has another reason for trying to erase last year's disappointments. His contract is up at the end of the season, and it stands to reason the next deal he signs -- regardless whether it's in MLS or with an overseas club -- may be his last.
"I want to prove to everybody that I'm not falling off, that I didn't lose a step," he said. "I want to be one of the best players in the league, take this team to the next level and get back to our championship run, and playing in these games that matter."
For Joseph, perhaps that's the best way to forget what happened in 2010.
Notebook
Who will run the Red Bulls' midfield? Much was made of New York manager Hans Backe's proclamation last week that Mexican international Rafa Marquez would move from midfield to center back this season alongside Tim Ream. And given how many years Marquez has played the position, the move makes plenty of sense.
But it also raised the question of who will take Marquez's place in the Red Bulls' midfield. Backe has no shortage of candidates. Joel Lindpere showed enough versatility this past season to prove that he can operate centrally. Mehdi Ballouchy also enjoyed some bright moments after his midseason trade from Colorado. Carl Robinson brings plenty of veteran savvy, as does new arrival Jan Gunnar Solli. Yet the player foremost in Backe's mind is second-year man Tony Tchani. The University of Virginia product made good progress in his rookie season, but Backe made it clear that more is expected in 2011.
"We hope [Tchani] can take the next step this season," Backe said via telephone. "Just mentally, he has to decide for himself if this is what he wants, to pay the price to become a top professional. He has all the ability, the strength, his technical skills, so I think it's up to him."
Fortunately for Tchani, he's made a good impression on the New York manager so far this preseason.
"The two weeks we've been [training], Tchani has been doing very well," Backe said. "He's been a hard worker now every session; he wants to learn, and he adapts quick. I think sometimes for these Generation adidas guys, in my opinion, they make a little too much money and they could be satisfied in the beginning. They have the good life for two or three seasons. He's young and he played well last season, but now I expect him to take the next step to be a regular player."
That said, the situation remains fluid. Backe indicated that he is still looking to bolster the midfield, and may yet bring someone in from overseas.
[+] Enlarge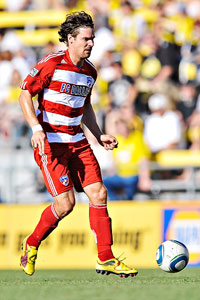 Jamie Sabau/Getty ImagesOn Tuesday, FC Dallas sent Heath Pearce packing to Chivas USA. The defender was believed to be in manager Schellas Hyndman's doghouse.
Is the Dallas doghouse empty? On Tuesday, FC Dallas sent defender Heath Pearce to Chivas USA in exchange for allocation money, and in the process fueled the belief that any player who lands in manager Schellas Hyndman's doghouse will eventually be shown the door. It started in November, when Dax McCarty -- who, despite becoming a key player for Dallas last season, had his share of run-ins with Hyndman -- was left exposed in the expansion draft and eventually landed with D.C. United. Now Pearce -- who ruffled some feathers during the MLS Cup with his tweets about how he was healthy, even though the trainers said otherwise -- has been dealt.
For his part, Hyndman insisted in a telephone interview that the move was needed to give the team "roster flexibility" and hailed Pearce as "a great player for us." Given the team's lack of depth at forward -- both Jeff Cunningham and Atiba Harris were lost during the offseason as well -- there is plenty of truth to that. Hyndman also said "I don't look at that stuff" in reference to players' Twitter feeds, but he did hear about it.
"I think that was just [Pearce's] way of releasing his frustration," Hyndman said. "But I don't know what it really did for him."
MLS to investigate Saliva-gate: Things got a little testy during a preseason friendly between the Houston Dynamo and FCD this past weekend. While Houston was in the process of running out to a 4-0 victory, Dynamo midfielder Geoff Cameron claimed that Dallas defender Jair Benitez spat on him. Afterwards, Benitez rather unwisely admitted that he had spit on Cameron, but only because Cameron spit on him first. A league spokesman confirmed that MLS is investigating the incident, but no timetable was given for when it might be completed.
Jeff Carlisle covers MLS and the U.S. national team for ESPN.com. He is also the author of "Soccer's Most Wanted II: The Top 10 Book of More Glorious Goals, Superb Saves and Fantastic Free-Kicks." He can be reached at eljefe1@yahoo.com.
U.S. soccer correspondent
Jeff Carlisle covers MLS and the U.S. national team for ESPN FC.