Commentary
Operation makeover for the Crew
Updated:
February 21, 2011, 11:40 AM ET
By
Jeff Carlisle
| ESPN.com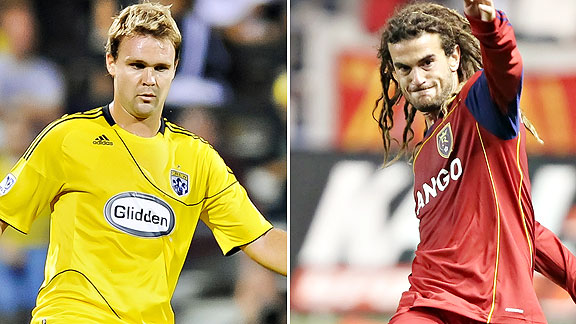 Getty ImagesChad Marshall, left, and the Crew will be sizable underdogs heading into Tuesday's CONCACAF Champions League quarterfinal against Kyle Beckerman's RSL.
By the time a team reaches the quarterfinals of the CONCACAF Champions League, you'd expect such niceties as roster composition and playing style to be largely set in stone. Although that is the case for Real Salt Lake, the exact opposite is true for its quarterfinal opponent, Columbus. Which makes the Crew sizable underdogs heading into Tuesday's first leg in Columbus.
The offseason makeover undertaken by Columbus manager Robert Warzycha has made his side almost unrecognizable. Gone is former league MVP Guillermo Barros Schelotto. So too are former mainstays such as Brian Carroll, Gino Padula and Frankie Hejduk.
Warzycha makes no apologies for shedding plenty of familiar faces from a side that in the last three years claimed an MLS Cup and twice won the Supporters Shield. "I think it was necessary," he said via telephone. "I wouldn't use the words 'blow up' because MLS is a [unique] league. We lost players because of expansion, we lost players because of the salary cap, and some guys wanted to play for a different coach or a different team. There are a lot of different circumstances for why we did what we did."
But no matter what Warzycha's justifications are, a slew of injuries have compromised his best-laid plans, at least in terms of Tuesday's match. Starting goalkeeper Will Hesmer hasn't recovered from a fractured shoulder he sustained in last year's playoffs, and backup Andy Gruenebaum is out with a hip ailment. That leaves Ray Burse, who hasn't played in MLS since 2009, in line to start.
It gets worse. Kevin Burns and Dilly Duka, who were expected to shore up the Columbus midfield, are listed as questionable with rib and abdominal ailments, respectively. Playmaker Eddie Gaven is expected to see limited playing time because of an ankle injury. Oh, and defender Shaun Francis is questionable with a hamstring injury.
"The last three or four days in Phoenix we picked up some injuries," said Warzycha. "Maybe we were there too long."
All of this increases the likelihood that rookie Rich Balchan will start against an RSL midfield comprised of All-Stars Javier Morales and Kyle Beckerman, which is every bit the immense challenge it appears to be. It also adds to the difficulty Warzycha has in trying to establish some chemistry within a team containing plenty of new faces.
"We have to figure out who is going to play the piano and who is going to carry the piano," said Warzycha. "That's how it is because sometimes players try to do too much and their job is a little bit different than the other players. So we're in the stage where we're trying to figure out how that's going to happen."
[+] Enlarge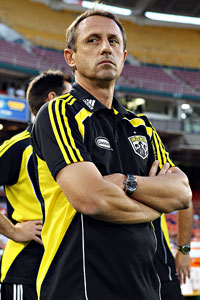 Ned Dishman/Getty ImagesColumbus manager Robert Warzycha has seen many changes to his side since last season.
This has been borne out by Columbus' play in the preseason. The Crew went 1-3-1 in Arizona. And in their most recent 4-2 loss to Houston, they showed a vulnerability on set pieces, which, given some of the targets that RSL has at its disposal, will bear watching on Tuesday.
By comparison, Real has considerably fewer problems. Granted, both Fabian Espindola and Arturo Alvarez just returned to full training on Friday after recovering from minor injuries, and neither is expected to play a big role. But the news surrounding Morales is considerably better. RSL's most creative player is expected to play after having shaken off an ankle injury he picked up in an exhibition against Chivas USA.
Manager Jason Kreis isn't concerned about the changes surrounding Columbus, either. As it turned out, both teams spent the run-up to Tuesday's match in Arizona, giving Kreis ample opportunity to scout the Crew.
"Without Schelotto in there, Columbus probably doesn't have someone to really dictate the flow of the game," he said. "They probably don't have somebody in the final third that they're always going to be looking to get the ball to. That allows them to play another true forward so now they've got a team with a bit more pace on the front line and they could, if they chose to, try to play a bit more direct and get in behind opponents' defenses a bit more."
But if there is one giant equalizer in all this, it's the time of year in which the game is being held. With both teams short of match practice, the overall sharpness will be well below peak levels.
"We're going to have to look at it a little bit more defensively and a little bit more guarded than we typically would," said Kreis about Tuesday's game. "Also, any time there's a two-legged series, you have to be conscious of not giving anything away."
And despite all of the changes, the Crew do have a core of quality veteran players that includes central defenders Chad Marshall and Andy Iro, as well as attackers such as Robbie Rogers and Emmanuel Ekpo. Such experience should allow Columbus to be competitive. The fact remains, however, that RSL has that kind of experience all over the field with defenders Nat Borchers and Jamison Olave keeping things clean in the back while forward Alvaro Saborio latches onto the passes of Morales and Beckerman up top.
"We feel really good about how we've built our team over the last several years," said Kreis. "We believe in our guys and have a ton of confidence in our group. We stuck with our group and we're going to try to be about all the same things we have been over the last two seasons."
Combined with a hunger to be the region's best club, RSL should take a giant step toward the semifinals on Tuesday.
Jeff Carlisle covers MLS and the U.S. national team for ESPN.com. He is also the author of "Soccer's Most Wanted II: The Top 10 Book of More Glorious Goals, Superb Saves and Fantastic Free-Kicks." He can be reached at eljefe1@yahoo.com.
Soccer
Jeff Carlisle covers MLS and the U.S. national team for ESPN FC.