Commentary
Portland's plan of attack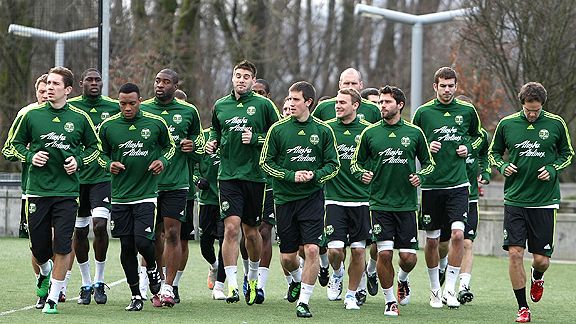 Jonathan Ferrey/Getty ImagesThe Portland Timbers are hoping that scoring goals will be the team's best form of defense.
PORTLAND, Ore. -- With less than three weeks to go until the start of the MLS regular season, the heat is on Portland Timbers general manager Gavin Wilkinson, although you'd never know it by looking at him.
In the bowels of PGE Park, which is currently being renovated, the temperature in Wilkinson's office isn't much warmer than the damp, cold air outside. As a consequence, the winter jacket he's wearing is zipped all the way up to his neck. Adding to the chill is the knowledge that top draft pick Darlington Nagbe is set to undergo hernia surgery and will miss most of the last of preseason.
Yet Wilkinson's mood is surprisingly upbeat. In his quest to build the Timbers' roster, he's just acquired versatile midfielder Jack Jewsbury from Kansas City, bolstering Portland's thin corps of central midfielders.
"The squad looks a little bit better having [Jewsbury] penciled in," he said. There's more. Owner Merritt Paulson has let it slip that the Timbers have an offer on the table for what could be the team's first designated player. While it wouldn't be the first time in MLS history that a team has made noises about a DP only to have such hopes evaporate later, Wilkinson insists -- without naming the player -- that the offer is very real.
"We are excited about it, but also apprehensive and nervous," said Wilkinson of the potential signing. "It's not a typical DP in many ways; it's not somebody that's a big name. It's somebody we've gone after because we've watched him live three times, on video six or seven times, and we've fallen in love with this player. Now it's a matter of how do we go about getting him, and ultimately is it worth it? Merritt has given us his backing and put a lot of faith in our judgment, and that's both on [manager] John Spencer and I. Now it's a matter of will it come off? If it does we will have added a phenomenal piece to the puzzle."
Adding pieces, regardless of their position on the field, has been the approach of Wilkinson and Spencer from the beginning. It's never been about focusing on attack or defense.
[+] Enlarge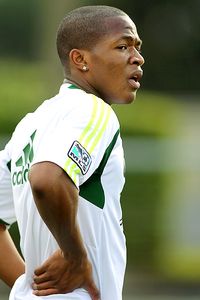 Jonathan Ferrey/Getty ImagesTop draft pick Darlington Nagbe is set to undergo hernia surgery, but once he recovers he should provide a dynamic attacking presence on the left wing.
"Our philosophy is that whatever quality becomes available, we couldn't turn our nose up at it," Spencer said. "I think people get the wrong idea of it, the wrong mentality. They're thinking that we're looking to build from the front just because on the first day of announcements we announced Ryan Pore, Bright Dike and Eddie Johnson, and everybody's like 'Oh, Spencer's going to build from the [front].' I think we're pretty solid. If we can find more additions in any part of the field, we wouldn't turn our nose up at it."
The job of building the Timbers has been complicated by the fact that the perceived hard part -- acquiring enough attacking players to threaten teams at the start of the season -- has gone better than expected. Nagbe, assuming he recovers, should provide a dynamic attacking presence on the left wing, and in Kenny Cooper, the Timbers have a striker capable of winning matches on his own. Sal Zizzo, acquired from Chivas USA just last week, has shown signs that he could give the team some balance on the right flank.
But the holes in the team's roster become more apparent as one moves closer to the Portland goal. The center of midfield, despite the addition of Jewsbury, could still use some shoring up. The center of defense is surrounded with questions as well. There aren't many experienced options beyond presumed starters Eric Brunner and Kevin Goldthwaite, neither of whom is the fleetest of foot. Granted, the team has conceded only once in four exhibition games against MLS opposition, but there is an inherent danger in reading too much into preseason results.
Wilkinson knows this well, and said he's still looking to reinforce these two areas. But he also insisted that the team won't need to rely solely on its defense during the opening weeks as the attack tries to establish some chemistry.
"We are an attack-minded team," he said. "You can see that from the pieces we've put together. We want to and expect to score goals, and I think scoring goals gives breathing room. We've tried to create a balance. I don't think the back line will have to carry us. I think maybe one or two players will have to have big games."
Otherwise, Wilkinson really will feel the heat.
News and notes
Onstad finding his comfort zone: Two weeks into his "comeback," D.C. United goalkeeper Pat Onstad is beginning to feel like himself again. After starter Steve Cronin suffered a broken left wrist, and with backup Bill Hamid still recovering from offseason shoulder surgery, United was left with just one healthy goalkeeper in rookie Joe Willis. That forced them to turn to Onstad, who thought he had put his playing days behind him when he retired during the offseason.
"I'm getting there physically," he said via telephone. "Fortunately, I've always been pretty active, so for those two months I was pretty much doing something in the gym or playing basketball in the gym or running. But my sharpness and my strength in my legs isn't there. It's coming, though. I'm getting to the point where I'm starting to feel comfortable with where I am."
ESPN FC on Twitter
Don't miss a moment of the latest soccer coverage from around the world. Follow us on Twitter and stay informed. Join »
Yet for Onstad, an even bigger challenge has been the transition from coach back to player.
He added: "The toughest part for me was being told, 'We want you to play,' when I had already really enjoyed the coaching part. I just wanted to make sure that was still there for me regardless of how I perform or how things go in the playing position. That was the toughest thing to wrap my head around."
Onstad indicated that he's on a month-to-month contract, and is expected to start United's opener against the Columbus Crew on March 19. Any involvement beyond that will depend on how soon the likes of Hamid and Cronin will return to health. Willis has impressed as well, and may assume the backup spot behind either Cronin or Hamid, hastening Onstad's return to the coaching ranks.
"There are a lot of different scenarios that could or could not take place, so we'll just have to play it game by game," he said.
Quakes earn their Spur: For once, it appears as though a partnership between an MLS club and a foreign side might generate something beyond a news release. According to a published report, the San Jose Earthquakes are hoping to sign 23-year-old Tottenham Hotspur reserve Simon Dawkins on loan.
San Jose manager Frank Yallop told The San Jose Mercury News, "Simon wants to do it; Tottenham wants to do it. Hopefully we'll have some good news soon."
It was in October 2008 that the two teams first announced their partnership, and not much was expected, especially after Damien Comolli -- a close friend of Oakland A's general manager Billy Beane -- was axed as Tottenham's sporting director just weeks after the deal was signed. But to be fair, the partnership has endured, despite the Los Angeles Galaxy recently forming what they called "a strategic alliance" with Tottenham. The Quakes have twice made the trek to London, while Spurs played a friendly against San Jose this past summer. Now San Jose will be hoping that Dawkins can be a creative force and enhance the play of Bobby Convey and Chris Wondolowski.
"[Dawkins] drifts around and gets on the ball a lot," Yallop said. "He's clean, he doesn't lose the ball. He's difficult to pick up."
Jeff Carlisle covers MLS and the U.S. national team for ESPN.com. He is also the author of "Soccer's Most Wanted II: The Top 10 Book of More Glorious Goals, Superb Saves and Fantastic Free-Kicks." He can be reached at eljefe1@yahoo.com.
Soccer
Jeff Carlisle covers MLS and the U.S. national team for ESPN FC.